To be very honest, no Sugar Cosmetics product has ever failed to impress me. Their lipsticks, lip crayons, Heavy Duty Kohl and their mascara, every single one of them has found their own beloved places at my dresser. If you have been reading my blog for a while then you'd probably know that as much as I love makeup, am just that type of person who would depend more on skincare than on makeup to look good. When it comes to makeup I just stick with the basics and it's an unwritten law that mascara is an essential. They lift up the whole look in a minute with a bang. So today I'm going to review the Sugar Cosmetics Limitless Lash Mob Mascara that launched by the end of September which I have been using for a few months now.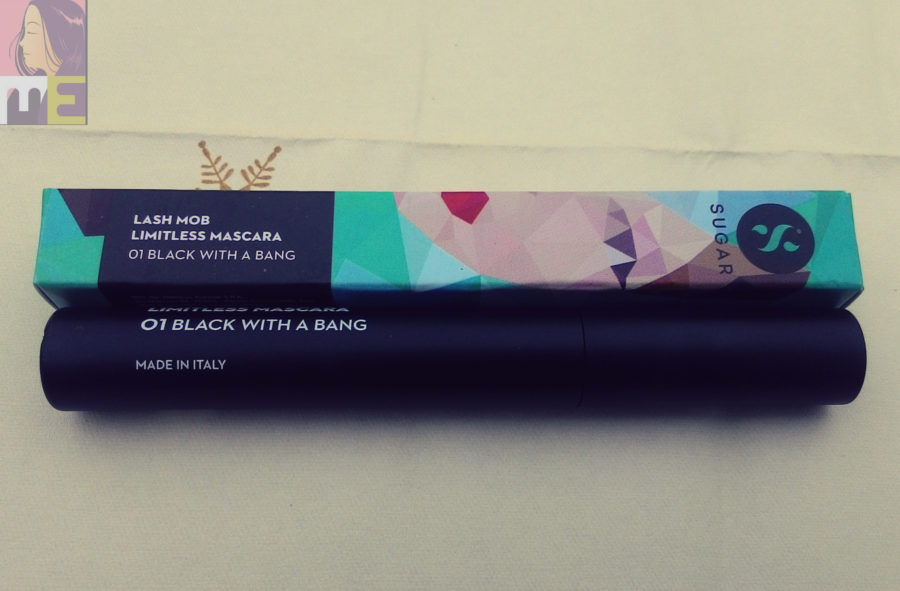 Price and Quantity: INR 699 for 9ml
Product Description:
Looking for a magic wand that will transform you from Plain Jane to Queen Bee in seconds? The all-new Lash Mob Limitless Mascara from SUGAR gives you just the drama your eyes need! Whether you're a fan of super volume or clump-free formula, we bet that your lashes will thank you once you've had your first date with this beauty. Creamy-textured and incredibly easy to apply, this paraben-free Mascara does a stellar job of separating, defining and combing through each lash so you'll experience lashes like never before!
How to Apply:
Look straight ahead #likeaboss and start with the bottom lashes while putting on the mascara so that the top lashes don't smudge when you look down. Place your wand at the base of your lashes and using a zig-zag motion, move the wand up your lashes.
Ingredients:
Water (Aqua), Synthetic Beeswax, Paraffin, Iron Oxides CI 77499, Stearic Acid, Acacia Senegal Gum (Acacia Senegal), Triethanolamine, Butylene Glycol, Copernicia Cerifera (Carnauba) Wax (Cera Carnauba), Polybutene, Triacontanyl PVP, Glyceryl Stearate, Phenoxyethanol, Hydroxyethylcellulose, Potassium Sorbate, Sodium Dehydroacetate, Ascorbyl Palmitate, Tocopherol, Sodium Stearate, Polyquaternium-65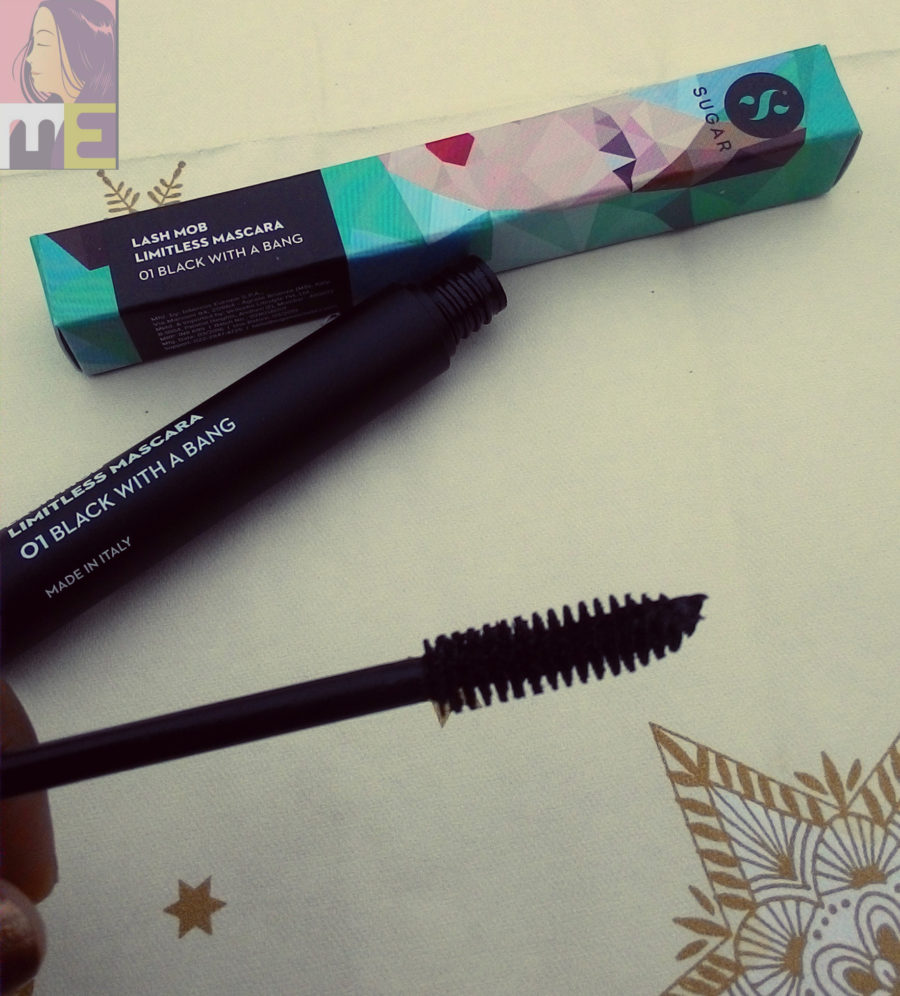 My Experience:
When it comes to mascaras I prefer the lengthening ones over the volumnising ones. It was a slight disappointment to me that the Sugar Cosmetics Limitless Lash Mob Mascara belongs to the second category. However, that did not stop it from giving my eyes a dramatic look with just a couple of coats. What I really like about this mascara is that it's really buildable and the creamy texture prevents it from clumping up.
It sure is not my favourite mascara so far. The list goes like – 1) L'Oreal Paris 4D Mascara 2)Chambor Infinite Lengths Lengthening Mascara Review and then comes the 3) Sugar Cosmetics Limitless Lash Mob. If you consider the price, then of course it's a little bit cheaper than the other two mascaras, and it's perfect for daily wear. Sometimes when I'm getting dressed up for weddings and stuffs, I apply two coats of this mascara and finish it off with a third coat of the Chambor Geneva Lengthening Mascara, you get the length and you get the volume.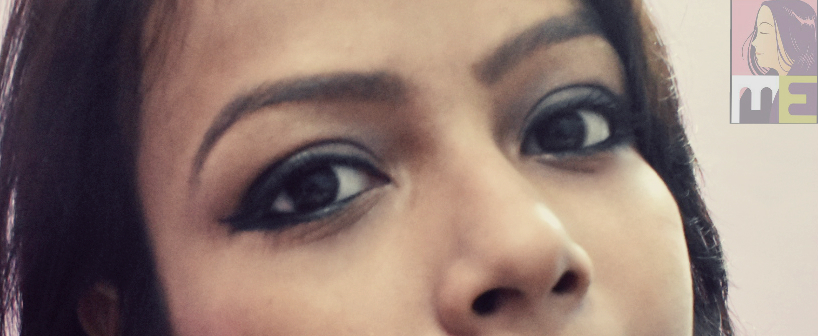 I've been using it for over a couple of month now and I cannot say that it smudges at all. And unlike any other mascara, it's really easy to apply this mascara on the lower lashes, even easier than my two favourite ones. Also it comes off really easy with my Tonymoly Cleansing Oil without leaving any clumped up traces on the lashes.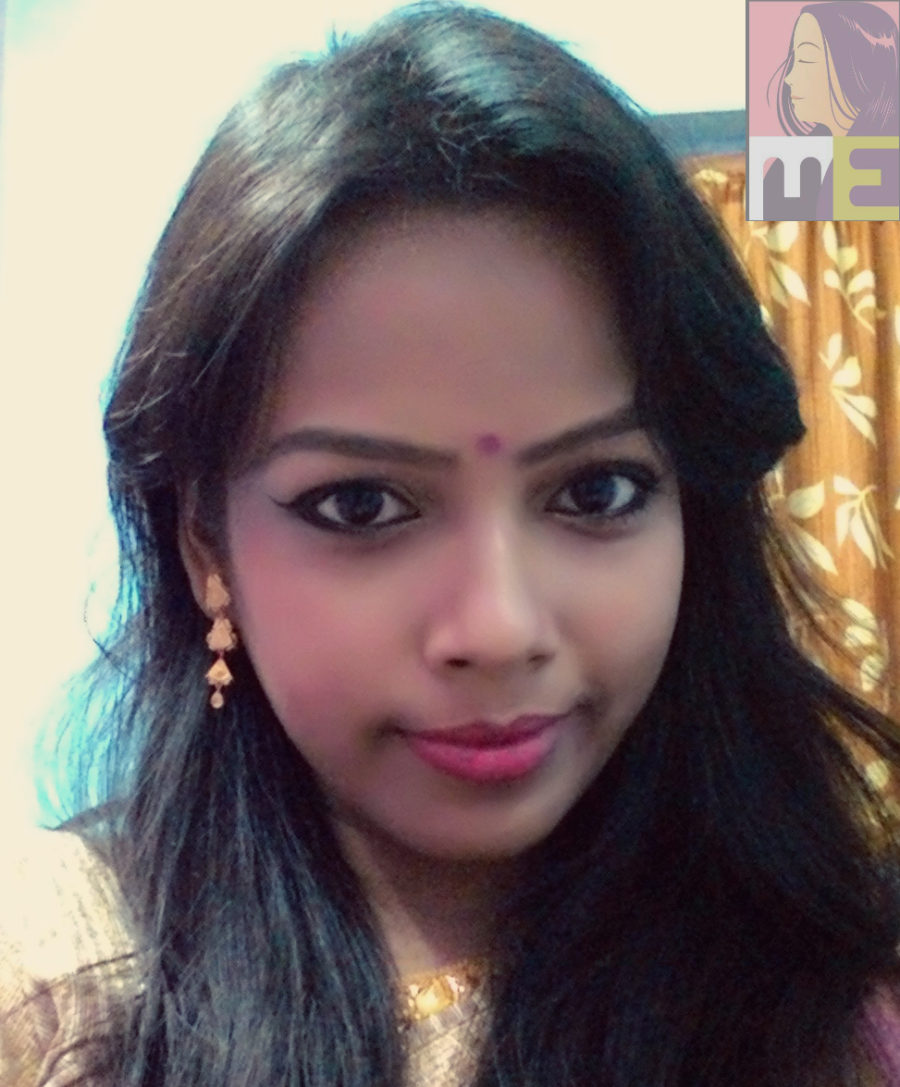 If only they launched one for lengthening as well…. Sigh!
Pros:
Paraben Free
Doesn't Smudge
Really easy to apply, even on the lower lids
Easy to remove
Doesn't clump up.
Cons:
For that price, anyone would love a little more drama on their eyes.
Where to buy:
Will I purchase it again?
Let's just say that I just wanted to try out this mascara and even though I'm not disappointed, there's just a lot in the market that I am yet to experiment with.
Will I recommend it?
If you are looking for something to wear on daily basis.
Rating:
4.6/5