Hello everybody, today I'm going to share with you guys my go to recipe back from the days when I used to live by myself. The recipe is not only super healthy but is really easy to make. Back when I used to have a full time job and I used to come back home exhausted, this recipe used to save my life and it's what I used to cook every other day. I haven't learnt it from anyone and it has been inspired by my love for vegetables and my attempt on eating healthy and my preference for avoiding non-veg food. Now I am not a person that maintains a proper diet and I don't count calories so I can't really tell the nutritional benefits of the dish, but since I have avoided carbs and chosen ingredients that are good for the health and obviously for the skin and it can also be a great choice for fitness freak peoples. So let's get started.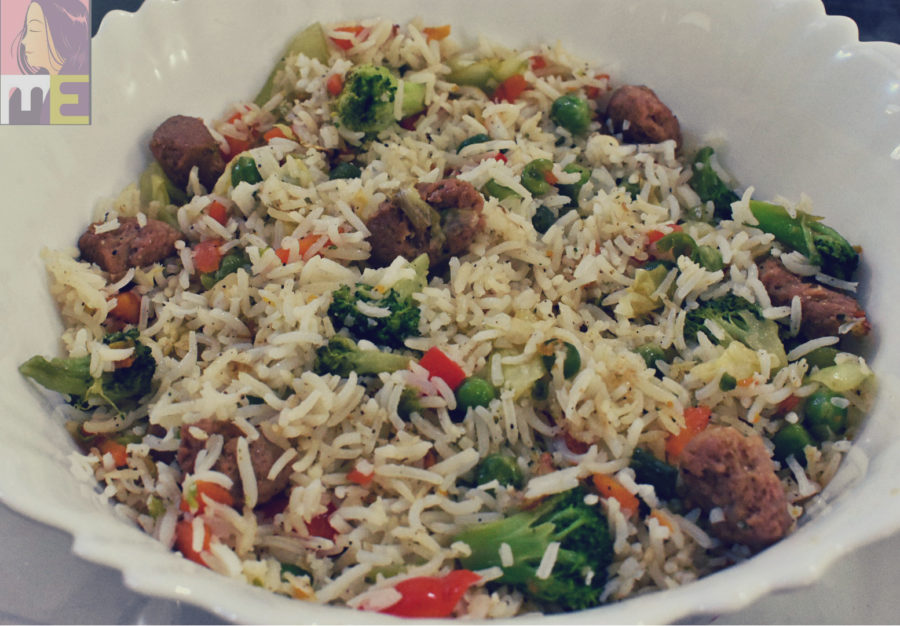 4 Servings
Ingredients:
Rice 400gm
Broccoli- 1 small head or half medium head cut into small florets
1 Red Bell Pepper- Finely Chopped
Cabbage- Half head- Chopped
Carrots- 1 large or 2 small finely sliced
Soybean- Half of the smallest packet available
Green Peas- 1 Cup
Baby Green Beans 6-8- Finely chopped
Salt and Black Pepper to taste
Olive Oil ½ cup + 1 spoon
*You can include your choices of vegetables and can exclude vegetables that you don't like or isn't available. Remember, I created it using vegetables that I love, so you can always modify it according to your preference.
Instruction:
Steam your rice as usual just keeping in mind that they don't get sticky. On another oven, boil the soybean with a little bit of salt.
In the mean time prepare your vegetables.
On a Skillet heat the olive oil. Once the olive oil heats up it will expand a little. Put in the carrots and once they are a bit tender, throw in the broccoli florets. There are some vegetables that take a little longer to cook, so I throw them in the skillet accordingly. After a few minutes throw in the chopped beans, cabbages and green peas. The bell pepper is the last vegetable I add since I love them half cooked. Add salt and pepper to the vegetables according to your taste. Keep stirring until the vegetables are tender.
Squeeze the excess water from the soybean and add it into the vegetables drizzling another spoon of olive oil. Once the soybean starts getting golden brown add the cooked rice a little at a time mixing it with the vegetables. Mix the rice with the vegetable and cook it for 5-6 minutes all the while stirring very gently and mixing.
Serve hot.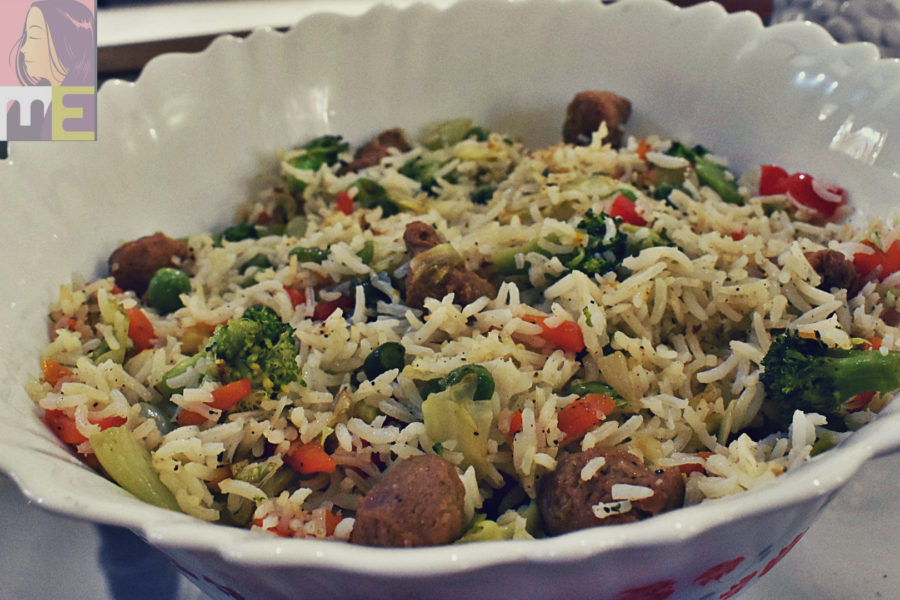 **Can be eaten by itself, and can be eaten with any curry or gravy. Goes well with both Indian side dishes and Chinese. But I prefer having it itself.
Note:
If you are a fitness freak, you can switch the white rice with brown rice.
I personally love vegetarian dishes, but when am sharing it with anybody else, I usually add a couple of (shredded) eggs after I separate my portion from the skillet.