While my mum takes full responsibilities for the cakes every year, I make the donuts all by myself. Since last year I have also taken the responsibility for the Cherry Knobs (Blogmas Day 2: Baking Cherry Knobs) and contemplating which recipe to inherit next.
So before I go on learning some of my mum's and my aunt's other Christmas recipes, I thought I should share the recipe of what I am really good at- glazed donuts. I learnt the recipe from a cousin a long time back and have been making them since my teenage years.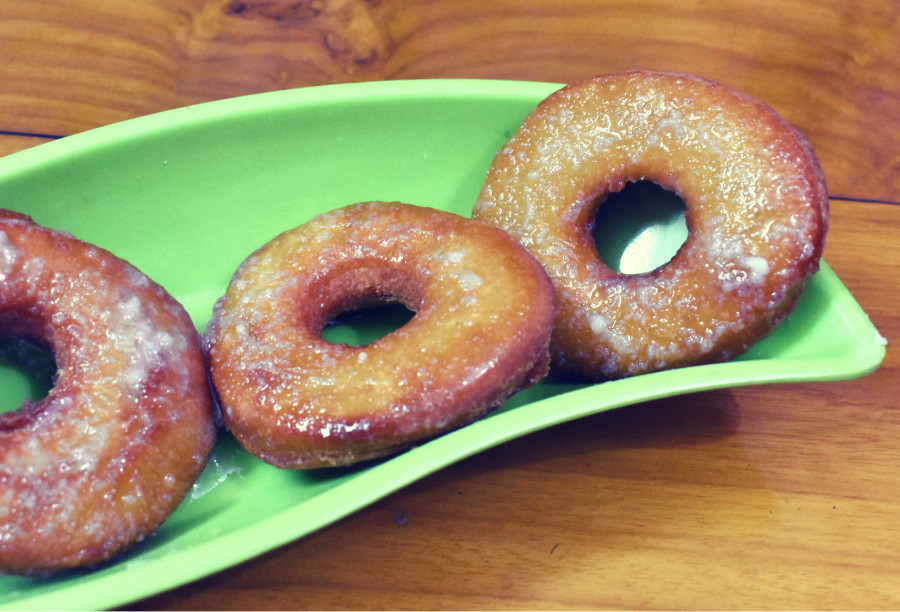 Here's my way of making it.
Ingredients:
For the Donut:
5 cups of all purpose flour ( I end up using more at the end if my dough becomes too soft)
½ cup Granulated Sugar
¼ table spoon salt
1 spoon yeast
3 spoon warm water
¾ cup warm milk (not too hot)
100gm butter or margarine
2 eggs
Oil for deep frying
For the Glaze:
6 teaspoon milk
2cups sugar
Direction:
In a medium bowl, stir together the milk, granulated sugar and salt. When the mixture is almost cold, stir it into 3cups of flour.
In another small bowl, dissolve the yeast into the warm water. Stir it into the mixture and add the butter and eggs.  Mix the remaining flour while kneading the dough for few minutes or until its firm enough.
Put the dough in an oiled bowl, cover it and let it rise and double in bulk (30 to 45 minutes)
When the dough is doubled, roll it out to ½ inch in thickness. To avoid the dough sticking to the surface, lightly flour the surface before rolling. Cut the roll into circles using donut cutter (or round cutter). Set aside and let it rise for another half an hour.
Heat some oil in a frying and fry both sides until they are golden brown. I usually fry 4 at a time. Remove the donut from the oil and glaze while warm.
To make the glaze:
Stir the sugar into the milk until the sugar dissolves. Dip warm donuts in the glaze and set aside to cool.
Note: We usually bake the cakes and donuts and cookies way ahead of Christmas. Since glazed donuts are a little tough to store, we store the dry donuts and glaze the ones that we are going to eat freshly made. The dry ones tastes amazing too!
Hope you enjoyed this recipe. Do let me know how it turned out if you try it out.