Hey guys, this is going to be my first book review, and may be even my last. I am a member of this platform for Indian Bloggers called Blogadda and they have taken an initiative called 'Bloggers to Authors' and have made it really easy for bloggers to publish their books. Recently they published this book called 'Tale O' 12' and I applied to review it, as I happen to be a bookworm as well. I actually received it a while ago, the day before I left for Andaman and was supposed to review it in a week.  I actually planned to read it during my trip and review it when I was done. But as you guys know, my trip was a bit lengthy and I had no network or wi-fi over there at all. Also, the tight schedule and all the running around from one island to another made it really hard for me to even hold the book once I reached our hotel from the airport, let alone read it, and then the accident took a toll on me. By the time I came back, my deadline was already over, and I tried reading the book as fast as I can all the while writing down my travelogue. Turned out, the only books that I can finish within a couple of days are the detective ones. So, since I have been getting constant e-mails and texts reminding me of my already past deadline, here I am reviewing the book without even completing it.
Overview of the book
Every life event is a story. In fact every moment of our life is part of a story being happened. We always ignore those because we think stories have no connection to real life happenings. But when we read stories or fictions suddenly we connect ourselves to the story-line or some of the characters emotionally or otherwise. That's why stories always fascinate us, entertain us & give us some lessons of life.
'Tale O' 12' is a collection of twelve stories inspired from real life events written in a fictional narrative. One would definitely connect to the characters of the stories someway or other because all the stories have something that's related to everyone's life.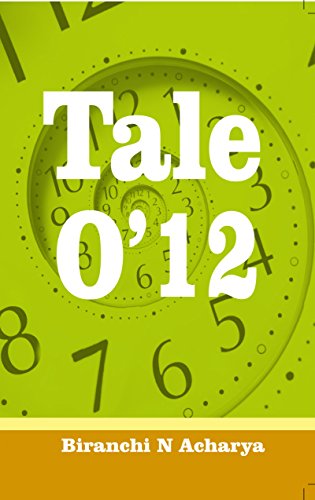 About the author
Biranchi N Acharya is a competent engineer by profession and habituated blogger and writer by passion. As an ardent political/social observer he is a regular contributor to various online political and social platforms that publish articles. His various articles/blogs ranging from opinions on politics, current affairs, socio-economic issues, religion and spiritual thoughts have been published on different platforms and highly appreciated by readers at large. Lot of his anecdotes are also based on real life experiences mostly in story telling style posted in various free blogging sites and has earned him loads of reader's accolades. 'Encounter with Wisdom' is the first book of the author published in December 2014. 'Tale O' 12′ is his second book.
Book Review:
The book consists of 12 individual short stories. Stories that can take place in anyone's life, and can change his or her life forever.
The fact that Biranchi N Acharya is not a pro writer or a literary student can be well guessed from the very beginning of his first story. The use of simple language can be a pros, however, being a literary student and a Classic Novel nerd I found it hard to overlook the grammatical errors and badly put together words. If you ask for my personal opinion, I would say that I still have a massive respect for the author as you can well guess how hard it can be to pursue a career in writing when you have a corporate background.
Now let's get to the plot part. Out of all the stories that I have managed to read, they all have the power to leave a major impact on your life. They will make you think twice about the way you treat yourself and everybody around you. They will make you look at your life positively.  The writer can claim that the novel is a work of fiction, but I can sense that not all of them are. There's a personal touch to almost every stories that I read and I love how psychology plays a major part in most of his stories (the ones that I read).
Overall, I liked the book and I'm going to finish reading all the stories for the sake of 'I want to be influenced by them' even though am still a bit skeptical because of the use of bad grammars. I believe with a better proof reading, the author can make a really great book, and I'm eager to find out if he's stories get published in a polished writing the next time.
This review is a part of the biggest "http://blog.blogadda.com/2011/05/04/indian-bloggers-book-reviews"  Book Review Program "http://www.blogadda.com"Indian Bloggers. Participate now to get free books!