As you guys might already have knowledge about my love for chemical free all organic products, I'm here to introduce you guys with an amazing cleanser and make-up remover that you guys can use on a daily basis.
When I first started using Korean Oil Cleansers, I thought I might never go back to using cleansing milk, but here I am, completely in love with "Soultree Aloe & Rose Water Face Cleanser With Skin Toning Licorice" from Soultree's Amrita range.
About SoulTree:
I don't think I need to give an introduction to Soultree, but in case you are not aware, SoulTree® is India's first and the only range of certified natural beauty & personal care  products developed by Vedicare Ayurveda Pvt. Ltd. The products are crafted from natural origin ingredients, using natural oils and carefully selected Ayurvedic herbs which are grown organically or wild-crafted in the Himalayas. SoulTree products carry the assurance of BDIH seal, the German hallmark for natural beauty products. In addition to the organic Ayurvedic herbs, these natural origin ingredients are derived from natural sources through strictly regulated processes to ensure that synthetic & harmful ingredients do not make their way into the products. No artificial colours, fragrances or harmful preservatives are added. SoulTree products are free of parabens and silicones. Every SoulTree product comes in a recyclable packaging. SoulTree believes in complete transparency and lists all the ingredients on each product label to allow customers to make an informed decision.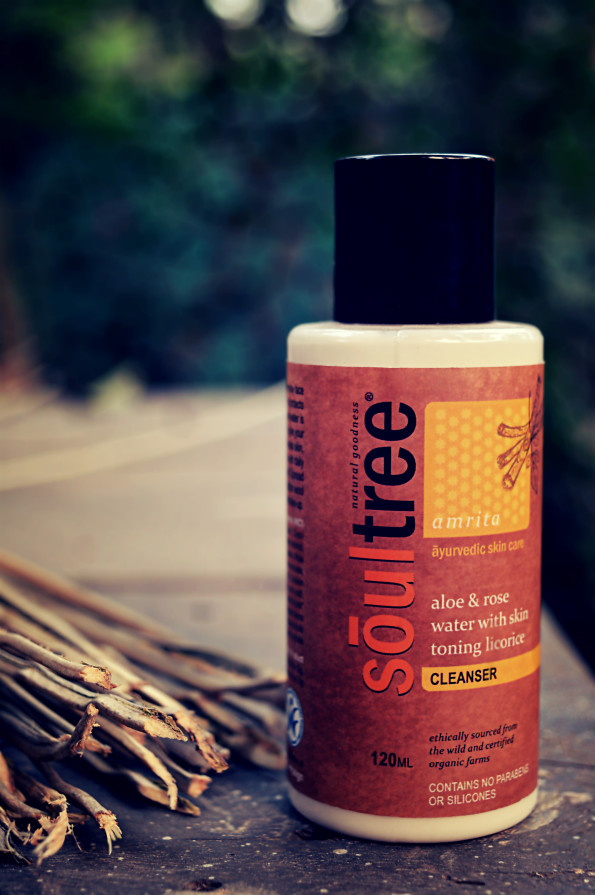 Claims:
With its subtle floral notes this everyday face cleanser and make-up remover cleans and protects your skin. Organic aloe and fresh rose water is blended with extracts of organic licorice to give your skin multiple benefits. It cools and heals skin, lightens sun tan and reduces blemishes with daily use. Dab on the cleanser after a wash. Spread across face and neck and wipe off with cotton wool to remove make-up and dirt.
Benefits:
Aloe Vera for clear & well hydrated skin
Rose for radiant & naturally glowing skin
Licorice for skin toning & tightening properties
Sesame Oil for skin softening & conditioning
Ingredients:
Aqua,  Aloe vera, Coco caprylate, Coco glucoside, Cetearyl Alcohol, Glycerin,  Prunus Armeniaca oil, Cetearyl glucoside, Rose water, Sodium Benzoate, Potassium Sorbate, Tocopherol, Sodium Stearoyl Glutamate, Cananga Odorata oil, Lactic acid, Xanthum gum, Licorice.
Packaging:
Comes in a plastic bottle with a flip-flop cap, making it as hygienic as it can get. Easy to use and trouble friendly.
Price:
Rs 295/- for 120 ml.
My Experience:
Using Korean Oil Cleansers has certainly increased my expectations on cleansers. However, when I used the Soultree Aloe & Rose Water Face Cleanser With Skin Toning Licorice, I have to admit that I was completely blown away by that super refreshing smell. Even though the instruction clearly says that it should be used as a cleanser, spreading it all over the face and wiping it with a damp cotton ball, I tried it as a cleanser instead, massaging it all over my face and washing it off with water. My skin was left clean and refreshed, and no one could tell that I used it the wrong way. From the next time however, I used it the right way, massaging it on my skin and using a cotton ball to wipe it off. It removed even the last trace of my make-up, including my waterproof mascara. I was really impressed with the result and I have been using it regularly ever since.
Pros:
Free from Paraben, Silicon and other harsh chemical
Eco-friendly
Refreshing
Removes all traced of dirt and make up and turns the white cotton ball into a colourful one.
Nice floral fragrance.
Travel friendly
Pocket friendly
Cons:
Haven't found any.
You can purchase it from here: http://www.soultree.in/
Rating:
4.8/5