If you guys have been reading my previous posts, you'll know that I've moved back to my hometown for the summer. Leaving the city after 9 years mean a lot of moving and because I plan to be back to the city by the fall, I decided not to bring my furniture with me. So the Sunday was a hell lot of day for me. I woke up early in the morning, moved the furnitures to my boy friend's place and some to my sister's place and then took the rest of the belongings with me. It was a 4 hrs drive and you can only imagine how I was looking when I reached home past 11 p.m. I had no energy to even dine but still I somehow managed to bathe for the 5th time that day and when I looked at myself in the mirror I really had to do something about how I looked. So I took out the Four Season Aloe Soothing Waterful Oasis Mask I received from Skin18, threw it on my skin and crashed on the bed. If I had a little more energy I would have let it rest on the refrigerator for 10 minutes but anyhow it felt so refreshing that I was more than just thankful to Skin18 at the moment for sending me this Sheet Mask.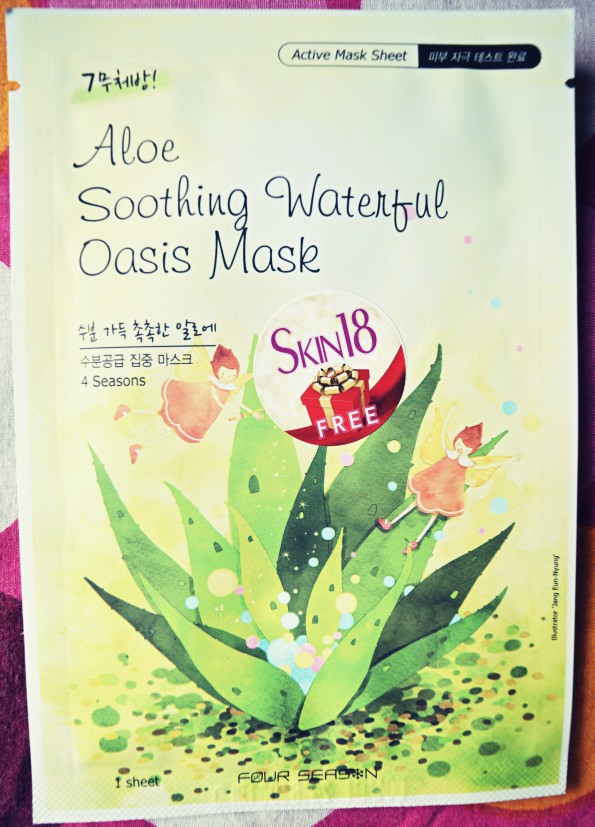 Product Claims: This Whitening functional mask sheet contains essence derived from natural Aloe that soothes irritated skin and provides abundant moisture to create radiating and smooth skin.
 Directions:
– Apply the mask over cleansed and toned face.
– Leave on for 15-30 minutes,then remove gently.
– No need to rinse, and massage remaining essence onto skin.
– Discard the mask after single use.
Ingredients: Water, Glycerin, Butylene Glycol, Niacinamide, Alcohol, Dipropylene Glycol, Aloe Barbadensis Leaf Extract, Panthenol, Triphenyl Trimethicone, Cetyl Ethylhexanoate, Xanthan Gum, Carbomer, Portulaca Oleracea Extract, Camellia Sinensis Leaf Extract, Hamamelis Viginiana (Witch Hazel) Extract, Dipotassium Glycyrrhizate, PEG-60 Hydrogenated Castor Oil, Triethanolamine, Chlorphenesin, Phenoxyethanol, Illicium Verum (Anise) Fruit Extract, 1,2-Hexanediol, Caprylyl Glycol, Propanediol, Sodium Polyacrylate, Sodium Hyaluronate, Disodium EDTA, Allantoin, Ceteth-20, Ceteth-10, Cetearyl alcohol, Tocopheryl Acetate, Fragrance.
My Experience:
I had my eyes on this particular Sheet Mask for a very long time and I'm glad that it was included in the package I received from Skin18. So as I already told you, I applied the sheet mask after a very hectic day.  I threw it on my face, laid dead for about 30 minutes and when I walked up to the mirror to take it off and that's when I noticed how badly it fit on my face.  I was so very tired that I didn't really notice the immediate after effect it had on my skin but when I woke up the following morning my skin was visibly soothed, as if the moving never happened the previous day. The moving surely took a toll on my skin but that was all gone.  However, since I sheet mask every once or twice a week my expectations on them are very high and sadly this sheet mask didn't do much apart from soothing my skin. Of course an Aloe mask is meant for soothing, but this particular Sheet Mask also claimed to whiten (I prefer brighten) the skin, but I didn't notice any such effect. I'm not complaining though, it did recover my badly tired skin and I am thankful for that.
Will I purchase it?
Yes, I would love to apply them on a regular day.
Rating:
4/5