Back from where I left off the day before yesterday. Day 3 from my Andaman Trip started early morning, around 5 I guess. We took a cruise called Green Ocean to Havelock and had a real pleasant ride.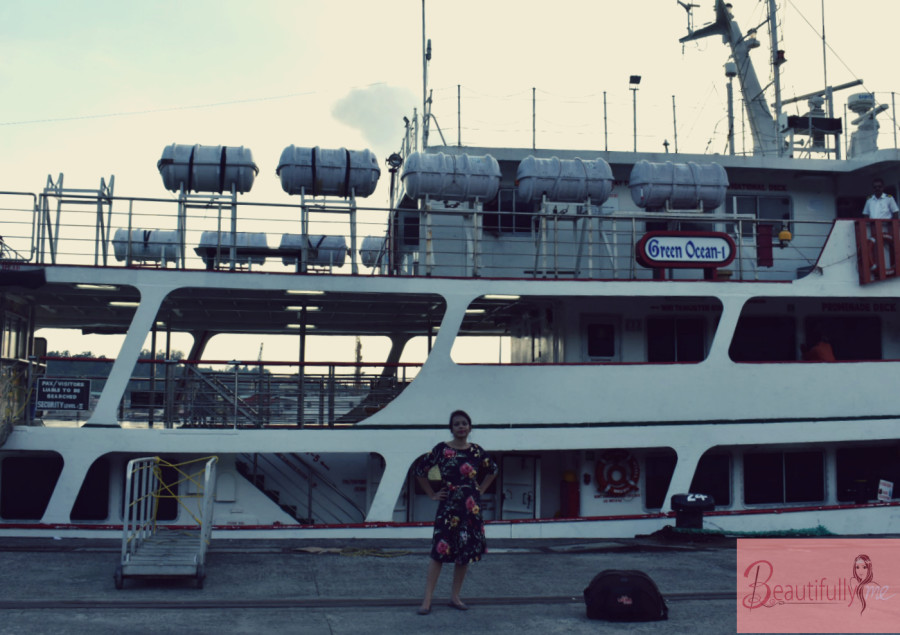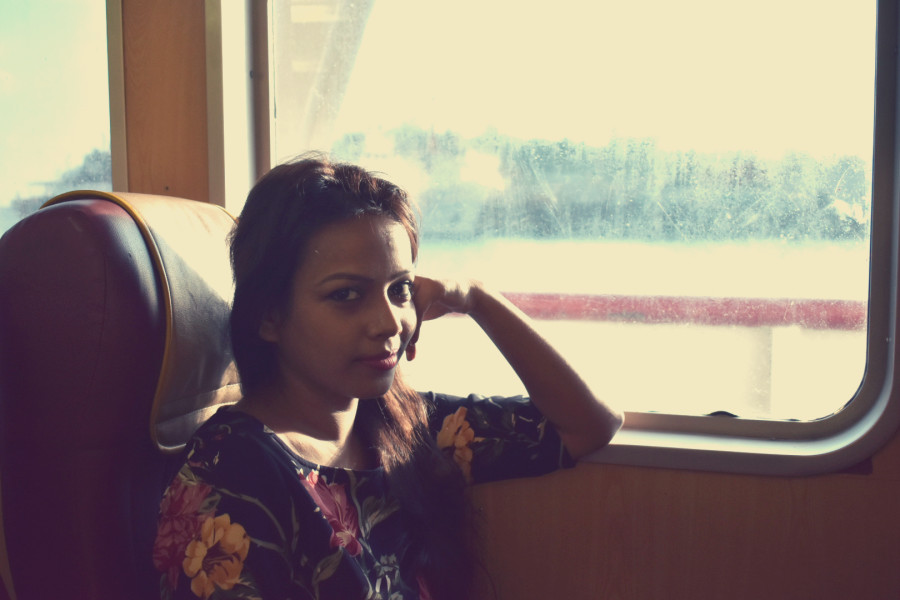 The same cannot be said about my friend's brother and sister-in-law who came to Andaman on their Honeymoon a day after us, and took the same cruise the very next day and puked their guts out throughout their ride. It was the day we went to Neil Island from Havelock and the weather was pretty bad and most of the people in the cruise fell sick. But I'll come back to that later. Our ride on Green Ocean was pretty pleasant. A few minutes after the cruise took off we were said that we can go to the open terrace, and everybody rushed. Half the people on the cruise were on the terrace and the rest where in front of the cafeteria and which made it a challenge for us to click a picture of the amazing view, because every second we had to make way for someone passing by. We had some coffee in the cafeteria and then I came back to my seat and dozed off. It was a 2 hours ride and no one fell sick, no one complained.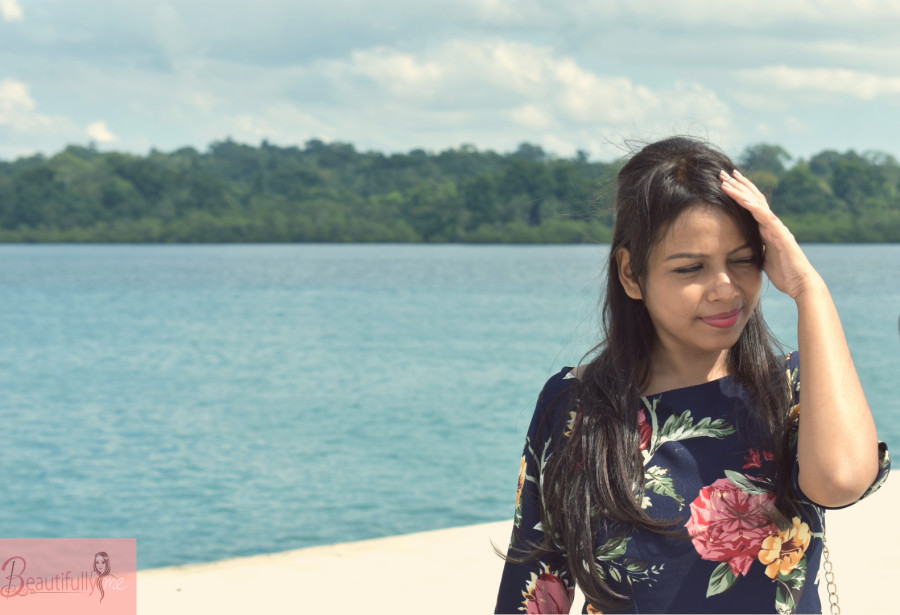 We were picked up by our agents and were led to an amazing resort. Sadly however, again we got one double bedroom for 4 family members. We told the manager that we are going to pay for an extra room if there's any,but we were told that they are always fully booked. So take a note, book your room in prior if you are planning a stay in Havelock, A.K.A the most wonderful place in Andaman.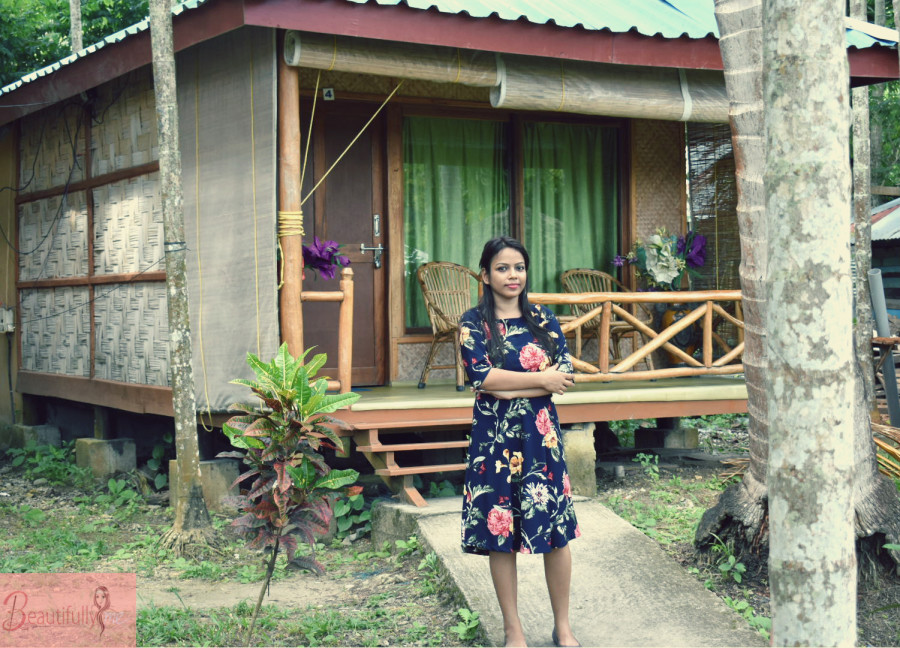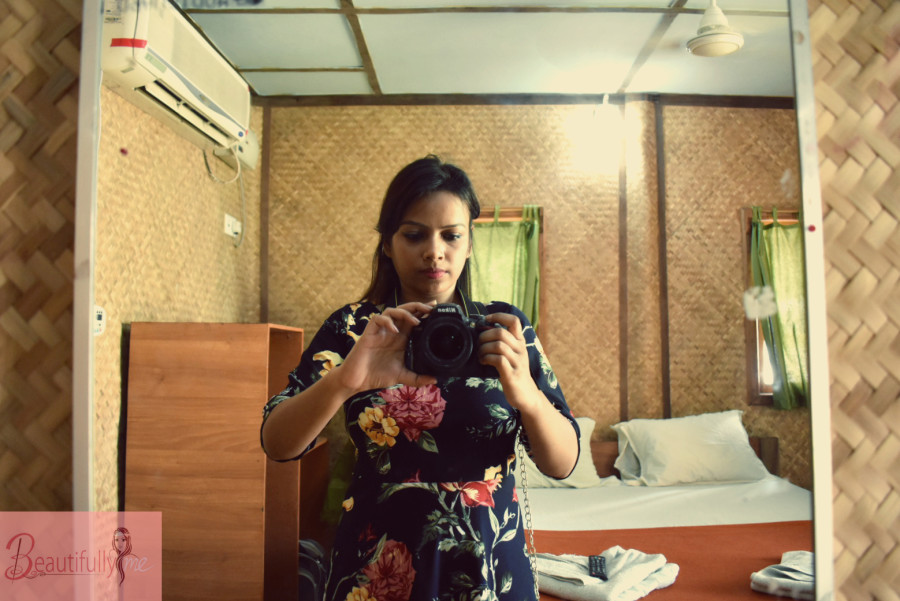 We had our lunch in the hotel, and while the menu said crab, there were none in the kitchen. So we ordered an additional plate of prawn along with our usual package meal. The rest of the day, there were no plans by our agents because apparently they thought that we are probably going to be tired from the voyage, which we were clearly not. Around 3 p.m we took an auto to Kala Pathar Beach. The resort car was charging us the same amount (some 800 bucks I guess) but we just love auto rides while travelling andit reminds us of our favourite vacation in Vizag years back. The road to Kala Pathar was mind blowing, the kind that haunts me in my dreams in the most pleasant way. When I remember the road, I curse myself for not taking a stop and clicking a picture.  Everything was picture perfect which turned more like dream with the tropical weather. The beach was as amazing as the road, with fewer people and some tropical fruit stands. I am the type of traveller who likes avoiding tourist spots, and loves to visit unexplored areas, so this beach turned out to be my favourite spot in the whole trip, and after spending an amazing time on the beach, I ran towards the fruit stalls.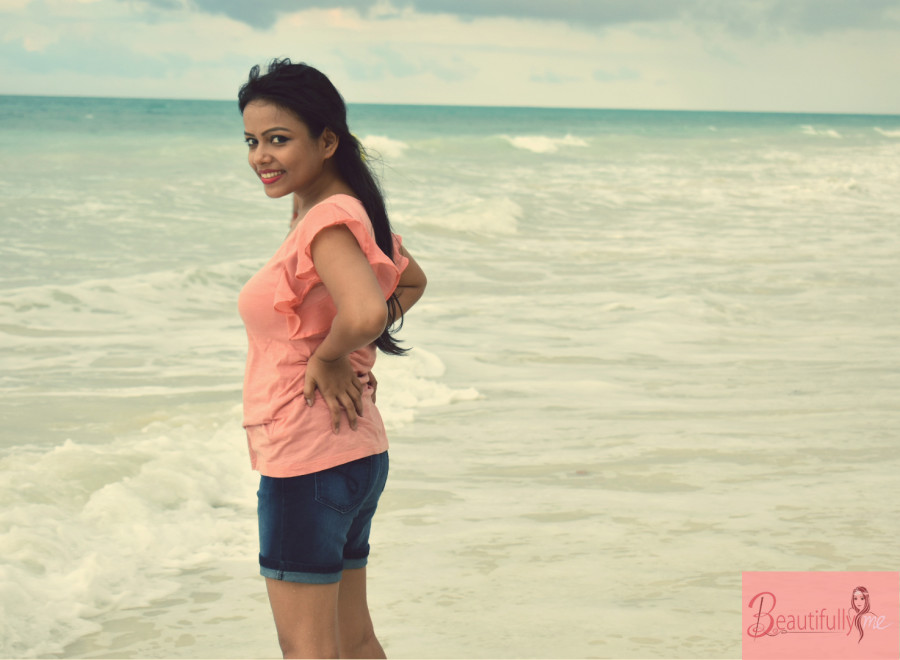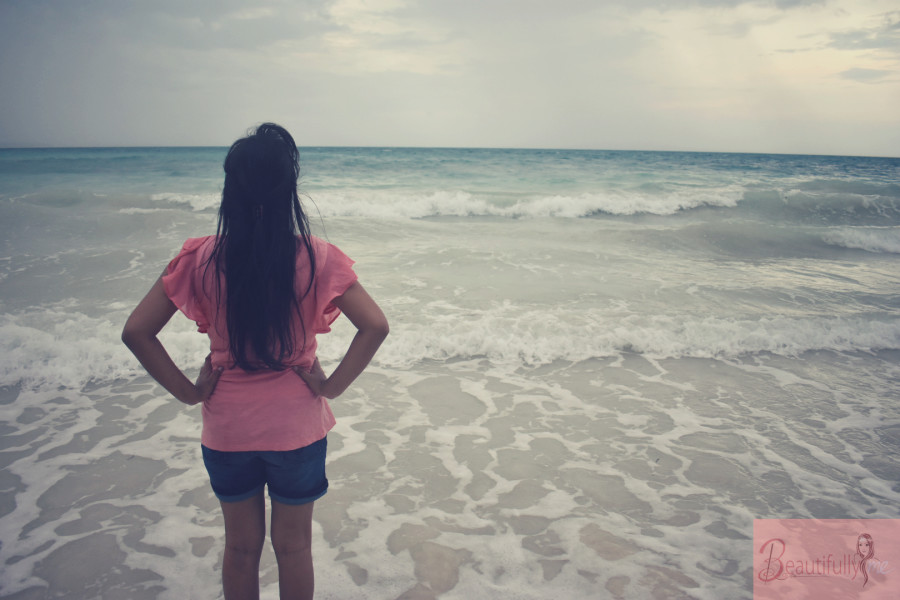 After an hour we came back to our auto and as soon as it took off, it started raining. Does it get any better than this? A lonely road, woods on both side, no other human being to be seen (except for my family and the auto driver of course) and the rain! I wish the road never ended. But soon it did and so did the rain and we went back to civilization. From the running auto, I spotted a small restaurant with 'Wi-Fi' written on it. As our resort wasn't too far, we paid the driver and went inside the restaurant, all the while hoping that they have lobsters in the menu. We asked about the wi-fi and they said that we will get free wi-fi if we order above 500 bucks. Of course we will! I had lobster in my mind. So we took the wi-fi password and ordered the food once both our phone batteries and power bank died. I ordered a lobster and my sister ordered a grilled fish and we got some complimentary French Fries that tasted weird. My lobster was cooked in Indian Style and tasted A-M-A-Z-I-N-G. The same cannot be said about my sister's fish however, it tasted disgusting. On the brighter side, she is allergic to prawn but she took a tiny bite of the lobster and said it didn't bother her at all. We ordered four cups of Tea and after I read everyone's' expressions after they took their first sip, I didn't dare sipping mine. They didn't take a second sip either. So in case you are visiting Havelock and drop down at 'Golden Spoon', DO NOT order their tea, neither their grilled fish that looks like this…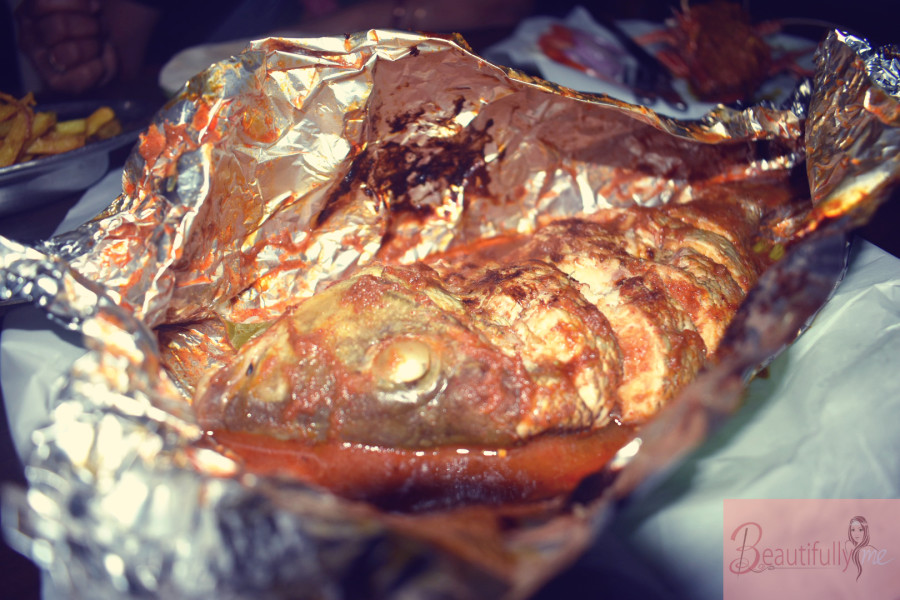 Go for the lobster instead…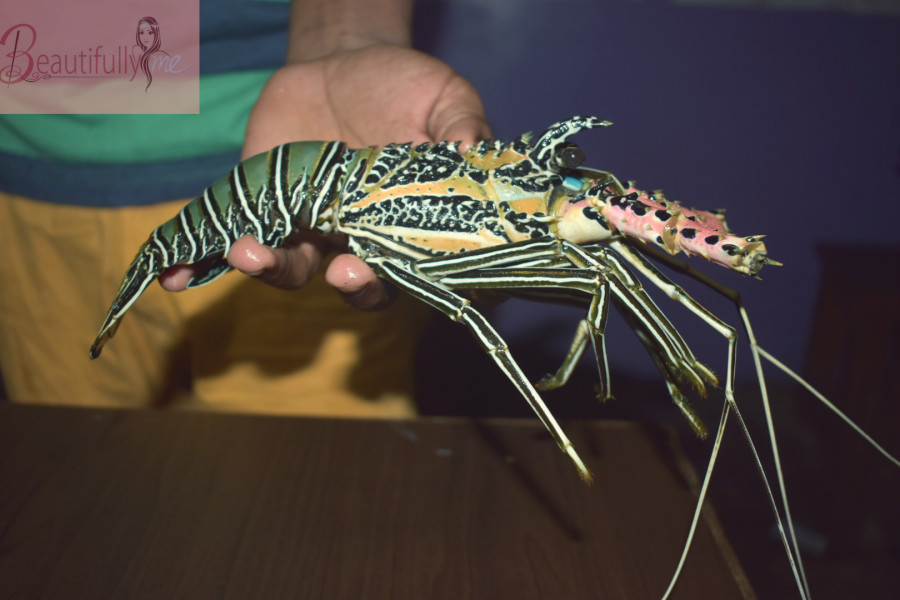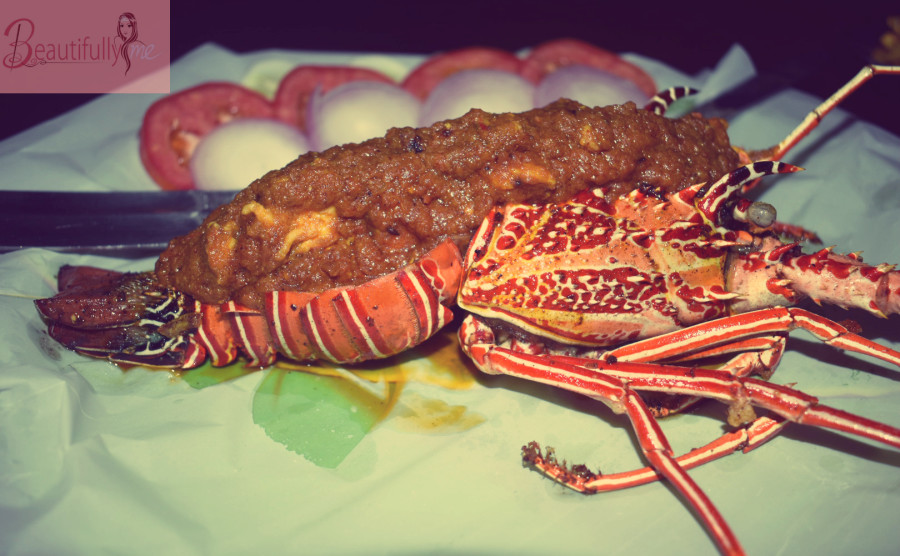 Lobster- 500 bucks
Grilled Fish- 300 bucks
We walked back to our resort, had dinner, ordered an extra bed and went to sleep. The whole night it rained like cats and dogs and I kept thinking "dafuq would happen if the whole structure of the cottage falls down" (it actually happened to me once, am not lying).
Day 4:
The next morning we went to Radhanagar Beach which is famous for Scuba Diving. What I didn't know was that my friend's brother and his wife were at the Beach at the same time and while they were scuba diving, we were contemplating if we have enough time to scuba dive once again.  Of course there was bound to be something special about the Scuba in this particular beach which made it more famous than any other beach that has Scuba. Also it cost a lot less than what we paid at North Bay Island. If I can remember correctly, we paid 3.5k per person, and the Radhanagar Scuba costs 2k per head (I guess). I am yet to watch their Scuba Video and compare it with mine. 😀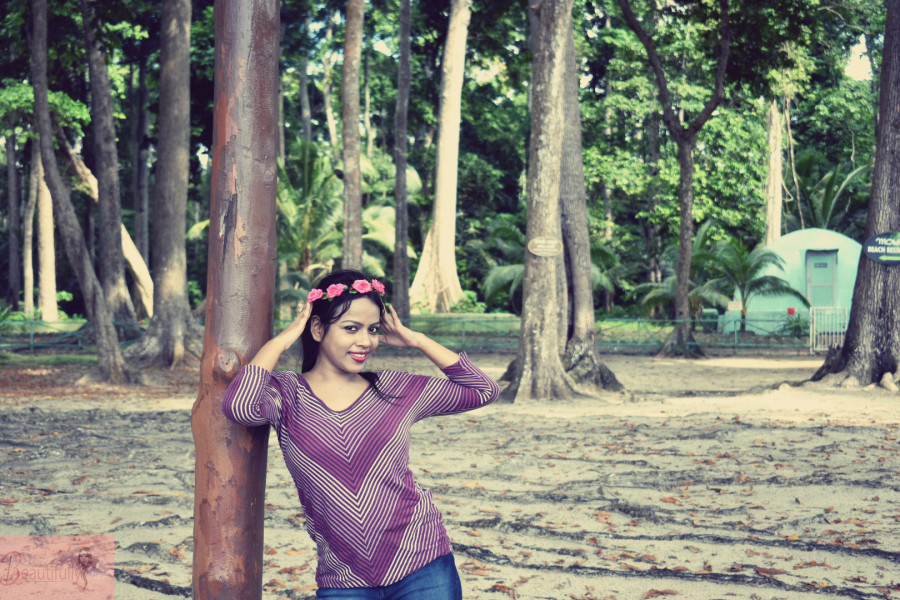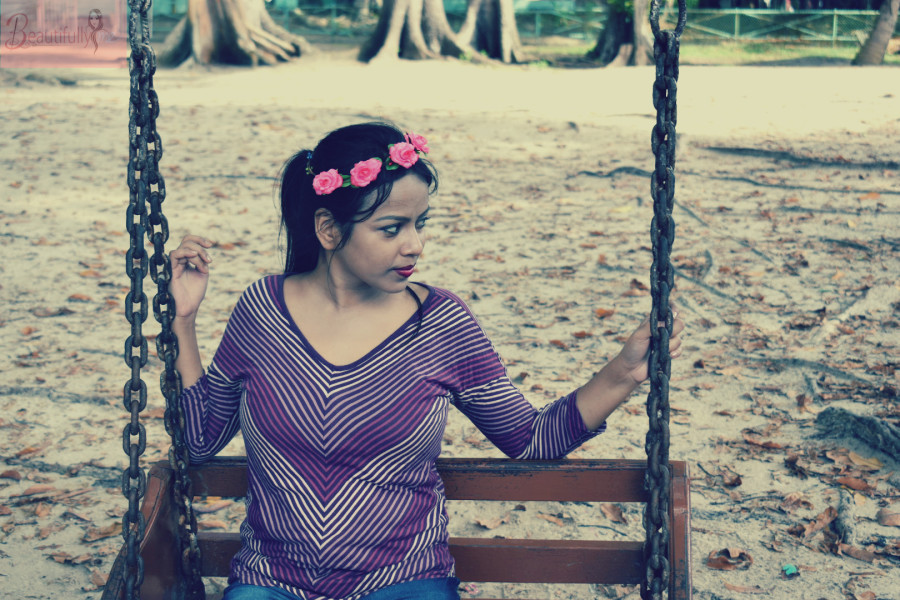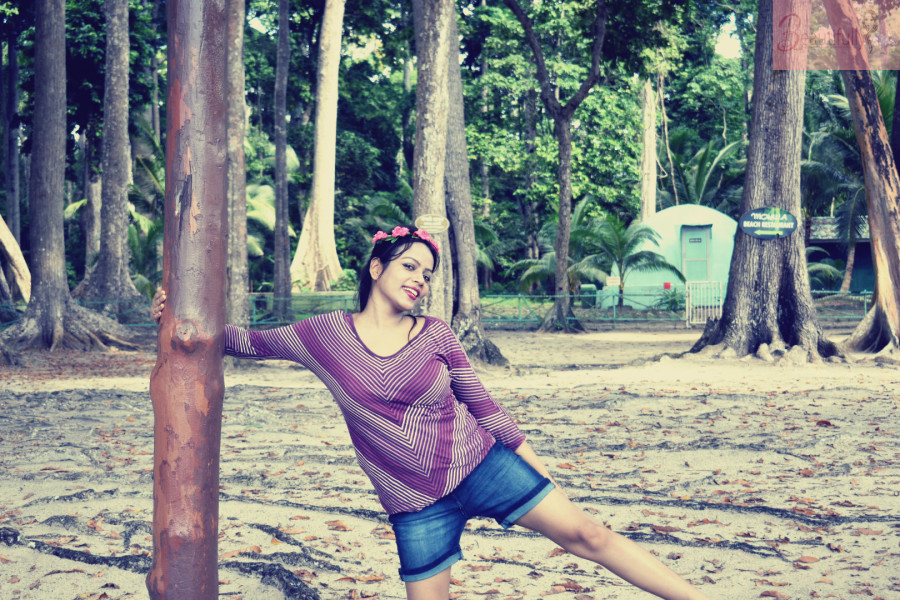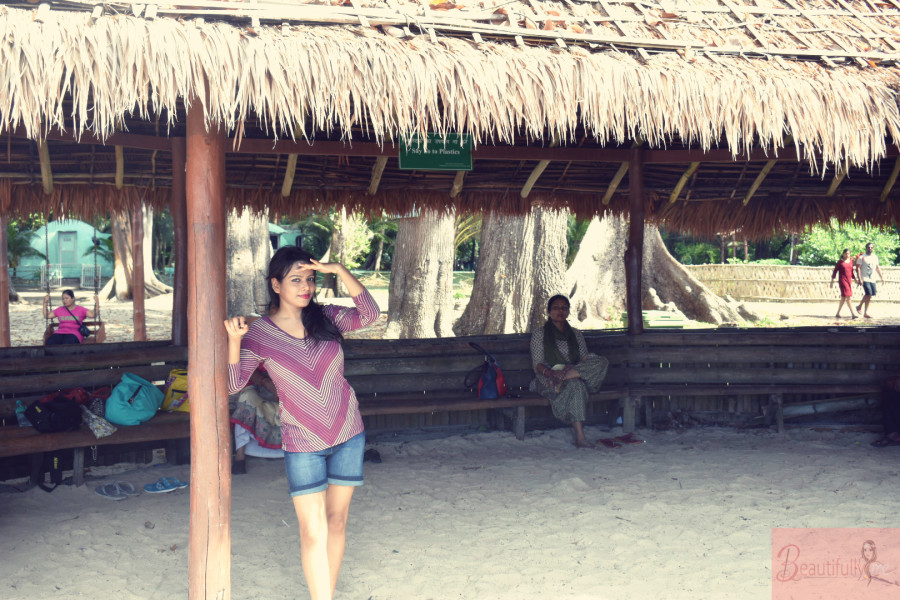 So anyhow, we had an amazing time at the eco-friendly beach. We all bathed in the sea, and before I dived in, I clicked some amazing pictures of my family, which I am banned from posting on my blog because my sister thinks she looks fat 😀 (She is healthy though, not fat).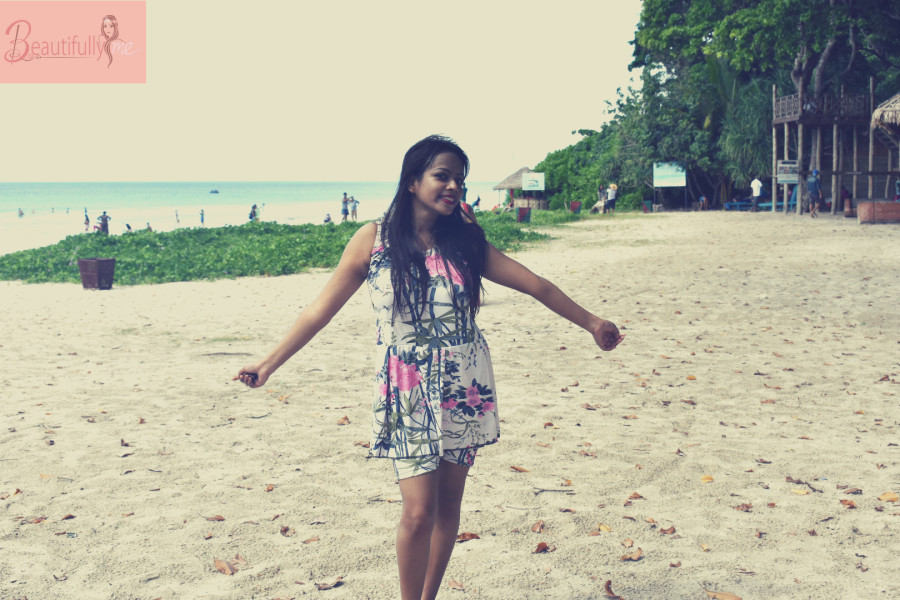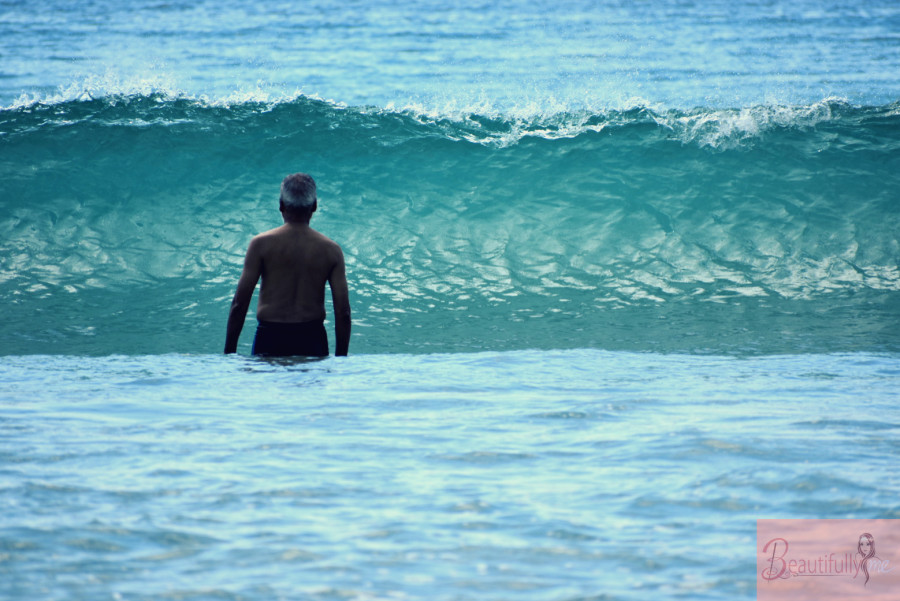 There was an almost clean changing room where we showered and took off. And I again had an amazing fruit salad right outside the beach.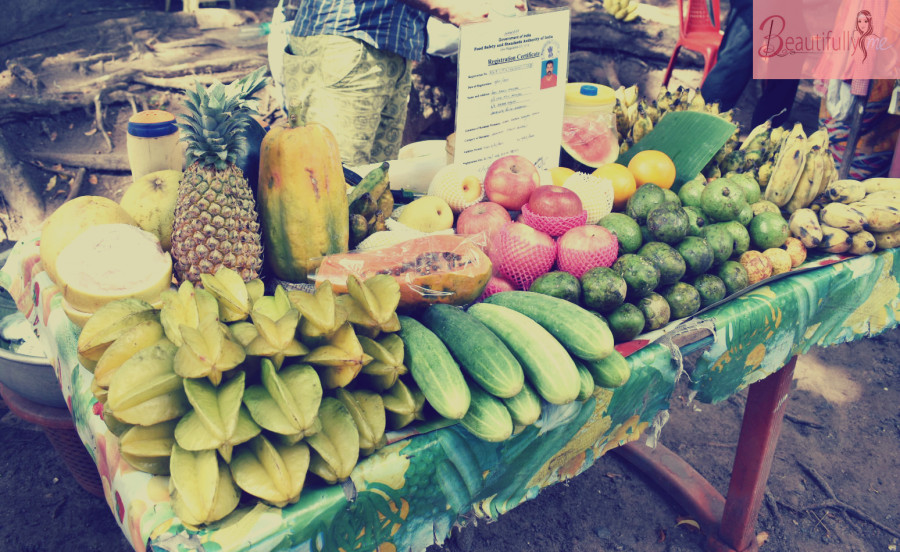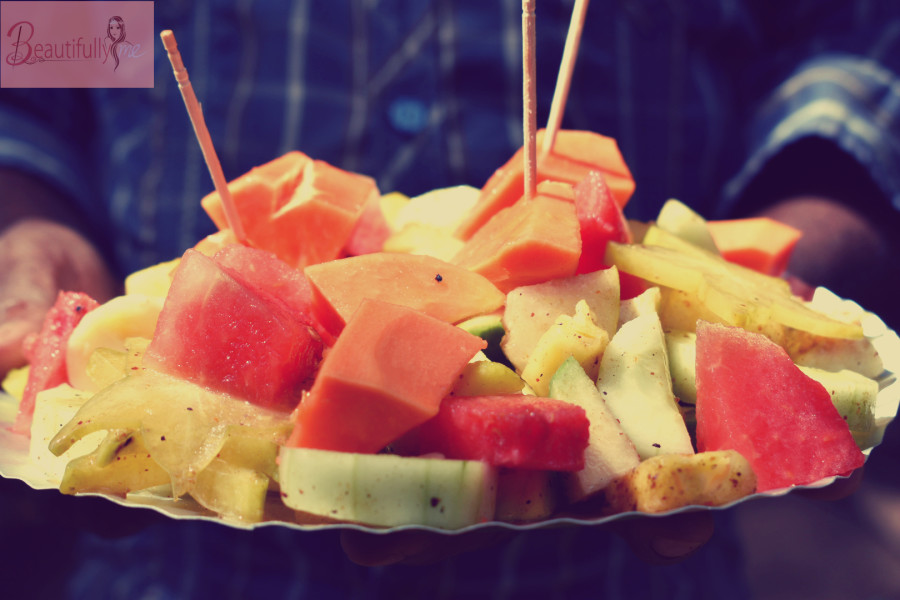 We already had our luggage packed at the resort, so we just had our lunch and left for our cruise to Neil Island.
And here comes the part where I feel sick even remembering the ride. We had our eyes on this cruise since we came to the port for our cruise to Havelock. It's called Coastal Cruise by Makruzz and it looked so classy.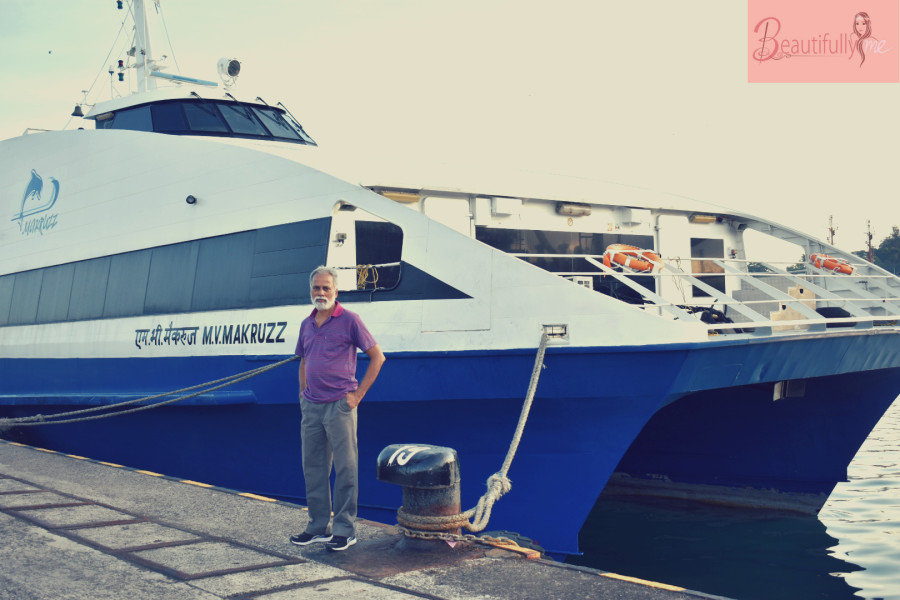 Even though the inside of the cruise was even more luxurious than the outside, I started feeling sick as soon as I took my seat, thus no pictures from the evening. As soon as the cruise took a start, everybody around started puking. The attendants said that the weather is too bad, and started handing us candies and sick bags. Thankfully no one from my family or our package fell sick, but almost 80% people on the cruise puking together cannot get any more horrible. My sister started listening to music on her phone as to not to listen to all the puking sounds. The 1.30 hours was one of the hardest of my life and when I took a step on the land, I felt triumphant for not puking in the cruise.
We were picked up by our resort manager and while on our way to the resort we paid a quick visit to the Natural Bridge. The place is under the sea at certain time of the day, but our visit was scheduled when we could walk over the dead corals to the bridge.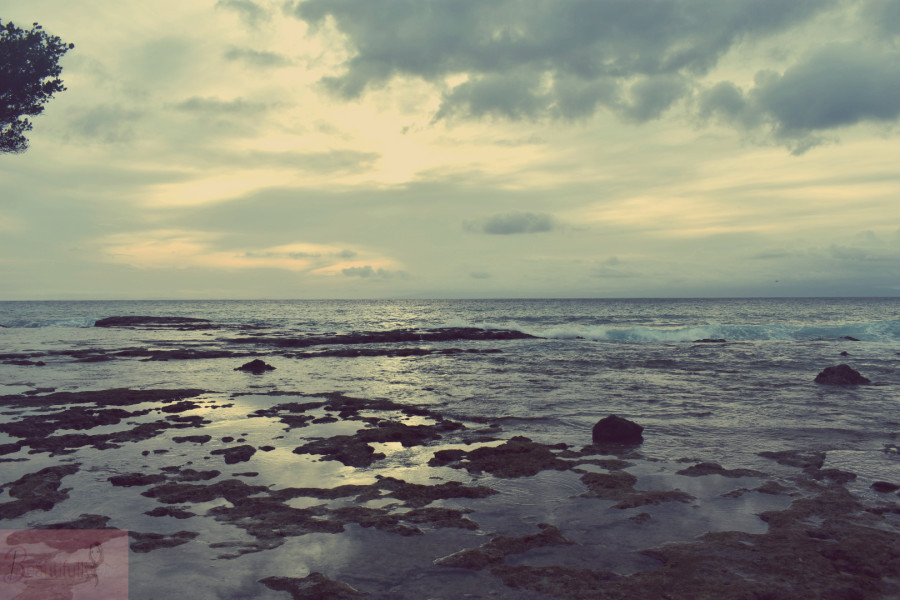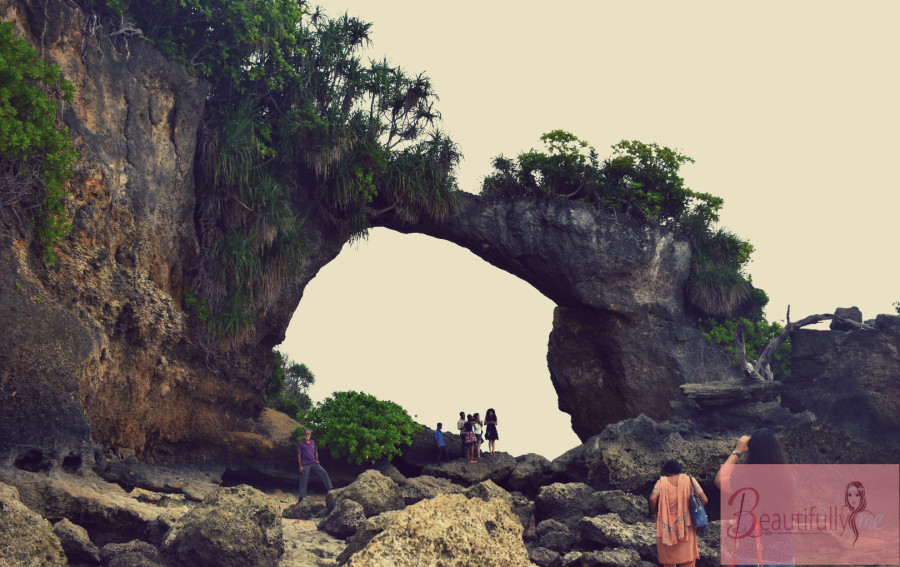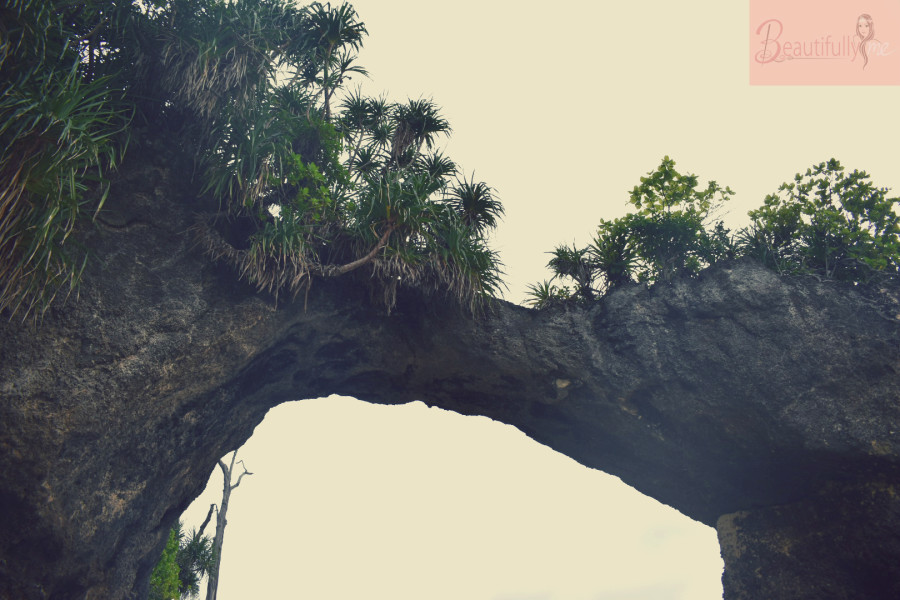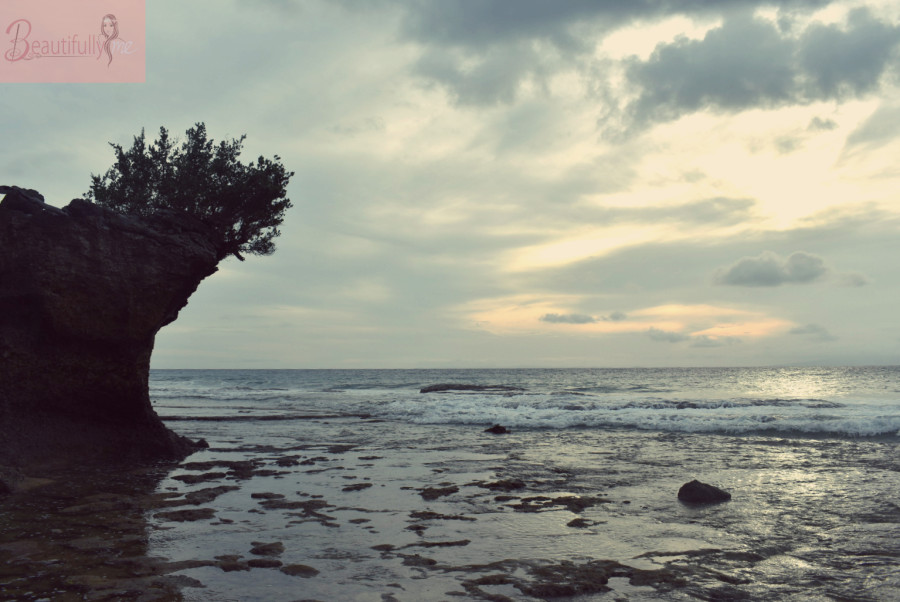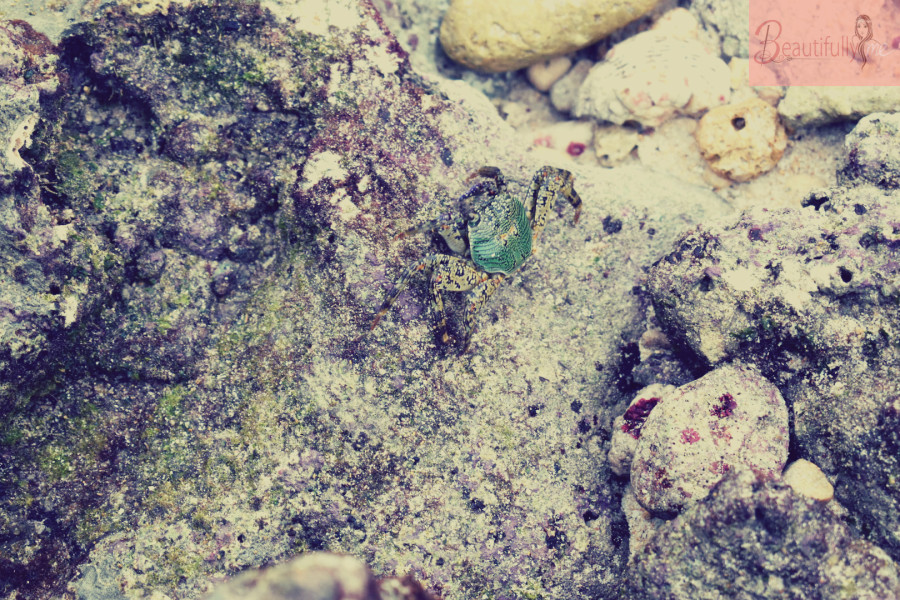 It was a little tricky and a lot risky, but I almost made it to the bridge with a camera on my right hand and my camera bag containing my zoom lens on my left, and then in an attempt to click a picture of a real sneaky crab, I slipped on a rock while trying to save my camera bag from slipping from my shoulder and falling into the water. I still managed to click this shot: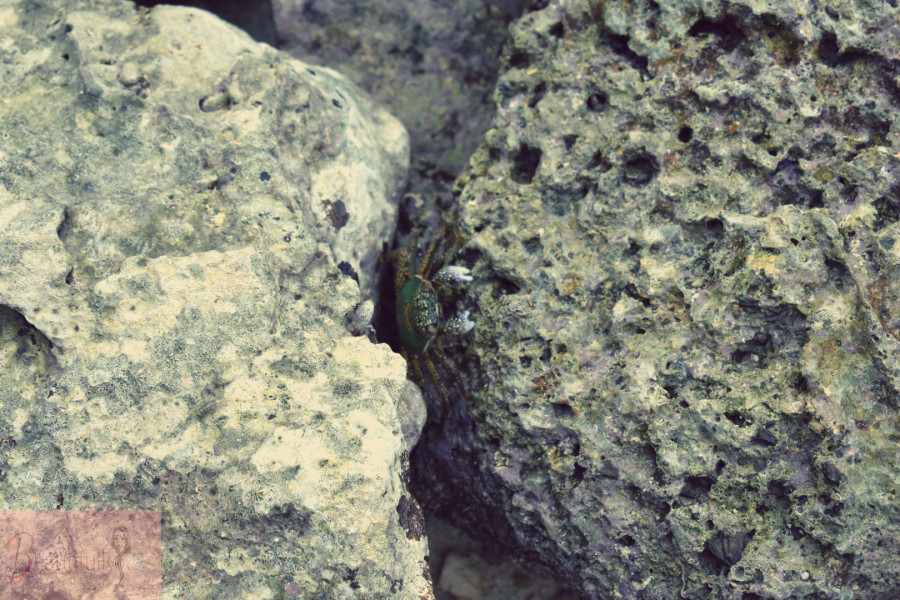 Sadly my photographic expedition ended when my dad noticed my bloody knee.
I somehow still managed to sneak out of his sight for a few seconds and clicked this picture of a fruit I forgot the name of, but I remember our guide saying that the Jarowa Tribals love this fruit.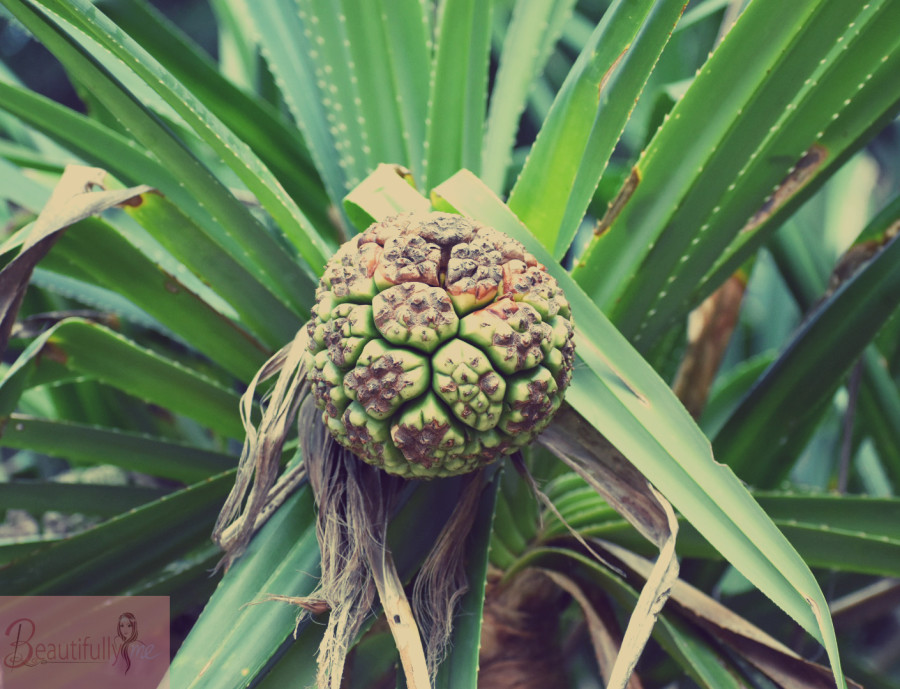 The weather in this island was even more pleasant than Havelock, and very less populated. When we reached our resort, I checked off a point from my bucket list. It was my dream to stay in a lonely place in the middle of the woods, and for a change we got two different rooms. To my horror, I realized there's no network at all. The only networks that work over there are Airtel, and BSNL (I suppose), and it would have been fine with me if I wasn't a blogger and hadn't planned to post live travelogue while travelling. The whole place was lonely with us 11 people and a couple of staffs being the only human around. There were no lights in the street and being a lover of all things creepy, I sneaked out with my camera, using the camera flash to guide me. It took my dad and my sister 10 minutes to realize I was missing, and since he knew that it was literally impossible to call me back, he accompanied me. We saw no other human, and the only sound was crickets chirping.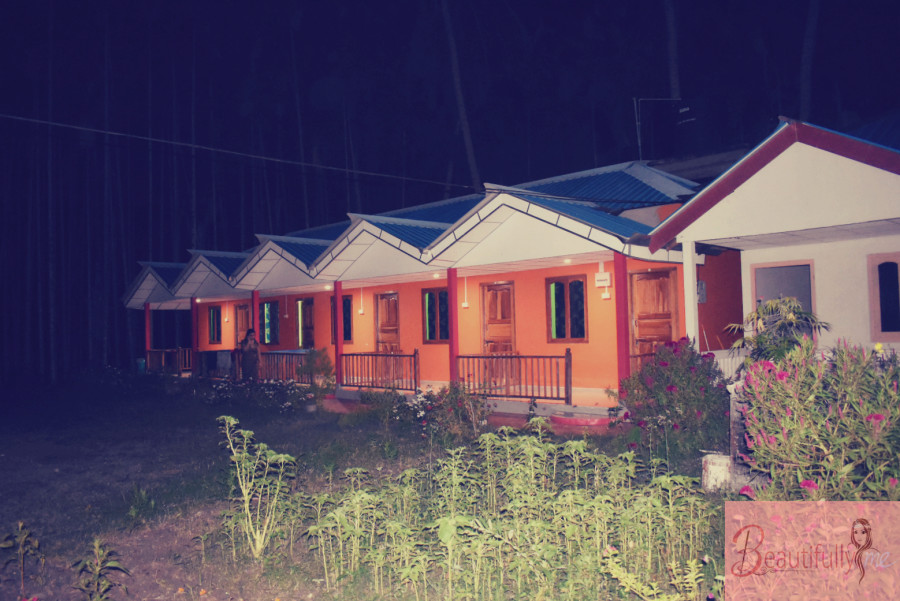 That night at dinner, we ordered the largest crabs we ever ate. 500 bucks for 6 crabs… Yum…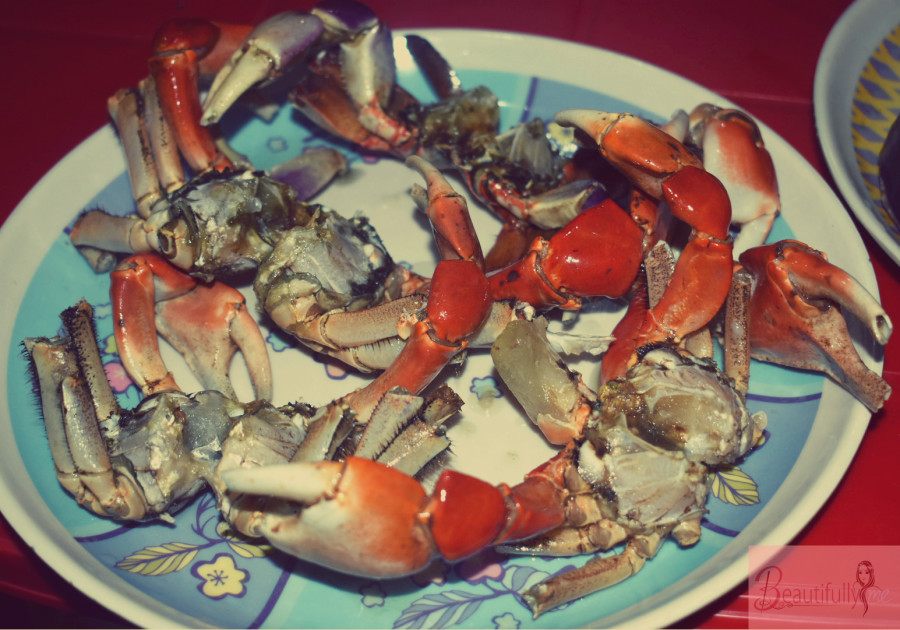 [That were before they were cooked obviously :D]
And then we went to sleep.
Special Note:
Just as I was writing about my Havelock adventure above, my dad told me that more than 1400 tourists are stuck in there due to bad weather. We returned on 3rd December night, and the weather was pretty bad already. I was wondering how the flights are still departing in that weather. Luckily we reached home safely. On the 4th, there was an earthquake, and the weather's been bad since.  If you are watching the news you'll know how bad it got there. While I was sitting in the airport in that terrible weather I was just praying that the flight doesn't get cancelled as I was desperate to come home. Thus I can only imagine what they might be going through. So let's pray for their safe return.  </3
Part 1: http://beautifullyme.in/index.php/2016/12/04/andaman-travel-diary-part-1/
Part 3: http://beautifullyme.in/index.php/2016/12/08/andaman-travel-diary-part-2-2/