So today I'm going to review the next product that I received from Skin18, Luke Hydrogel Eye Patch For Wrinkles [Red]. However, I don't suffer from wrinkles but I do suffer from Panda Eyes and and puffy eyes at the same time. I have been living with it since my 12th board exam. I had this terrible habit of studying throughout the night and sleeping throughout the day. I used to do that when I was in school, I used to do that when I was in college and I used to do that when I was in University. At the beginning it used to heal after the exams were over, but after my 12th board exams, they never recovered. My eyes look either dark and shrunken or puffy and no amount of eye creams or concealer manages to hide them successfully. So when I received this eye patch I was really hopeful that it might work on my puffy eyes as well.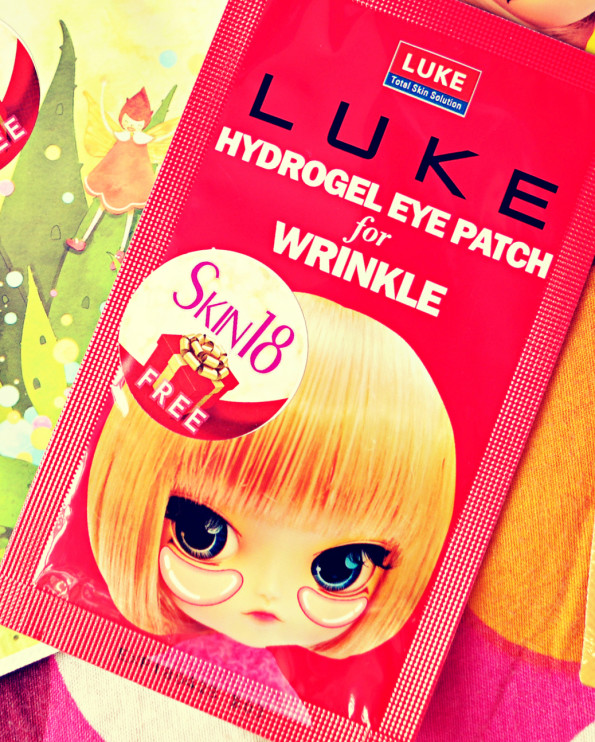 How to apply:
After cleansing, dry with a towel.
Peel off the patch from plastic liner and apply onto the desired area. It is helpful to apply eye cream or essence before.
Leave on for 20-30minutes and remove the patch.
After removing the patch, no rinsing is necessary.
My Experience:
I am certainly lucky for not having wrinkles on my face, yet. But still my face glowed a little when I received this product. I had high hopes that it might work on my puffy eyes as well. There are 5 different types of eye patch from Luke and sadly the red one was the least required for my condition. I used the eye patch as it was instructed and followed it with an eye cream but it made little difference. The area under my eyes looked a bit moisturises but my eyes were still shrunken in my sockets. I was a little disappointed, but not on the product. May be it would have worked amazing on someone who got have wrinkles, after all, it claims to reduce wrinkles not panda eyes, neither it claims to make a dramatic difference with a single usage, that would have been magic. May be the purple eye patch will work better on me; I just have to find out.
Price: Rs 93/- (Skin18)
Pros: 
Sticks on the skin and allows you to move around without sliding.
Contains potential ingredients.
Nourishes the skin area.
Might work on wrinkles if you've got them.
Affordable.
Cons:
I can't really say much as it works on wrinkles and I haven't got them ( feel so stupid).
Will I purchase it?
For myself, I'll certainly purchase the other colours.