If you guys already don't know it, I've moved back with my parents the day before yesterday. After spending 9 long yrs away from home, visiting only once a month, I decided I need to spend some quality time with my parents. Also I was really sick and tired of the city life and the heat stroke I suffered from last summer just made it worse for me. If you ask me if I am loving it here, then I must say that it's a wonderful place for nature lovers like me to live in, also there's no one to bother me here as I have the whole floor (and 4 bedrooms) to myself, unless of course my sister is visiting home. Even though I used to live alone at my apartment at the city, it's a lot more peaceful back at my hometown. I've decided that this summer's going to be all about my books, my guitars and of course my blog. However, with all advantages, there comes a little disadvantage and in this case the disadvantage has to be that I had to leave both our cameras back at the city along with the photographer (who happens to be my boyfriend as well). My phone camera is terrible and also while choosing the colours of my rooms I chose such dark colours that no matter how much lights you switch on, the lighting's still gonna be terrible. Good news is that I made my boyfriend click pictures of as many products as we could before I moved; bad news is that I've got no picture of the products while using them.
The reason for such a big introduction to this post is that today I'm going to review the Holika Holika Golden Monkey 3 Step Lip Kit I received from Skin18, and it desperately required a step by step demonstration and I'm really upset about the fact that I'm unable to do that.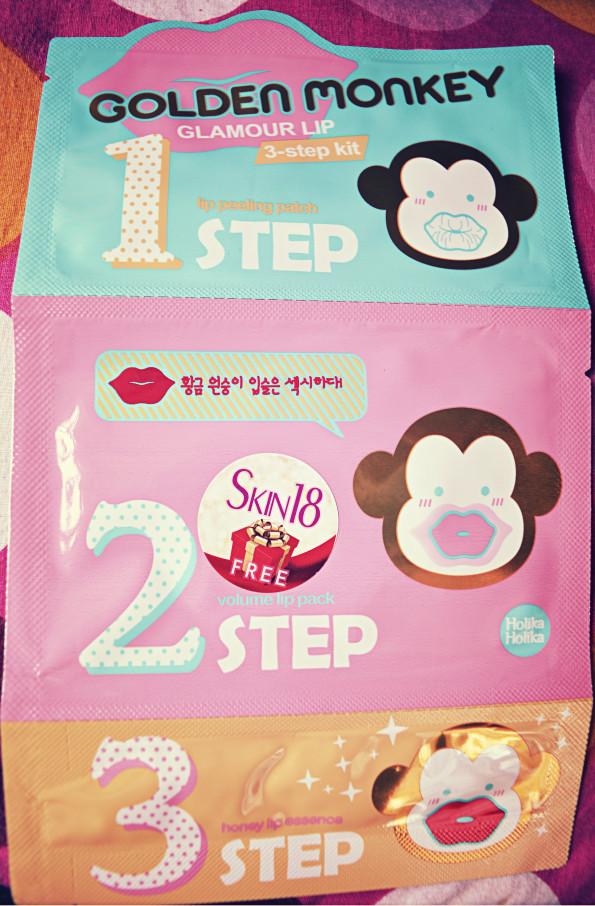 How to Use:
apply step-1 Exfoliating pad to clean lips and gently massage dull skin depending on your lip sensitivity.
apply step-2 Hydro-gel mask to your lips and remove it after 15minutes.  Then gently dab lip area to absorb remaining residue.
apply step-3 Honey treatment to the lips, specially to dry areas.
Ingredients:
Step 1: Water, Glycerin, Cellulose, Butylene Glycol, Gold, Nelumbium Speciosum Flower Extract, Chrysanthemum Morifolium Flower Extract, Gnaphalium Leontopodium Flower Extract, Jasminum Officinale (Jasmine) Flower Extract, Anthemis Nobilis Flower Extract, Salvia Officinalis (Sage) Leaf Extract, Lavandula Angustifolia (Lavender) Flower Extract, Rosmarinus Officinalis (Rosemary) Flower Extract, Cymbopogon Schoenanthus Extract, PEG-60 Hydrogenated Castor Oil, Carbomer, Illicium Verum (Anise) Fruit Extract,Propanediol, Propanediol, 1,2-Hexanediol, Caprylyl Glycol, Tromethamine, Chlorphenesin, Phenoxyethanol, Fragrance, Disodium EDTA
​Step 2: WATER, GLYCERIN, AGAR, CERATONIA SILIQUA GUM, XANTHAN GUM, PEG-60 HYDROGENATED CASTOR OIL, CHONDRUS CRIPUS (CARRAGEENAN), ALLANTOIN, TRIETHYLHEXANOIN, Gardenia Florida Fruit Extract, SODIUM HYALURONATE, HYDROLYZED COLLAGEN, Paeonia lactiflora root Extract, Convallaria Majalis Extract, Magnolia Liliflora Flower Extract, Ipomoea Purpurea Extract, Lilium Candidum Flower Extract, HAMAMELIS VIRGINIANA (WITCH HAZEL) EXTRACT, PORTULACA OLERACEA EXTRACT, BETA-GLUCAN, BUTYROSPERMUM PARKII (SHEA) BUTTER, VACCINIUM MACROCARPON (CRANBERRY) FRUIT EXTRACT, SIMMONDSIA CHINENSIS (JOJOBA) SEED OIL, TOCOPHERYL ACETATE, METHYLPARABEN, FRAGRANCE
Step 3: Polybutene, Diisostearyl Malate, Mineral Oil, Dimethicone, Dextrin Myristate, Caprylyl Glycol, Tocopheryl Acetate, Fragrance, Ethylhexylglycerin, 1,2-Hexanediol, CI 19140, CI 15985, Honey Extract, Royal Jelly Extract, Butylene Glycol, Adansonia Digitata Seed Extract, Equisetum Arvense Extract, Vaccinium Macrocarpon (Cranberry) Fruit Extract, Olea Europaea (Olive) Leaf Extract, Sophora Japonica Flower Extract, Phenoxyethanol, Fructan
Packaging:
The packaging is super cute and hygienic. Each step was packaged separately and the monkey on the package  looks so cute that I can almost pet it.
My Experience:
My lips aren't that dry or chapped, mainly because I apply lip balms very frequently. You can catch me applying lip balms at 30 minutes intervals. It doesn't matter if its winter or summer, my lips just tend to get dehydrated all the time. I don't carry the lip balms with me all the time, there's just always one waiting for me wherever I'm going. Before I moved home, I used to have one lip balm under my pillow at my apartment bedroom, one under the pillow of my hometown bedroom, one downstairs at my parents' living room, one in my office bag (before I quit my job), one in the sling bag I carry most of the times, one at my sister's place (it's not like she doesn't use lip balms, my lips are just too sensitive to risk applying balms that aren't tried and tested on myself) and one at my boyfriend's place. So you guys can literally understand the condition of my lips. Also, a lot of you might know that I've got super sensitive skin and the most sensitive part has to be my lips. If anything goes wrong, my lips are the first ones to react, sometimes within seconds, they starts to swell badly and stays swollen for days even after the rest of my face comes back to normal. So I have got to be very particular about what I'm putting on my skin and my lips.
For some reason, I was really confident on applying the Holika Holika Glamour Monkey Lip Kit. I've read excellent reviews of products from this brand and was really eager to try it out. If you have read my previous post, you'll know that I applied this lip kit while waiting for my Nose Cleansing Strip to dry out.
The first step is to clean and exfoliate the lips with a cute lip shaped exfoliating pad. The pad was soaked in some kind of cleansing milk and was too gentle on my lips. One side of the pad was super smooth while the other side had a little bit of texture on it. I could really feel the dead skins being eliminated.
I washed my lips with a little bit of water and moved to the next step. The 2nd step of the kit consisted of a cute lip-shaped hydrogel patch. It was funny putting it on the lips and waiting for 15 minutes. I badly missed my camera at this point.
Step 3 was to put on a honey based serum on the lips. It looked like a gloss and didn't feel sticky at all. Also there's plenty of the serum left for another 2 or 3 usages.
Because I don't read Korean, I couldn't read anything else except for the direction, the caution and its claim of treating chapped and dry lips, making them more voluptuous. Because of its claim I wondered if I would wake up the next morning with lips like Kylie Jenner. Sure enough no such things happened, but my lips did look a little plumper than it usually does, also it's been 24 hours since I've applied the lip kit and the number of time I needed to apply a lip balm is once. I'm really loving the feeling of wandering around without having to dab my lips with a lip balm every once in a while and my lips are feeling as soft as my nephew's who turned one last week.
Overall, I really enjoyed using this product and given to the fact that I love exfoliating my lips once in a while, this product certainly bagged a place in my skincare routine.
Pros:
Cutest packaging I've ever seen.
Does what it claims
Hygienic
Application is super fun. Even if you don't suffer from chapped lips, you can give this product a try just for fun's sake.
Cons:
Will I purchase it again?
I sure will.
Rating:
5/5
*P.S: I'm going to purchase a new camera real soon. Until then, just bare with me please…