Hi guys, if you have read my previous post about post travel skincare, you will know about the elaborate 'healing skincare' I pampered my skin with. I came back from my trip with dull, dry, dark and flaky skin, and it took me only a few hours to get back to my normal skin, thanks to the super awesome skincare products. One of my favourite products from all of them has to be the Natural Bath & Body Whipped Cream with Vitamin E, which I am pretty sure, is the reason behind my lightened skin. I received the cream with my January Fab Bag and which I found out on my work table upon reaching home (at midnight).
Considering the fact that this is the first product I am writing about only after using the sample, you can already tell that this has made it to my favourite products list. As you guys might already know my love for all natural, paraben free products, you might as well imagine how delighted I was to discover this product. Natural Bath & Body was an unknown brand to me prior to this discovery and I am loving the products I received with the bag.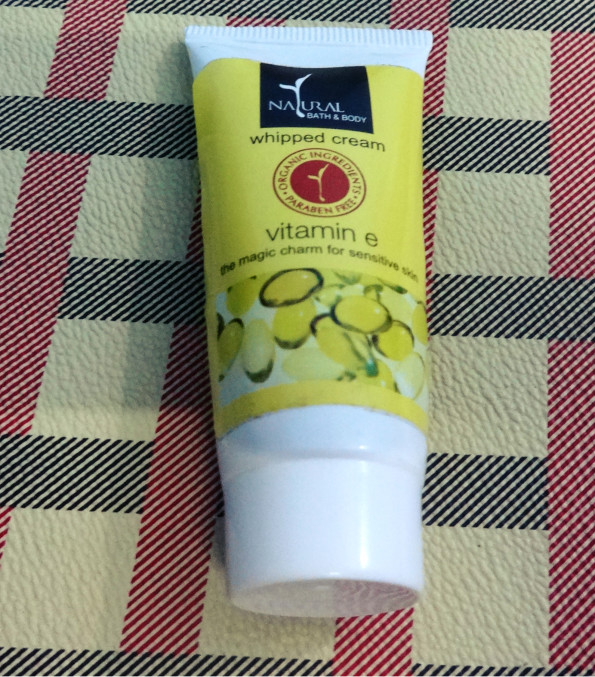 For ages I have been looking for a moisturizer that I can use during the day time without getting all greased up. Containing SPF is not a necessity since I rely completely on my cushion compact or sunscreens.  Considering the fluffy texture of the cream one can definitely tell that the name 'whipped cream' as very aptly given. Thought it is written that the cream is made especially for oily skin, it suited my combination, super-sensitive skin just fine. Even though I love using rich night creams during the night-time, I have been using this cream both day and night and loving it. Also the dark spots on my skin (as you guys might already know that I have been suffering from a bad breakout for months) have visibly reduced. With summer time approaching (when sometimes I skip the moisturizer during the day time) I am eager to see how this cream works on my skin. Thanks Fab Bag for introducing us with such a nice product. 🙂
Claims and Ingredients: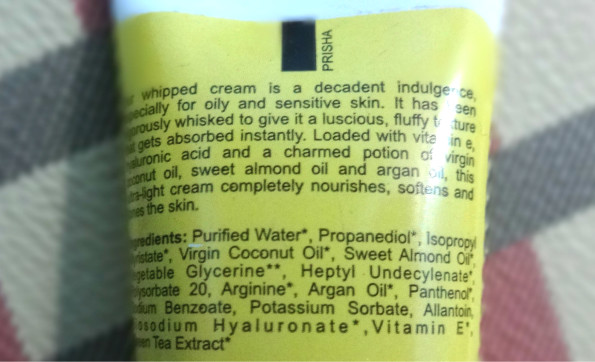 Since I am using the sample size I can't really tell if the whole product is travel friendly or not, may be I will revise this article after I purchase the full product.
Pros:
100% organic
No parabens or artificial fragrance
Pocket friendly
Does what it clams
Reduces dark spots
Cons:
Nothing that I can find.
Rating:
5/5