This is probably my last post from the winter care series. Up until now I have elaborated my very own routine, but here comes the part much ignored by myself. I have a naturally fine flat hair which doesn't demand much care. And let's get this straight, I don't treat my hair, I don't torture my hair (I don't dye my hair, neither do I use styling tools or products). Every once in a while when I feel the need to take some care of my hair, I either dab some hair oil or serum. The only (*touchwood) hair problem I have face so far is excessive hair fall this prolonged monsoon. However, I have received some requests for dry and dandruffed hair care especially for winter and even though all the ladies at my home (me, my mom and my sister) are all blessed with fine and cursed with flat hair, we have never really felt what dry (and curly) hair might feel like during winter.
So I will try to break this down without any practical experience, steps I myself go through and steps I think will help dry hair.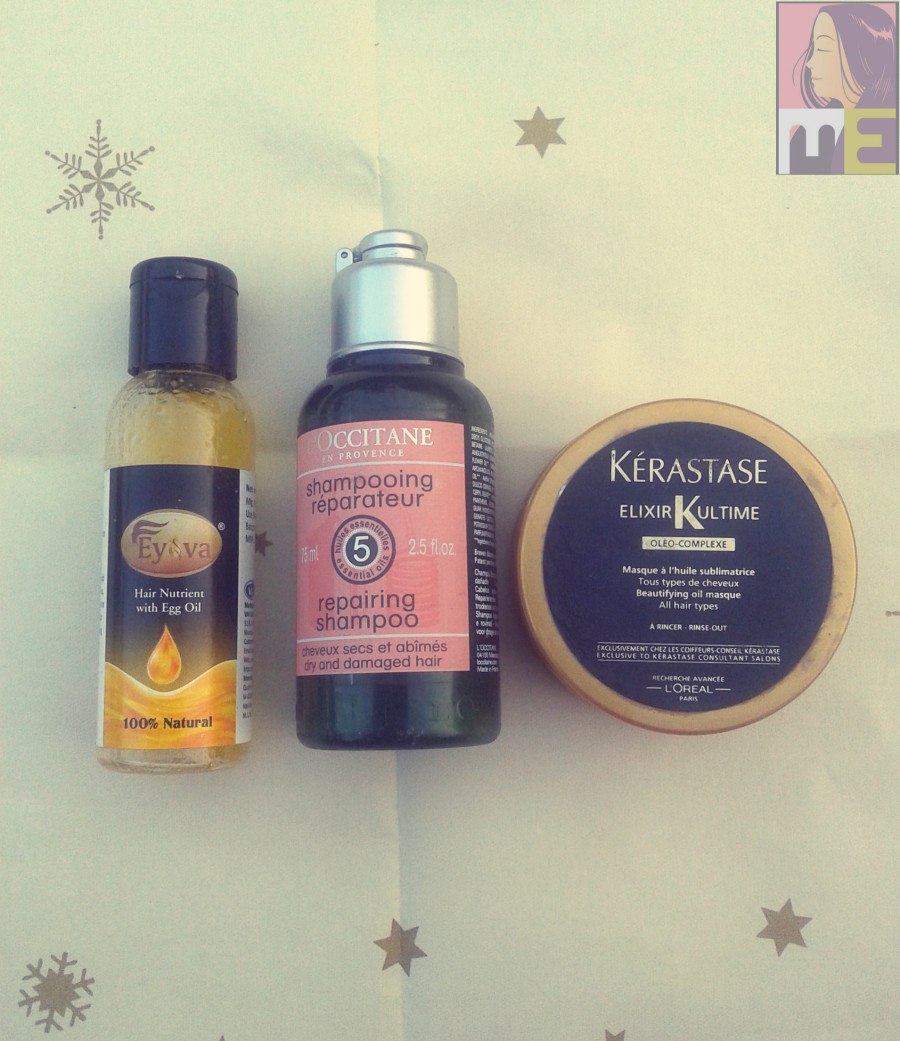 First of all, let's get rid of the dandruff shall we?
Lemon and Coconut oil mask: Even though I don't suffer from dandruff, once a colleague borrowed my hair brush much to my dismay resulting in a severe dandruff problem. I remembered a trick my aunt had taught me that helped my cousin sister who used to suffer from dandruff. The trick is to mix coconut oil and lemon in 3:1 ratio, apply it on the scalp and keep it on for 1 hour before washing it off. It works like magic leaving you with a squeaky clean scalp. Because my problem wasn't permanent, I guess that's why it took me only one application to get rid of the dandruff once and for all. But if you see the dandruffs coming back after a few months, you can repeat it when required. But I must warn you that it might turn your hair a bit drier, so make sure to follow up with nourishing treatments which I am going to talk about next.
Hair Oil: Once you got rid of the dandruff, now it's time to nourish your hair and there's no better solution than oiling your scalp and hair. Coconut Oil seems to be a great option but I avoid coconut oils during the winter at all costs as I am prone to cold allergy. The best choice is to use egg oil. Now you all must know the benefits of using egg yolk in your hair. Now imagine no stench, no stickiness, the same benefit, and you are a proud owner of healthy and shinny hair. Massage the oil on your scalp and on your hair the night before shampooing. Try doing it every time before shampooing if you are committed to get a healthy hair and fight dryness. I use the Eyova Egg Oil the night before shampooing. It works amazing. I even applied it on a friend of my sister who has extremely dry and curly hair and it worked on her hair like miracle. 
Curd Mask: If you have dry hair, chances are that you have applied curd on your hair at least once in your life. I never have. I never needed to, I never wanted to. I hate curds, I don't even eat them. But I heard they are great for your skin and your hair. I guess you need to apply it on your hair an hour before shampooing. If you have already done it, or you are going to try, please let me know in the comment section how it worked on your hair, I am eager to know.
Comb Your Hair Thoroughly Before Shampooing: This step is not related to winter, but it's really important to fight hair fall at the same time. Brush your hair thoroughly starting from the lower portion of the strands to upwards. It will make sure you don't loose any hair while shampooing.
Shampoo: Choose a mild shampoo, preferably one without sulphate, especially if you have dry hair. Take a little amount of shampoo on your hands first. Lather it on your palm mixing a little bit of water just like you do with your face wash. Apply the foam on your hair and scalp and if you feel the need of a little more shampoo, repeat with the amount required. This will make sure you are not using more shampoo than your scalp need, thus saving your scalp and hair from losing its natural oil. I use Tresemme and sometimes Loccitane on my hair. My hair loves them both.
Conditioner/Masque/Both: Because I have fine flat hair which can weigh down if too many products are used, I use either a conditioner or a masque but I guess dry hair beauties need to apply both. Choose some products that suits your hair. I use either a Tresemme conditioner or the Kerastase Elixir Ultime and of course I love the mask better.
Serum: Another much ignored step by me. I do have a few serums sitting in my cabinet, but the reason I didn't showcase them in the picture is because I always forget about them, always. The only time I actually remember putting some on is when I deliberately skip the conditioner and masque because I am just lazy like that. I mean the only thing I have ever been patient about is my skincare routine. Hair care is just a different story. My personal preferences are the Kerastase Elixir Ultime, Moroccan Oil and the L'Oreal Mythic Oil.
I hope this works. Please do let me know if you try these out as I am very eager to know. I hope this will work for both fine hair beauties (mainly following the steps that I mentioned that I myself go through) and for dry hair beauties (following all the steps mentioned, especially the egg oil). And for greasy hair beauties, I have suffered your sufferings for two years. The only remedy that worked for me is by shampooing my hair every other day (I still do that) and for some people, skipping the conditioner helps.
If you have any other request for the winter care series, or any other hair issues (like hair fall, which I battled tough), please feel free to drop down a comment, I will be more than just happy to go through another post.
P.S: The use of only three products in the picture is intentional; it reflects my very own lack of hair care. Also I didn't wanna scare you guys.:D