I am not much of a nail person because apart from being a beauty enthusiast, I also happen to be a musician and I love my guitar as much as I love the babies sitting in my dresser. The fact is, whenever I pick up my guitar, I always need to cut my finger nails first, as I have a rapid nail growth. So basically it's useless to put much effort on my nails.
However, every girl needs to own a nail polish remover and I have been using the Lakme one which contains acetone. Now I don't know much about removers, but a couple of times that I borrowed random removers from any friends, I ended up having dried and white nails and cuticles. Even the Lakme remover momentarily leaves a subtle white trace which I guess occurs because of the acetone.
I tried to move out of my comfort zone and try out the Nykaa Dual Tone remover because apparently all of Nykaa products sound promising.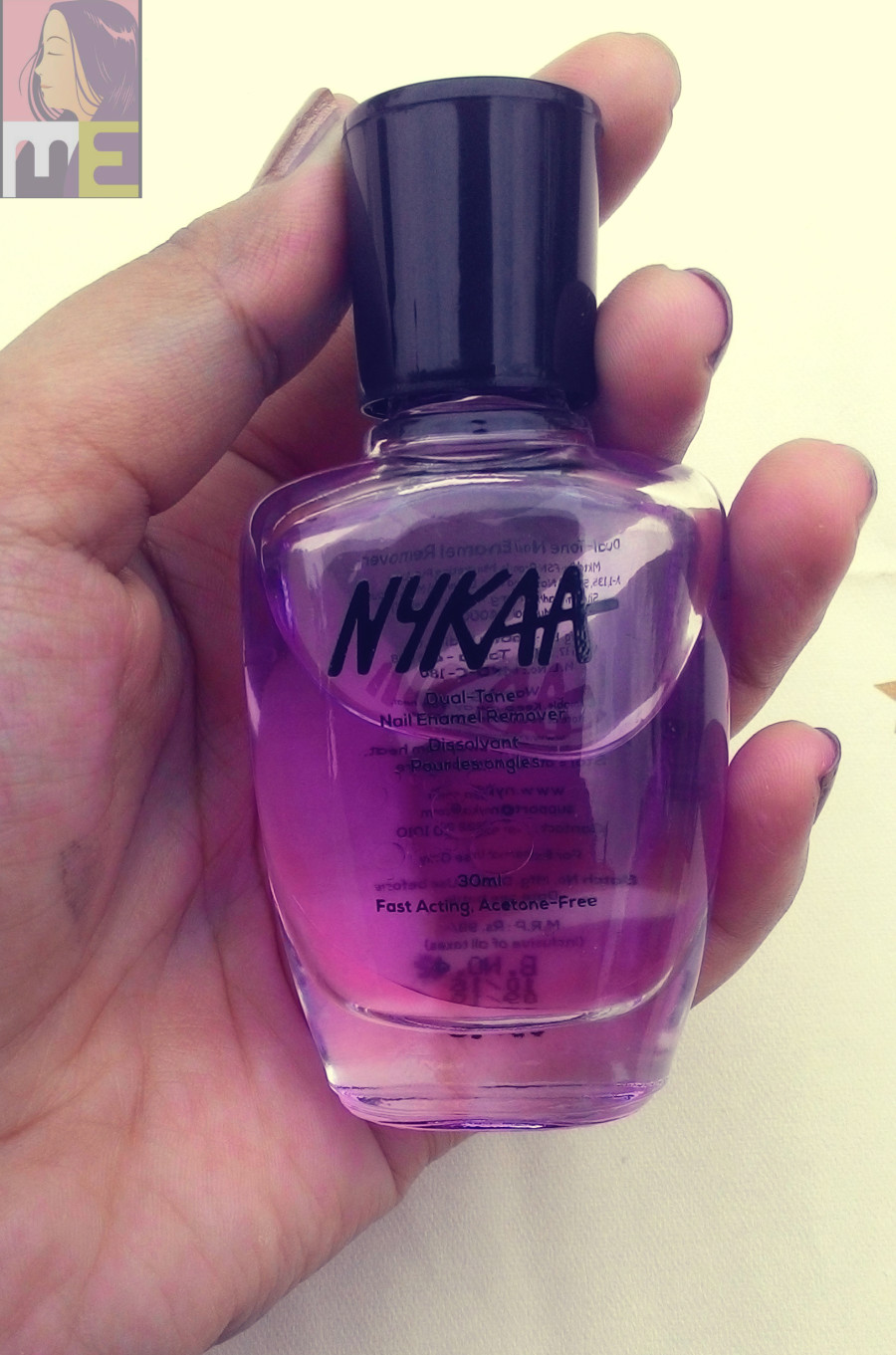 Product Description
Say goodbye to stubborn nail enamels with the Nykaa Dual-tone Nail Enamel Remover. Its two phases are colored different, making it one-of-a-kind nail product. A single swipe of this acetone-free remover gets off all the nail enamel, leaving your nails residue-free, protected, and moisturized.
• The formulation does not dry the skin nor the surface of the nails.
• It is composed of a water phase enriched with moisturizing substances.
• Leaves your nails squeaky clean and hydrated.
• Fast acting.
• Acetone free.
How to use product
Shake the bottle before use to mix the two phases. Soak a cotton pad or swab in the Nykaa Dual-tone Nail Enamel Remover and swipe your nail enamel off.
Packaging:
The remover comes in a cute glass bottle which is not at all Travel Friendly. The nozzle is similar to any other nail polish remover.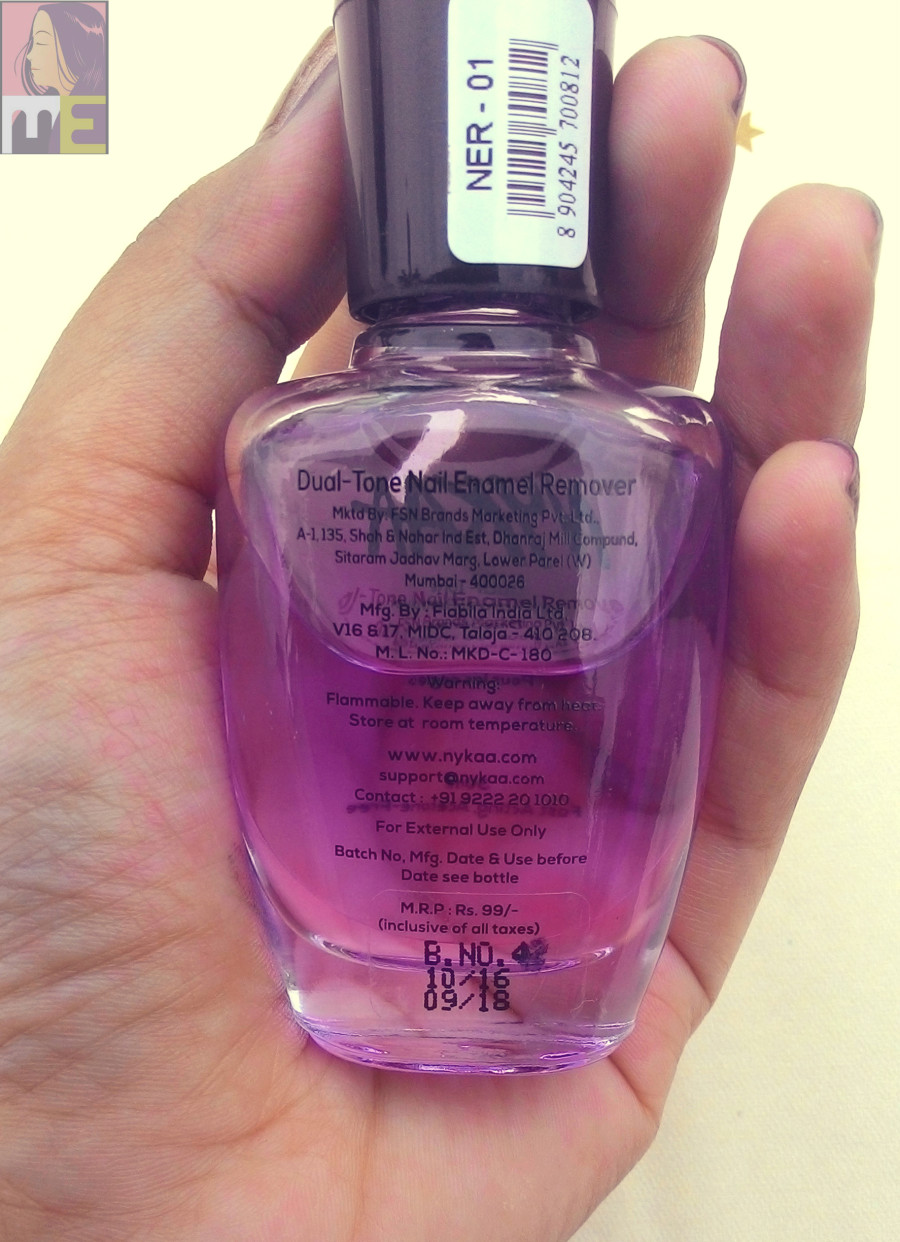 My Experience:
The instruction clearly mentions that the product should be shaken well before use. The mixture of the purple and pink portion should be dabbed on the cotton ball. However, I completely forgot to shake when I used it first and applied it on old nail polish. My nail polish was intact and so was the colour of the cotton ball. This time I shook the remover, dabbed some more on a fresh cotton ball and only 10%of my nail polish came off. It took me another 4-5 efforts to completely get rid of the nail polish from a single finger. Now repeat that 4 more times. I was so frustrated that the fact that my nails didn't turn white didn't even matter.
The next time I used it on new nail polish and it took me a couple of swipes (and a little pressure) to completely get rid of the nail polish with no trace left behind. And my nails didn't turn white. But the amount required was way more than what you require if you are using the Lakme remover. So I cannot tell that I am very much impressed.
If you are someone who's not bothered by the presence of acetone (like me), I would suggest sticking with the Lakme remover or trying out different brands. But if you are, and you have so much patience you might be impressed
by what this remover does.
Price:
99/-Rs
Will I repurchase it?
No
Pros:
• Acetone free
• Doesn't dries up the nails or cuticles
• Didn't turn my nails white
• Budget Friendly
Cons:
• Takes a lot effort
• Too much amount is required.
• Not travel-friendly
• Availability
Where to purchase?
Rating:
3/5