A couple of months back I got a few acne on my cheek because of an experiment gone wrong and the stubborn marks didn't seem to go away. My skin doesn't react decently to retinol so a spot corrector was off the list. That's when I received two anti-blemish Face Washes from Oshea and saw a little hope. I have never tried anything from the brand but have heard ravings. I gave one to my mum who has stubborn blemishes and tested the other for exactly 28 day (that's how long our cells take to turn over).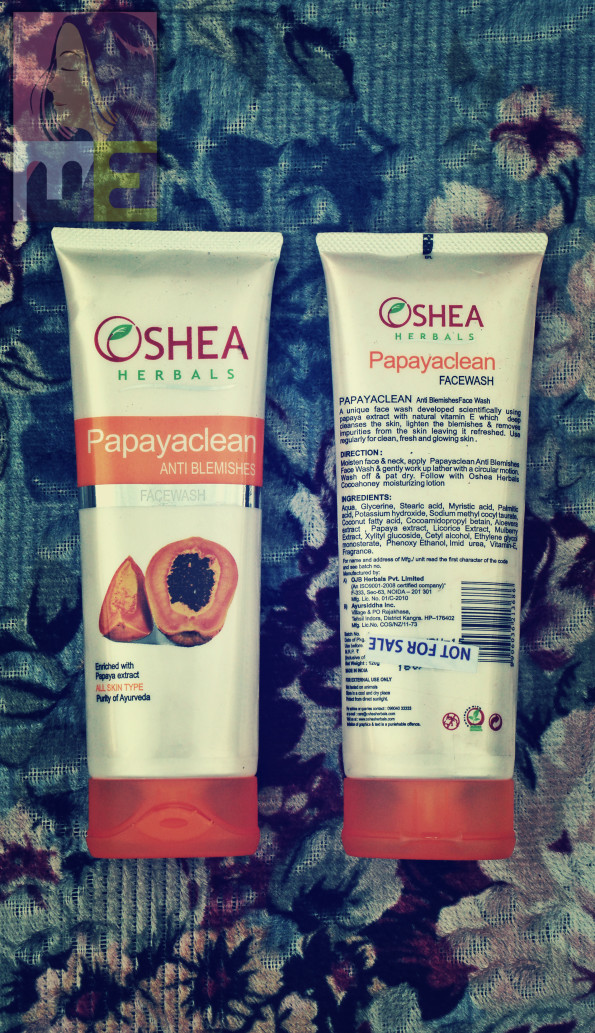 Ingredient:
My CosDna analysis came up pretty clean. Out of all the ingredients, with Stearic Acid raised a flag, 2 out of 5 as an acne trigger and with Myristic Acid 3 out of 5. The rests are safe.
Here's what happened:
Since I have a super sensitive skin, I didn't start using the product right away as I received it a couple of days before my birthday. So technically my mum started using the face wash before I did, and by the time I started using mine, my mum's blemishes has already lightened noticeably. I will be lying if I say that her blemishes disappeared, it didn't as it came along with her aging signs, but it certainly did fade.
So I started using it from my birthday night and had a mixed feeling about the packaging. The bottle is sleek, and attractive and hygienic and the cap was sealed, but I like it more when the packaging looks cute. In this case it looked like an amazing product for mums and aunties; I don't know why it comes to my mind every time I use it. But that doesn't mean I don't like it, I do, it just stands a bit offbeat in the middle of my 90% Korean Skincare product consumed cabinet.
The texture of the face wash is neither too thick, nor too runny, and has a pretty pearly orangish colour, much like a pearly papaya. Only a pea sized amount lathered wonderfully even though there's no mention of SLS anywhere in the ingredient list. It didn't require any effort to wash it off, leaving a squeaky clean skin.
I'm not a person who'll cut down on the toner, or serum, or moisturizer. I follow the 10 step skincare regimen religiously every morning, every night. But a lazy person with an oily skin can get away without a moisturizer after using this face wash. I have a combination skin and it's almost winter. Since the past couple of days I have noticed that my skin tugs a little after using this face wash until I splash the toner. So yes, dry skin beauties will require a moisturizer, and then again, I will always suggest using a moisturizer after washing your face.
Within a week I noticed my spots fading, it rarely happens. I rarely get pimples, but when I do, the mark rarely goes away. But with regular usages, the spots kept fading. It will require a very close attention to figure the spots out now, and requires only a mild foundation to cover them completely without needing a concealer. So guess who's happy? Plus it's super cheap, and I'm gonna add this to my regular skincare routine.
Overall, I very much liked the product. For those of you who have stubborn blemishes like my mother, I will suggest still trying this product, and following up with an anti-blemish moisturizer or night cream, I have high hopes that the combination will work (I'll be updating this post after I experiment it on my mum)
Price: Rs 115 for 80gms
Pros:
Sturdy packaging, travel friendly
Does what it claims
Cheap
Didn't break out my super-sensitive skin
Cons:
Because it's an anti-blemish face wash, it was supposed to make the spots disappear, mostly when I was using a de-pigmentation cream with my day time regimen. But it just faded them (I have high hopes that with another month of usages the spots will disappear)
Rating:
4.7/5
Note:
Product sent for review purpose, but the review is completely honest.
Where to Buy: