We are the kind of family that has family photographs hanging throughout the walls. Sometimes my mom wishes we had more walls, and then she gets more walls built. Long story short, we love framing family photographs and hanging them on the wall.
Very recently, my sister got engaged and my mom and I were planning to get the engagement pictures enlarged and framed. We usually go for the golden frames but then I was contacted by a newly launched online canvas printing site called Canvas Champ and I was like, why not? We have been getting golden frames since like forever, and it was high time we tried something new. So these guys from Canvas Champ proposed to get me a 12X8 canvas print for free in return of my honest opinion. At first I debated that I should be giving them a picture related to my blog, since the whole thing (free print and opinion) was related to my blog, but just a couple of days earlier, my boyfriend (and my photographer) got me all my favourite blog pictures framed for my birthday and I couldn't find any that hasn't been framed already.  So after going through all the pictures in my laptop I came back to a picture from my sister's engagement that I told my mom I will get framed.
Within a week after I gave them the picture they mailed me saying that I provided them with the wrong address and in fact I did. I mean I provided them with my boyfriend's home address under my name. So I gave them my own address this time and in four days the frame was at my doorstep, and considering the fact that I gave them my parent's address which is basically a small town, the delivery was super fast.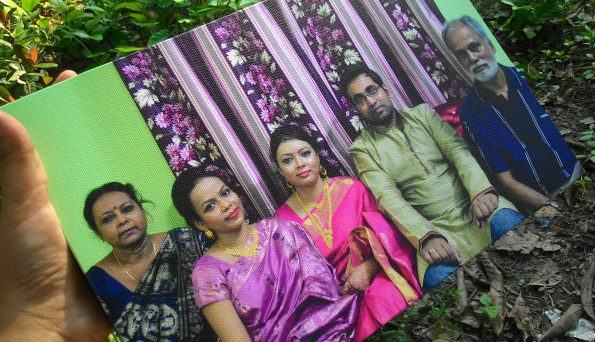 Now getting to the main point, the final product, in short, my whole family was super impressed. The whole print was looking so lifelike contrary to regular photo frames. The frame base is wooden and I don't have any idea about canvas print qualities, but I loved everything about it. In fact, my mum's saying that she'll be getting canvas prints from now on. I mean we have two newly built rooms with bare walls, and are we talking about going back to golden frames? No. We still have a lot of pictures to get framed. I am even thinking of getting my best friend a canvas print for her birthday.
Pros:
I have never got pictures framed online, getting them enlarged and framed separately is a task I hate to do. Being the lazy person that I am, I am loving the whole facility.
If you move a lot, you won't have to worry about your frames cracking
Makes excellent gifts
Feels real unlike regular frames
Cons:
Nothing that I have discovered yet.
Will I get more prints from this site?
Of course, Yes! As I said, we have two more rooms to fill.
Price: INR 576 for 12×8
Rating:
5/5
NOTE: I was provided with a free service but everything written above are my honest opinion (like always).
P.S:  This is not my whole family; one important part of the family (my boy friend) was on the other side of the camera.
 To check out Canvas Print Qualities and get one for yourself click: https://www.canvaschamp.in/canvas-prints