Almost every bong girl is an expert in making DIY besan face packs. We have literally grown up using besan face packs since our early teenage days. I still am a huge fan of besan or gram flour face packs. They are the holy grail of skin care. Besan, on its own can be used as a cleanser mixed with a little water, or can be mixed with tomato juice to remove tan, or mixed with a little bit turmeric, multanni mitti and sandalwood powder to create a pack that can humiliate any face masque bought over the counter, or mix everything mentioned above with a little rice flour to create an amazing exfoliator.
So when I received this Bengal Gram Exfoliator with my Fab Bag, I was a little humorous. I mean it will take me about 15-20Rs and 5 minutes to create the exact same thing. The besan that amount (or more) will cost you 5Rs if you live in Bengal, and the other easily available ingredients are required in pinches, and everything except the sandalwood powder is super cheap. But anyway I wanted to see if it works as good as my DIY besan pack.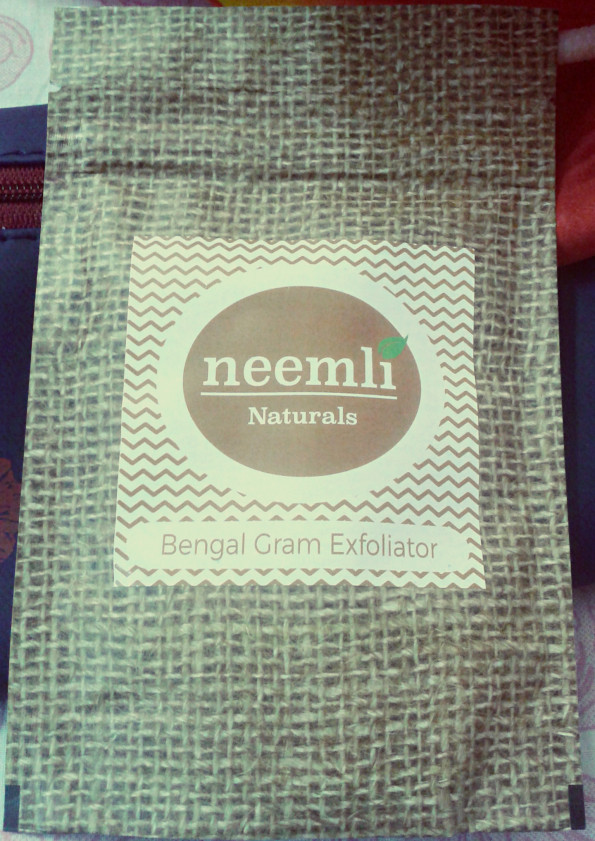 Ingredients:
Gram Flour, Yellow Lentils, rice flour, turmeric and sandalwood powder.
Price:
550Rs
My Experience:
If you have never tried a besan pack, chances are, you are going to love it. Unfortunately, as I mentioned earlier that I grew up using besan packs, it was a far cry from the pack I make. Admit it; everything homemade is 10  times more genuine than a packed and sealed product bought over the counter. And as I have repeatedly wrote in my previous posts, I grew up in a small town, we sometimes buy turmeric powder from the market (which irritates my skin if applied on face) but more than often my mom gets the raw turmeric powdered by some local buy which never irritates my skin. And sandalwood? I use the wood, not powder. So the besan pack that I use is 10 times better than the one I received with my Fab Bag. Also, the radiant glow I see in the mirror every time I use my DIY pack is never noticeable after using the Neemli Gram Exfoliator. However, it does give my skin the squeaky clean feeling I much love after a besan exfoliation.
Overall, it's a good face pack and exfoliator. But if you live at a place where besan is easily available, I will say, skip it and make it yourself. If it's not available where you live, then go ahead and try it, I guess you will like it.
Pros:
Natural ingredients
Each and every ingredients in the list has potential benefits
If you do not live in West Bengal, you are going to love it
If you live in West Bengal and have a busy schedule that doesn't allow you to make your own face pack, you are going to love it too.
Cons:
Nothing. All those rants are basically because I know how to make a better face pack than this :p
Will I purchase it again?
Lol, no. I will make it.
Will I recommend it?
If you do not have access to besan, then yes.
Rating:
4/5