It's been so long I have reviewed any Korean Skincare products. In fact I have run out of some of my K-beauty products and haven't been able to re-order them because of my super hectic schedule that has been going on for the past few months. (I must mention here that I follow the Korean 10 step regimen twice a day and almost all my daily products are Korean). So I was ecstatic when Skin18 sent me a cute box filled with a generous amount of products to review.
Rewinding a little bit here, you guys might know that my grandmother expired on July and I couldn't work for the time span between her stroke and the memorial. After the memorial when I started working, I found myself in front of the huge pile of sponsored products which I was yet to test. Some of them worked amazing on my super sensitive skin, some did not, and some even gave me stubborn pimples. On top of that I had a really bad appetite for the couple of months which started showing on my skin. And the worst of all, I had run out of all my sheet masks, and I had this habit of sheet masking twice a week. So now you can really imagine my ecstasy on receiving the box right when I was living a nightmare. Potatoes are known to repair damaged skin and lighten dark spot; I have heard that throughout my teenage years, no wonder the potato mask from Beauty Friends was the first item I pulled out of the box to try.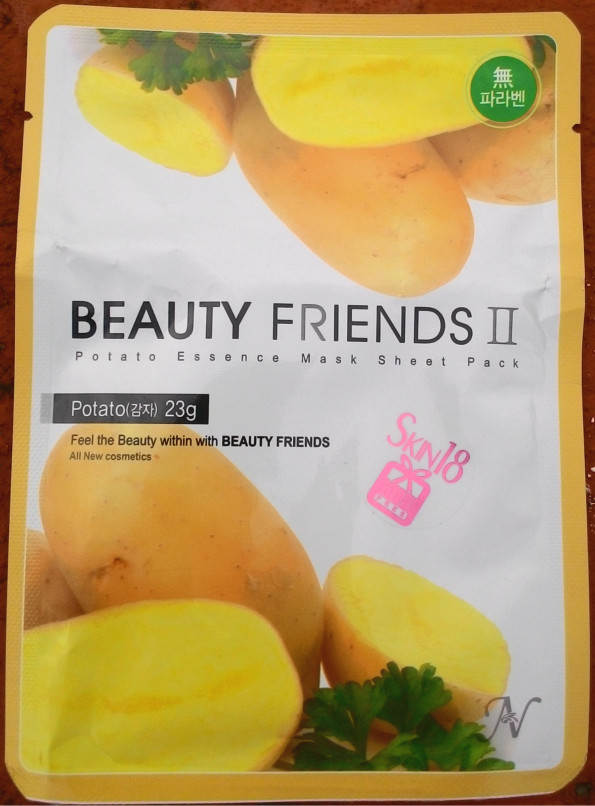 The packaging is simple, the amount of essence is exactly the amount required. I hate it when some sheet masks contain excess serum which keeps dripping when you try to put it on. The consistency of the essence was neither too runny, nor too thick. The fitting however, wasn't that perfect. I do not have an oval shaped face, but the mask was bigger in length and shorter in width. That means it went up my hair line, but didn't even reach my ears. The nose cutting was too short for me, and the cheek area was wrinkled up. Overall, the sheetmask selfie looked too ugly to upload in this post.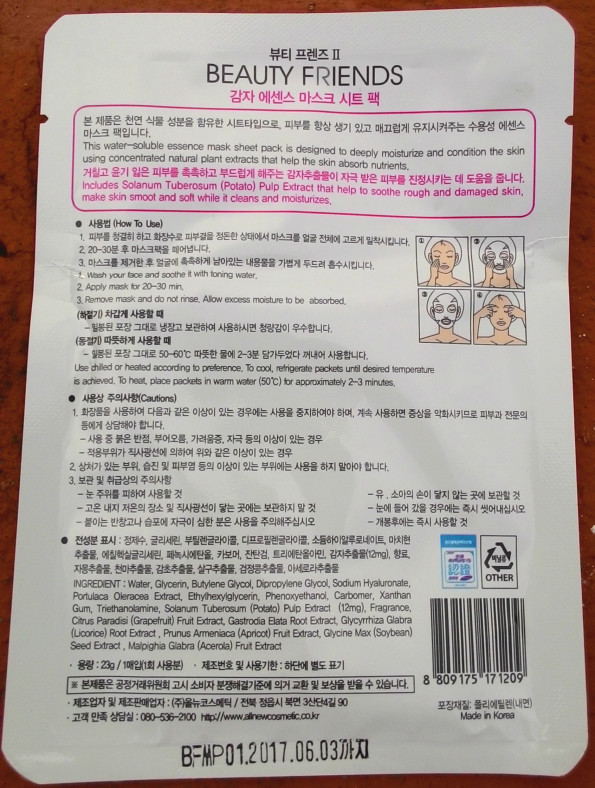 Coming to the main part, how it worked on my skin. I loved it. I kept it on my face for about 35 minutes and it was almost dry by that time. I finished it off with my night cream and could feel the healthy hydration and my plumped up skin. The following morning I woke up with a nourished, hydrated and brightened skin, something I expect to see every morning after sheet masking. On top of that, my acne scars have visibly lightened. I won't lie, I started testing an anti-blemish face wash since that very night, but then again, considering the fact that a single usage did it, it's highly likely that it's the sheet mask that did it (or both). It's been two days and the brightening effect and the nourishment is still noticeable.
Over all, I really loved it. It's the kind of sheet mask that I would use every once a week. It has done everything a sheet mask is supposed to do: hydrate, nourish, heal, brighten and on top of all, it reduced my pimple spots (ah! The potato pulps!).
Pros:
Does everything that it claims
Hydrates and nourishes
Lightens dark spot
Brightens the skin
Cheap
Cons:
Rating:
4.7/5
Available: http://skin18.com/products/beauty-friends-ii-essence-mask-sheet-pack-potato?variant=5229325763