Hey guys, hope you are all doing fine. I am really sorry that I missed the monthly giveaway last month. If you have been following my posts, you will know that my grandma expired on the month of July, and the memorial was 40 days later. The past month was a bit rough, so much so that I haven't even been able to send out the prize for my July winner, so sorry Ankita Agarwal, I finally managed to pack and sew your box and it will be sent out tomorrow. In fact, I even missed celebrating my blog's 1st Anniversary on August, let alone organizing a special giveaway, and I also spent a silent birthday this 16th. So I guess it's high time I resume my monthly giveaway.
Here's everything I managed to get together.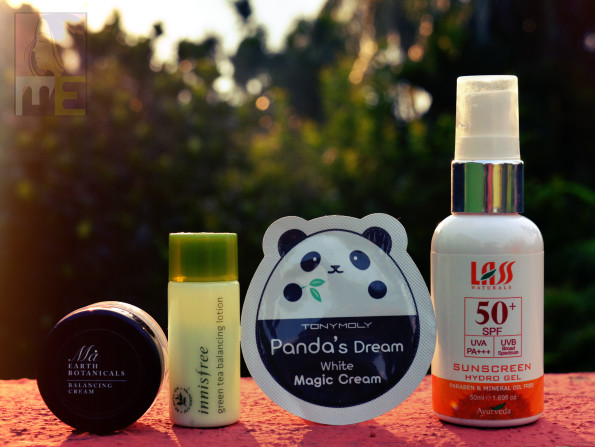 Lass Natural Sunscreen- Full Sized
Ma Earth Botanical Balancing Cream- Sample Size
Innisfree Green Tea Balancing Lotion- Trial Sized
Tonymoly Panda's Dream White Magic Cream – Sample Sized
That's right, two Korean beauty products again…
Here's what you have to do to be eligible to enter the giveaway.
Be a subscriber to my blog (no need to unsubscribe and re-subscribe)
Follow me on Insta*
Like my FB
Follow me on Twitter
Leave a comment under this post with your e-mail id.
*Unfollowers will be banned from all future giveaways…
And you are on board… Good luck <3
P.S: Open to Indian residents only