Out of all the bad things that have ever happened to me, my dark circles should top the list. I have had them since I was in school. They used to come and go, mostly because I had the habit of studying late, just like I now have the habit of working late. They used to appear during my exams and go away when the exams used to get over, except for once. After my 12th exam I realised that the dark circles are not going away. It took me a few months, and then a few more years to figure out that these dark circles are my lifelong buddies now. I started with home remedies and ended with spending fortunes on eye creams but to no avail. Except for that one time when I received a tiny sample with My Envy Box which worked like magic.  The sample lasted for like 7 days and there was no sign of dark circles for as long as 2 months. The whole size cost me a fortune, and by fortune I literally mean fortune. But when I left it at a hotel room during a trip, it broke my heart so bad that I didn't ever think of repurchasing it.
Ever since that tragic incident I've tried few more brands which supposedly worked amazingly on other people but have failed me for some unknown reason. So today I'm going to review my last failed product- Aroma Magic Under Eye Gel. By now you guys might have figured out that my Dark Circles are stubborn. Have you ever met a person who suffers from both dark circles and puffy eyes? Well, my name is Clara Gomes and I've got dark circles and puffy eyes so stubborn that no amount of concealer has ever managed to hide them.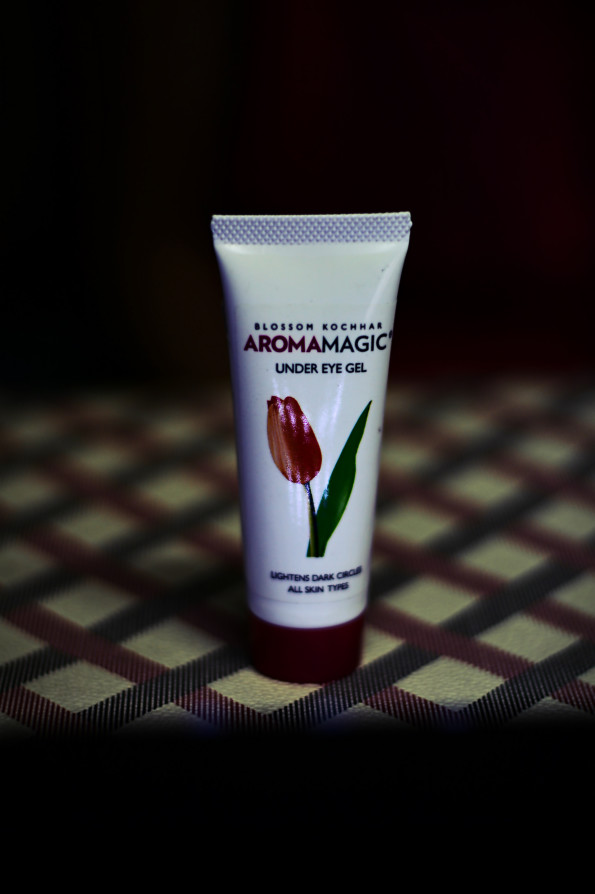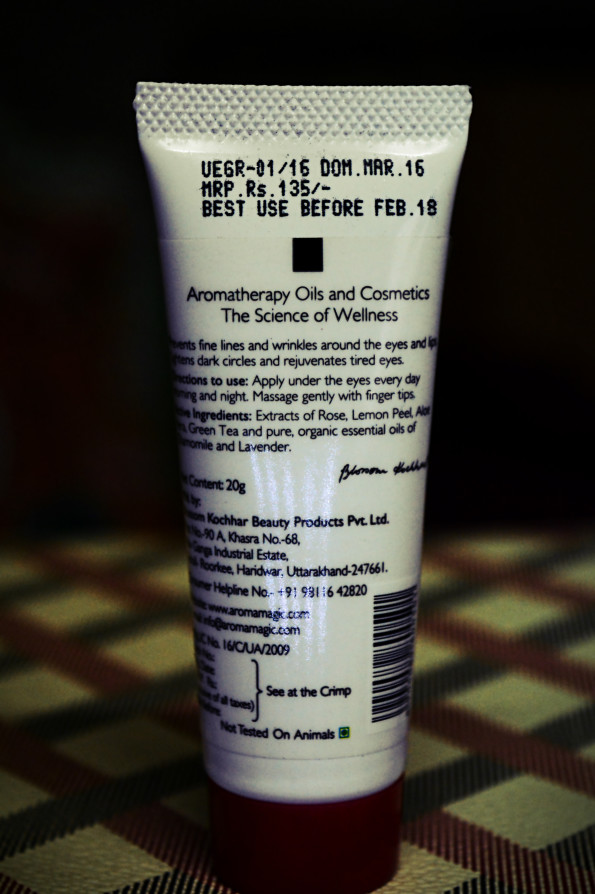 When I spotted this eye gel at the Salon I regularly visit I thought to give it a try since I am a huge fan of Blossom Kochhar products. My sister hit her 30's today and isn't much of a beauty freak (a PhD scholar to be specific) and I had pointed out to her just a few days back that it's high time she started using an eye cream.  So we both purchased the eye gel and even though she neither had dark circles nor eye bags, the gel seemed to work on her pretty fast giving her a firmer under eye area. Well, as you can guess, it was a whole different story when it came to me. There was nothing, no changes, the bags and the circles remained as they were. I certainly am not blaming the gel, because I am pretty aware that it's my lifestyle that needs to be blamed. I mean I can't even remember when was the last time I went to bed before 4 a.m (I mean after quitting my job).
So taking into account how fine it worked on my sister I guess this eye gel should be recommended to anyone above 25 and aren't cursed with dark circles or eye bags yet.  But for people with stubborn eye bags or dark circles, this particular eye gel might not be a good solution for you.
Pros:
Natural ingredients
Pocket friendly
Travel friendly
Cons:
Might not work on stubborn dark circles or eye bags
Rating:
4/5
Can be bought here: