One of the best things about Korean Skincare products is that they come in sample size and trial size packs. You can literally try out the products before purchasing the full-sized product. How awesome is that? One of my favourite Kbeauty brand happens to be Tonymoly. I use their oil cleanser every night and I forgot when was the last time I purchased a make-up remover.  The oil cleanser is the best thing that has ever happened to me ( should I mention that I'm eagerly waiting for my Tonymoly sheet mask set order to show up?)
So I was looking for a good moisturizer and ended up ordering a pack of 20 samples of Tonymoly Panda's Dream Magic Whitening Cream. I know that reviewing samples is not ideal as you guys deserve to take a look at the packaging.  In that case, I should mention that the adorable chubby panda tub is enough to lure you into buying the product. However, you may not like what's inside, mostly if you are not a person with fair skin tone. In a previous post, I have discussed in detail the difference between a sunblock and sunscreen. A sunblock is actually good for your skin, the fact that it is really tough to blend and gives your skin a chalky finish makes some people walk away from it, mostly if they are not cursed with a sensitive skin and can get away using a chemical sunscreen. A sunblock usually consists of Titanium Dioxide or Zinc Oxide or both. So if your day cream gives you a hard time to blend it, be assured that it contains a good amount of physical sunscreen/sunblock.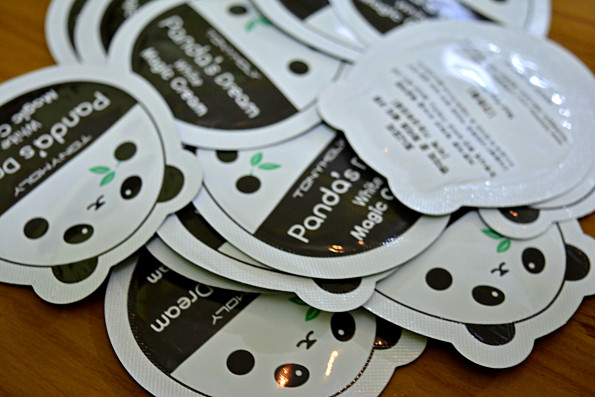 Claims:
Packaged in an adorable panda shell, the Panda's Dream White Magic Cream is a facial moisturizer infused with bamboo extracts and niacinamide to hydrate and brighten dull skin. The light, creamy texture leaves your skin feeling pampered and renewed while the airy, floral scent relaxes and soothes all day long.
Ingredients:
Water, Butylene Glycol, Cyclopentasiloxane, Glycerin, Cyclohexanone Siloxane, Titanium Dioxide, Denatured Alcohol, Niacinamide, and a many other cones
I had so much expectations from this dream cream but as soon as I applied it on my skin I was horrified. I looked ghastly white, worse than what I look if I accidentally wear too much of Sunblock with SPF 50. The texture was too thick, with a chalky white colour and let alone blend, it gave me chalky white patches on my face, even after using a good amount of toner and serum I must mention. I stayed away from this product for a long time after that and after months I decided to give it a try one more time using a very little amount. It was again a pain to blend it, and it was still looking chalky, however less ghastly, and after about 10-15 minutes it gave a mattifying finish, still making me look pale white. I don't know how it might look on people with fair skin, but it's certainly not meant for wheatish skin like mine. It does give the dewy finish that I love but I for one prefer not going out looking pale white. Because it has got a good amount of Titanium Dioxide, I use it on days I stay indoors and don't bother to wear a sunscreen.
P.S: It did make my skin look even and I would have actually liked it if it blended easily.
Rating:
3.5/5