About a couple of years back, I was surfing the internet while I came across a Facebook post, warning people about the dangers of using Henna. Curiosity took the better of me and I had to go through the whole post, only to find out that the women who wrote the post actually applied the 'Made in China' version of Henna and apparently the post was shared widely, with none of the commentators having any idea of what Henna actually is.
Being an Indian, I had to defend the culture of my country. True, the origin of Henna is a bit controversial. Claims have it that the henna plant originated in Egypt and was regularly carried away to India. The very name 'Mehendi' (other name for Henna) derived from the Sanskrit word mendhikā. The application of Henna dates back to the Vedic days and has been described in the Hindu Vedic Ritual Books.  But let's not get any deeper about the origin today. Fact is that it is an Indian tradition.
The mehendi or henna is actually the paste of Henna leaves and can be applied on the hair as a conditioner or put in a cone to make henna tattoos. They are good for the skin as well as the hair with absolutely no side effects. There are many type of Mehendi designs with the Arabic Style being my favourite. You are supposed to draw a design on your palms and wait for about 2 hrs. The mehendi will eventually dry out and start falling off your palm leaving an orangish design on your hands. By the next day the colour will start getting darker.
So this one time, I bought a few cones, hoping to try out some new designs. I wasn't aware that there was a fake/modified version of mehendi out in the market. I cut the cone as usual and the colour started dripping. I was like what the hell happened here! I went on to apply it, only to find out that instead of a greenish paste, a red liquid colour is coming out which is somewhat easy to apply. A few minutes, and the colour was all set on my palms, rather like a nail polish. I didn't have to wait; I didn't have to get rid of the dried paste. A bright red design filled my palms. 3-4 days later I started freaking out when the design started pulling out like a sticker, sometimes taking my skin with it. I called a friend and came to know that what I have applied is called a Chinese Mehendi and has a bad reputation of pulling out skins and sometimes worse, give you severe skin infections. I was horrified, but I had nothing to do but wait until the whole design came off with some of my skins. This happened about 5 years ago I guess, may be before I graduated college. I never touched the Chinese mehendi again.
If you are a mehendi newbie, chances are the store owner will try to convince you to buy the Chinese ones, telling you that people are using these ones nowadays as you won't have to wait for an hour. But you need to avoid the temptation, as I have only heard horrible stories from people who have used the Chinese Mehendi, except for my boyfriend's sister of course. The Chinese Mehendi doesn't seem to bother her skin and she seems to love them as well. She will apply the bright red mehendi on one palm, wait for a few minutes and apply on the other hand. Her skill never fails to amaze me and her brother.
My point here is, the red mehendi may or may not suit your skin. If you have tried and tested it on your own palms and they work perfectly fine, then you can consider yourself lucky. But if not, I would suggest not trying to find out as I have seen it go terribly wrong. And if you live in a different country and want to wear The Henna Tattoo (no racism, I am just addressing people from other countries with lesser knowledge about Mehendi) make sure you are choosing the right one. In India, no Mehendi artist will use the Red cone, they use their homemade cones made out of henna leaves, but if you are getting it from a store, make sure to ask for the 'Herbal Henna' and may be even try some other store if the storekeeper tries to convince you otherwise.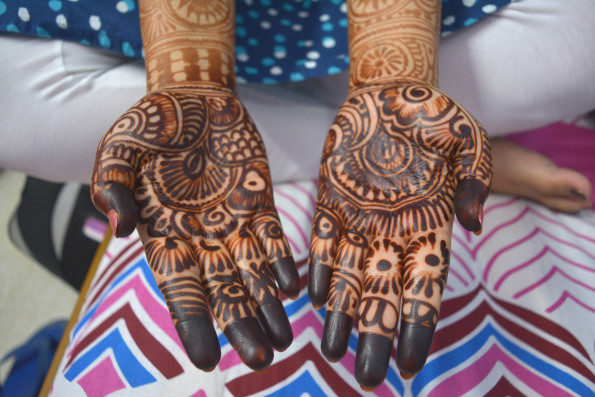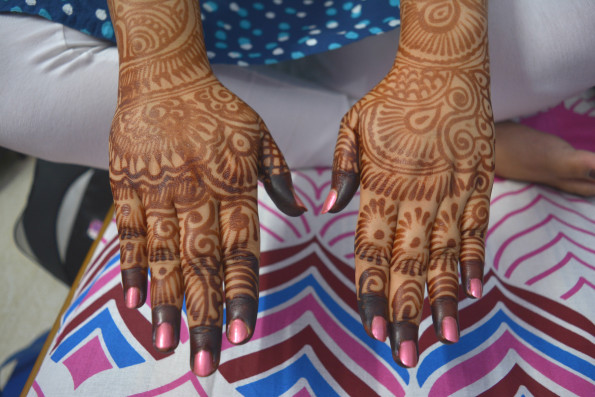 That's my sister's palms by the way. It was clicked 2 days after she wore it, when the colour was at it's best.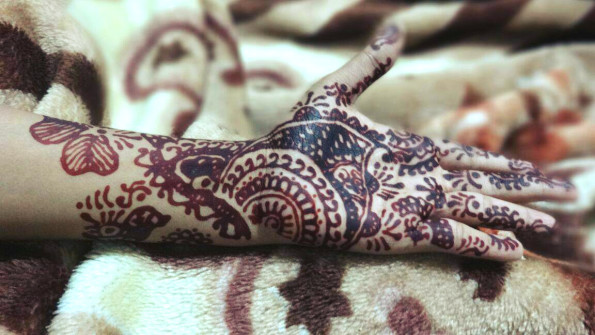 And this is my sister-in-laws palm, clicked about half an hour after she wore it.
P.S: While I dedicated the whole article on the dangers of red mehendi, I should probably mention that some 'herbal' claimed mehendi brand uses so much chemical that you can even read news on people being hospitalized after wearing low quality medendi, so while choosing a 'herbal' mehendi opt for a better quality one, my personal favourite is Singh and no I'm not being paid to write it. 😀