South Koreans never fail to take the skincare game to the next level. I've been reading about the latest trends- character mask and lace masks for a long time and finally got my hands on the character masks brought to us by The Face Shop. So I chose the tiger mask for my first review and I was pretty excited about it. However, it didn't seem to quite fit on my face. I wouldn't blame the mask for this, of course, the structure of a Korean girl's face and an Indian girl's face are quite different. I did have to cut the eye holes and lip holes of some sheet masks in the past, and I had to do it again. I don't have a large face; I do have an oval shaped face but for some reason the mask was bigger for my face. It got all wrinkled up so bad that the mask hardly looked like a tiger on my face. I've looked at a lot of pictures of Korean girls wearing the tiger mask and it looked perfectly fine on their face, but on my face it looked so bad that I am not really feeling like uploading my tiger mask selfie. Also, that very day I tried a new shampoo and conditioner which didn't quite work on me, and left my fine, flat hair weirdly frizzy for the first time in history, so the overall pictures are BAD. If I change my mind while writing this up, I might try to find a decent one to upload.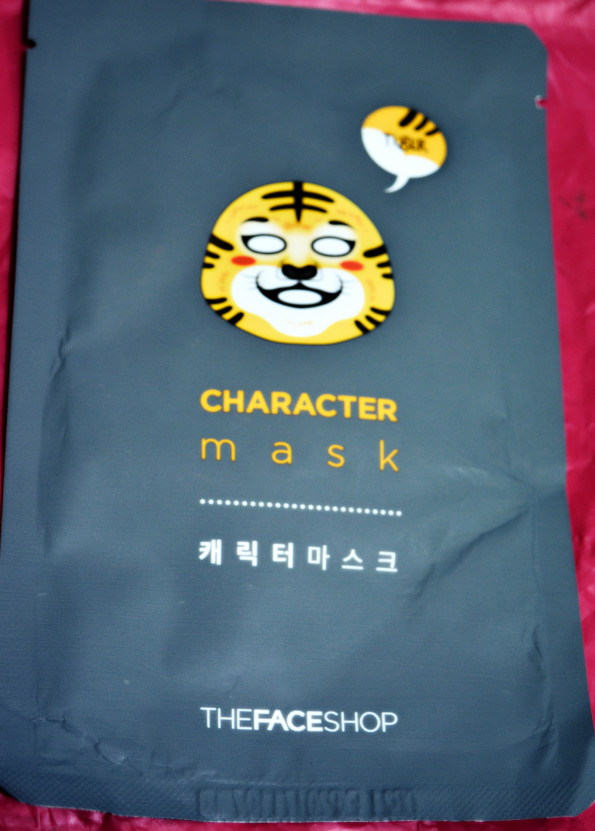 The ugly background is the packet it came in… :p
Ingredients: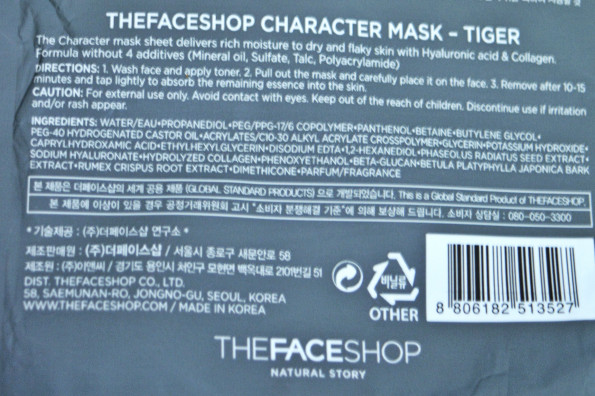 My Experience:
Looking at the ingredient list at the first glance, I was a bit sceptical. Honestly, at first it looked a bit scary but when I dug deeper, I found some potential names on the ingredient list (like Panthenol) and decided I must not waste anymore time thinking. At this point, I would like to let you guys know that a couple of days ago I experienced a bad breakout (probably triggered by the Nyassa Face Wash I received with my June Fab Bag) and I usually avoid testing new products if I'm suffering from allergy or break outs. But then again, it was a Korean skincare product we are talking about and they have never caused my skin any trouble! So I put it on my face, tried a lot to fit it, had a hard time breathing as the nose cutting was too large and was blocking my nostrils, but there was no tingling sensation or irritation. I kept it on my face for over half an hour. If you are a sheet mask fan, you'll probably be aware that 30 minutes is a pretty decent time to get the sheet mask completely dry. But this sheet mask felt a little too wet, even while I was taking it out of the packet, the sheet was dripping wet. My fingers got so messy up while putting it on that the serum on my fingers were enough to put on my neck and my arms. There were still so much serum left on the packet that it was enough to apply on my whole body, but I decided to let this thought go.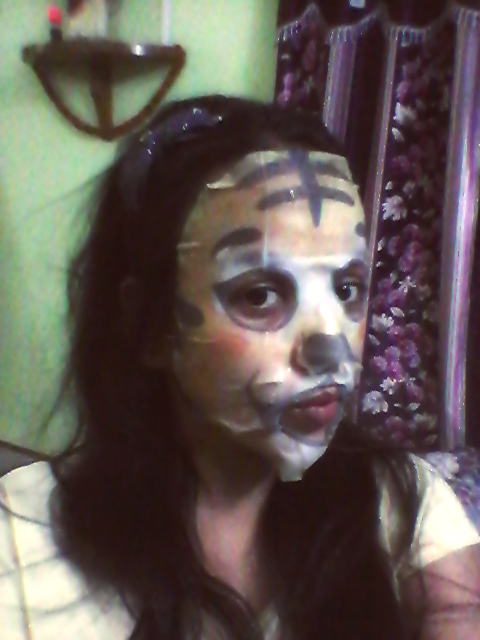 I did change my mind after all, please don't mind my messy hair, I promise I won't use this shampoo again…
Coming to the effect part, am not sure whether the fun part is more important here, or the skin care part. Of course, they are providing both together, that's the concept behind "skincarentainment". However, I've felt that the fun part has been more focused upon, and I'm an old school who would like to indulge in an intensive skincare regimen whether or not entertaining. Don't get me wrong, I am not saying that it didn't work on my skin. It was supposed to hydrate my skin and it did that extremely well. But from sheet masks, I expect a little more. Is brightening too much to ask for? Again am not blaming them, as there were brightening masks too… While the fox, tiger, panda are meant for hydrating, the cow, monkey, zerbra are meant for brightening. I know what you guys are thinking at this point, yes I'm going to purchase the later ones pretty soon.
It would be wrong not to mention that after I took off the mask, I noticed that the break outs have reduced to tiny bumps which were pretty impressive. Usually I apply my regular serum after sheet masking, but this time my face was so well hydrated and dewy (and already too wet with serum) that I finished off with a night cream. The hydration is still visible while I am writing this article, but I didn't get to notice if there's any brightening effect visible on the next day as my grandma who lives with us suffered a major brain stroke the day after I sheet masked which is yesterday and there's a little tension and stress so even if there had been any brightening effects, it would have been gone by now. You guys might  what kind of a person I am, reviewing a sheet mask while my grandma lay in the nursing home. But its 3 a.m right now and I have got nothing better to do other than sleep. So here I am writing…
Pros:
Entertaining
Didn't cause any irritation to my super-sensitive skin
Super hydrating
Reasonable price
Cons:
No I won't write that the fitting was a negative mark as it was not meant for Indian face. I am not being a racist, I am just being practical. The features of the face depends a lot on the race, (I would say ethnicity, but Indians are Asians as well). So no hate, but as a friendly mentioning, I have used Korean sheet masks (Innisfree, Foodaholic and some other brands…) which fit perfectly fine on my face.
Will I purchase it again?
The tiger one? Not now. May be while having a sleepover, or living with someone fun (i.e- cool flatmate, future husband aka fiancé). But I will surely try the other ones from this range. There's the sheep, cow, monkey, the holiday editions and so much to choose from…
Rating:
4/5