It's no secret that am a sucker for Sheet Masks. I use them twice a week, sometimes more. I've recently discovered this brand called LuxaDerma when they called me up asking to review their Sheet Masks. I'm huge on Korean Sheet Masks but I go Eureka every time I discover a Sheet Mask that is available in India. So when I Googled LuxaDerma, I came to know that it's a luxury Sheet Mask brand and it didn't take me a second to realize that it's going to be different than any other Sheet Masks I've ever used.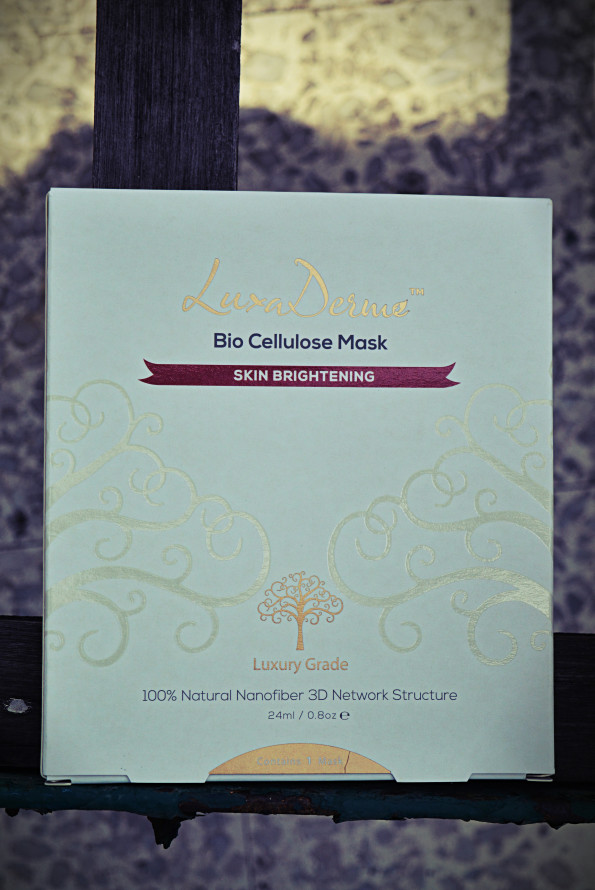 About LuxaDerme:
"LuxaDerme – Offers a variety of luxury skin care facial masks, hydrating gloves & socks, and exfoliating foot masks. Their multifunctional products allow the discerning consumer to get more benefits with less time and effort, thereby helping them to maintain a healthy and youthful appearance.
These masks are:
– Free from any harmful chemical or synthetic ingredients
– Face Sheet Masks are Certified and Authorized by the Korean Food and Drug Administration (KFDA)
– Does not contain any Paraben, Sulphates (SLS), Heavy Metals, Phthalates, Petrolatum, Alcohol*, Artificial Colors or Fragrances
– Non-Comedogenic, pH balanced and suitable for all skin types
– Tested on humans and not animals"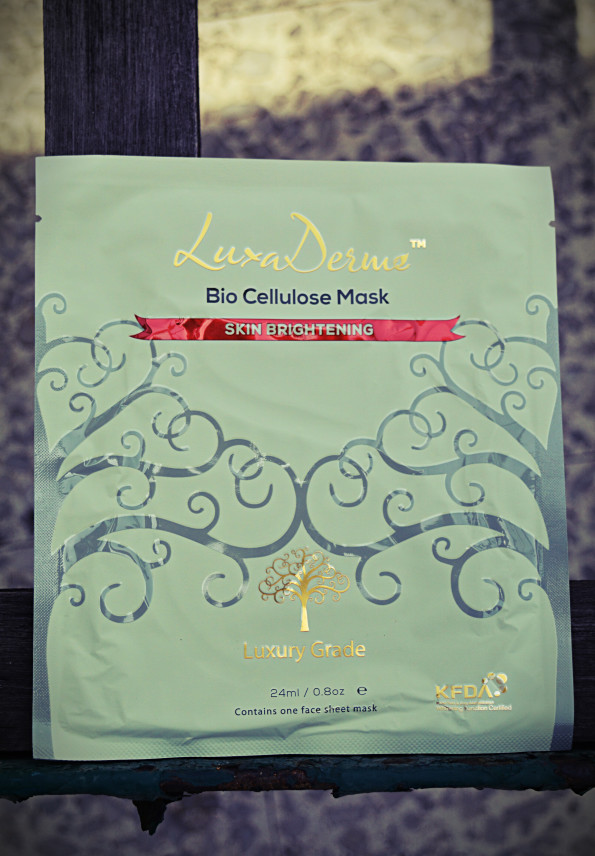 Ingredient:
Baikal Skullcap Root
Hyaluronic Acid and Collogen
Olive Oil
Niancinamide
Ascorbic Acid(Vitamin C)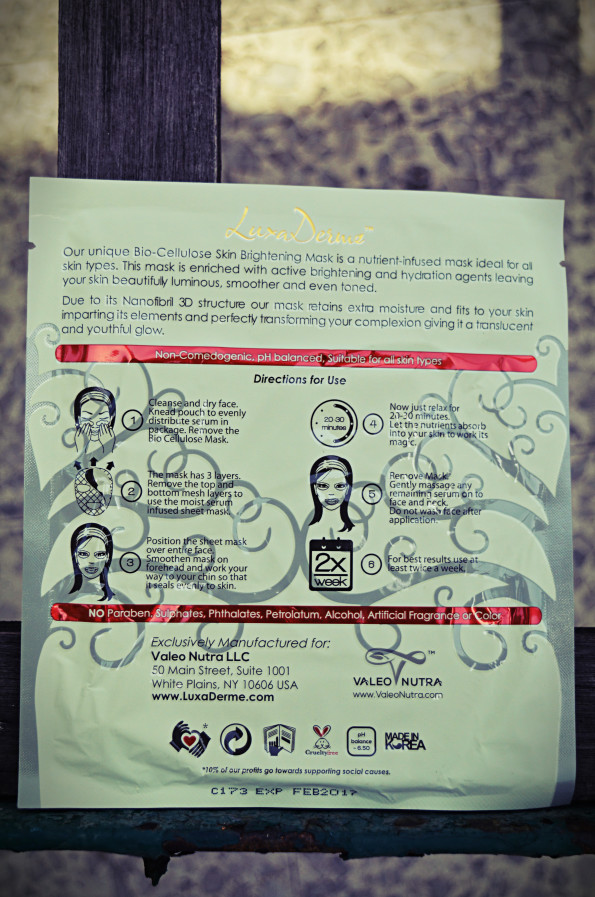 How to Use the Face Mask:
Take out the Mask after cutting the pack, and then unfold it.
2. Apply the Mask starting from the eyes and then spread it over, this way it will fit better.
3. Leave the Face Mask on for 20 minutes.
4. Peel off the Mask and massage the remaining collagen essence on your face. Let it absorb into the skin completely.
Price:
Rs 600/-
My Experience:
Well I was right. When I received the LuxaDerma Bio Cellulose Mask, even the first impression told me it's unlike any other Sheet Mask I've ever tried. The mask came in an elegant white carton and when the carton was opened the sheet mask came out in a pouch.
Upon tearing the pouch the Sheet Mask came out protected by mesh sheets on both sides. The sheet was made out of fermented coconut jelly so it basically looked like a collagen mask. FYI, I'm a huge fan of collagen masks. The fitting was nearly perfect except for the lips area where it got wrinkled up a bit. I kept it on my face for about 30 minutes and when I pulled it off, my skin felt hydrated and healthy. I finished off my regimen with a honey serum and then a night cream.
The next morning I woke up to a well nourished, soft and hydrated skin and was immensely satisfied with the result. As for the brightening claim, I didn't notice any brightening effect but my skin did look healthy.
Pros:
Luxurious
Paraben, alcohol, Petroliam, SLS and Fragrance Free
Cruelty Free
Available in India
Powerful ingredient list
Provides hydration, and like the million times I said… hydration is the key to get healthy skin
Cons:
For 600 bucks a sheet, it's a bit costly for me considering the fact that I sheet mask very frequently.
Rating:
4/5