I did a mini haul from Natural Bath & Body a few weeks ago and among my purchases was this much loved Charcoal Face wash. You guys might know that I'm a Korean Skincare lover and my extensive skincare regimen consists mostly of K-beauty products. However, I also love discovering all natural Indian brands and products that can replace the K-Beauty products.
My new discovery is this foaming cleanser from Natural Bath & Body which can put up a good competition with the Korean Bubble Cleansers. I mean the concept is same, you can see the liquid cleanser inside, if you pump it, the cleanser comes out as foam, the bottle looks same, and also finishes real fast.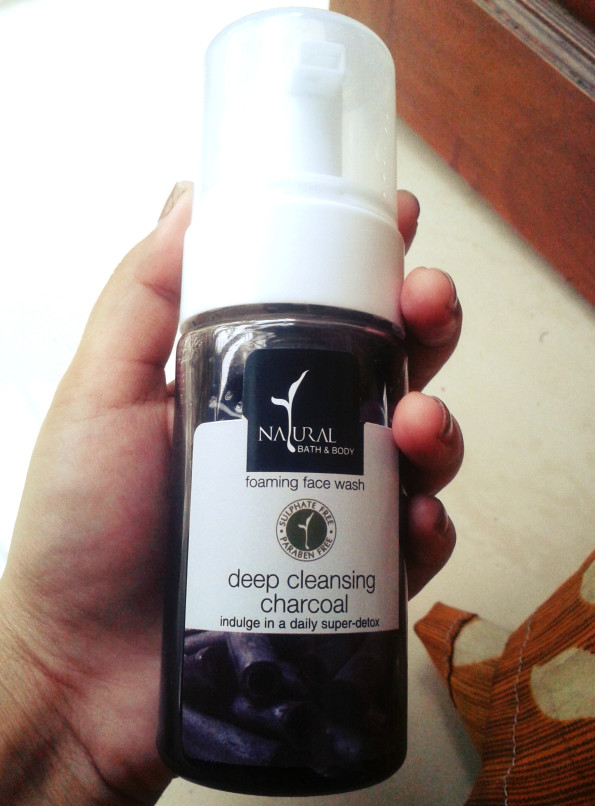 What the product claims:
This unique deep-cleanser utilizes the ability of activated Bamboo Charcoal to detoxify, without drying out the skin. Amazingly absorbent, activated Charcoal unclogs pores and cleanses deep-set impurities and dead skin cells. The silk protein further enhances cellular turnover to aid skin renewal as powerful antioxidants of lemon oil and citric acid provide effective anti-aging and blemish healing properties. Being completely free from Sulphates, the soft, rich and creamy texture of the foam makes this face wash particularly gentle for all skin types.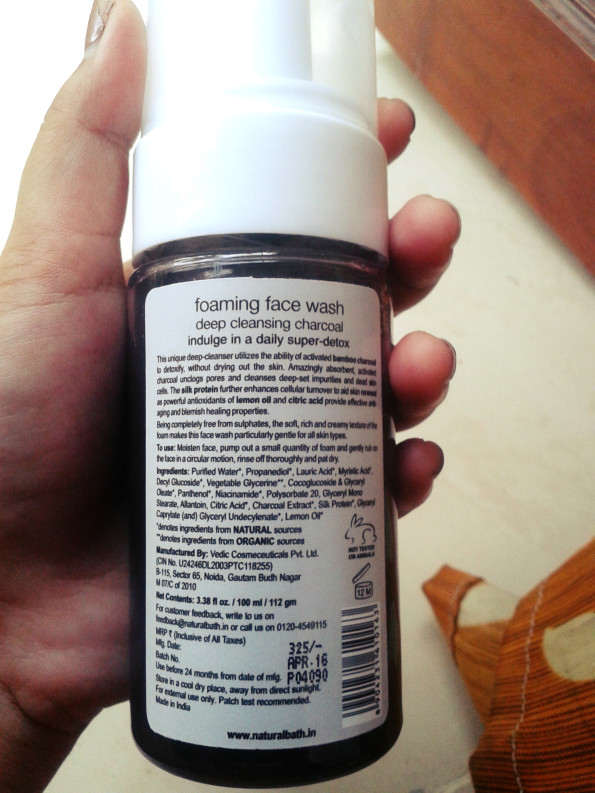 How to use:
Moisten face, pump out a small quantity of foam and gently rub on the face in a circular motion, rinse off thoroughly and pat dry.
Ingredients:
Purified Water*, Propanediol*, Lauric Acid*, Myristic Acid*, Decyl Glucoside*, Vegatable Glycerine**, Cocoglucoside & Glyceryl Oleate*, Panthenol*, Niacinamide*, Polysorbate 20, Glyceryl Mono Stearate, Allantoin, Citric Acid*, Charcoal Extract*, Silk Protein*, Glyceryl Caprylate (and) Glyceryl Undecylenate*, Lemon Oil* * denotes NATURAL source ** denotes ORGANIC source
Packaging:
The cleanser comes in a bottle with a pump, similar to the Korean Bubble Cleansers. Once I was out of town for a week and when I returned, the pump wasn't working, I don't know what happened in there, whether it fell down or not, but it was standing on my bathroom cabinet just as I left and when I tried to use it, the pump didn't work. [ FYI, nobody shares my bathroom but there were signs of cleaning done, and our cleaning lady and my mum are both clumsy.]
Price: Rs/- 325 but you can get a 20% discount on your first purchase from the official site.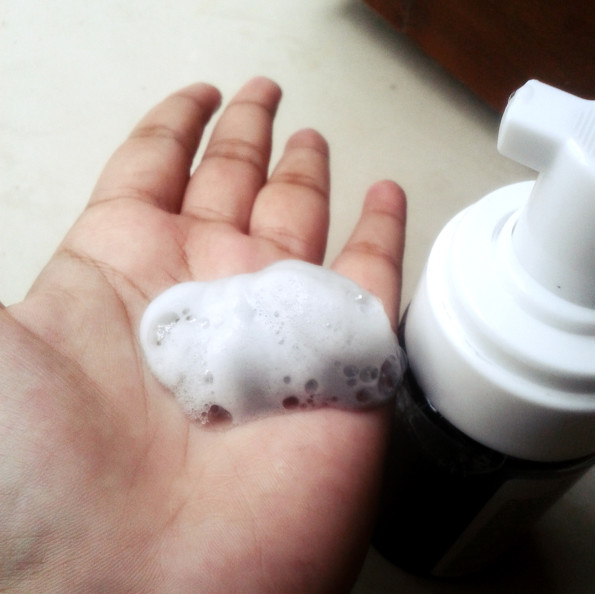 My Experience:
Whenever I find a new product that contains no paraben, sulphate or artificial fragrance, I go Eureka. Finding products that doesn't contain paraben and sulphate is easy, finding one not containing fragrance is not, and finding something that works good on your skin and contains none of the three is HARD.
Everybody is aware of the detoxifying goodness of charcoal so I won't be babbling about it; especially when I gave a lecture on activated charcoal in a previous post. What's disturbing me a bit is that, we all love using charcoal face packs, but charcoal as a face wash is new to me. I mean detoxifying your skin twice a week is the best you can do for your skin but I'm not sure if it's okay to detoxify your face every morning and evening. Moreover, I'm really big on charcoal face packs right now. A couple of months ago, I had so many face packs in my stock that I had to bang my head while choosing one. But now I ran out of all my packs and am left with a couple of face packs which are both charcoal. So I'm thinking isn't a bit too much of detoxification?! So far, this regimen hasn't irritated my skin in anyway. But I'm thinking maybe it'll be a good idea to purchase another face wash or a face pack as an alternative. Maybe it'll be better if I use this charcoal cleanser once a day while replacing the morning regimen with a milder face wash. Or maybe I can just replace my face pack until am finished with this bottle because what amount of detoxification can someone's skin need?
As for the detoxification claims, all I can say is that it does what it claims. I am left with squeaky clean skin after every wash and that satisfies me enough.
Pros:
Paraben, SLS and Fragrance free
Does what it claims
Some might find the bottle a little too huge to carry, but I find it quite travel friendly.
All natural ingredients
Pocket friendly
Doesn't irritate my super-sensitive skin
Cons:
Nothing that I can find.
Will I purchase it again?
Yes, but I would like to try the other cleansers from Natural Bath & Body first. I've used four of their products so far and none has disappointed me so far, and thus I'm eager to eventually try out every single of their products. The French Red Clay Cleanser will be the next…
Rating:
4.5/5