Hey guys, hope you all are doing well. I haven't reviewed any product lately because there's so much tension stirring at my family right now which you might be aware of if you read my Facebook post. I haven't slept in the last three days (and nights) and you can only imagine how my skin is showing that off. To make it all the more worse, I am running out of all my favourite skincare products and since I couldn't manage to do any shopping in the last few weeks I had to use products which are stocked up because I don't like them as much. Long story short, I got an hour long power nap today, and after I woke up I ordered few things over the internet and am waiting for them to show up at my gate and rescue my skin. I made a feeble attempt to recover my skin by using the MaskerAide Pre Party Prep Hydrating Sheet Mask last night, too bad I wasn't going to any party after taking it off and also I had already used the Masker Aide All Nighter Hydrating Facial Sheet Mask on a day when I got more than enough sleep. Yeah, I mess things up like this all the time.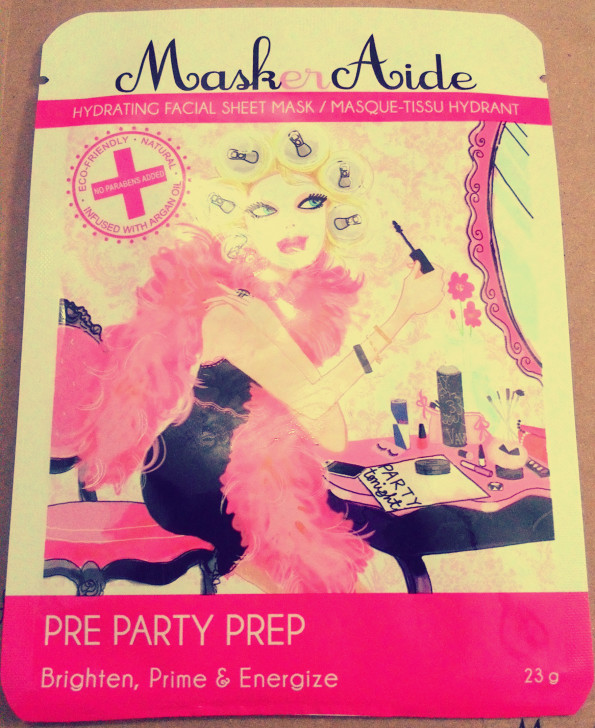 Product Description:
You may be ready for a night of partying and celebration, but is your face? Make sure you stand out from the crowd and start prepping your skin now!  Create a perfect canvas for foundation application with Pre-Party prep's silky, lightweight blend of natural Argan Oil, Orange Peel Oil, Super Fruit Extracts, Rice Extract and Honey to energize, hydrate, brighten and prime your skin for a flawless and velvety-smooth finish.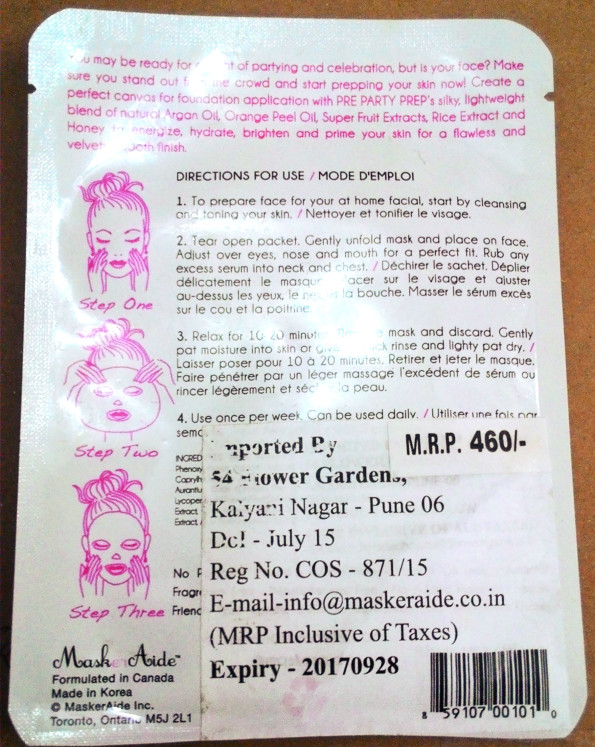 Directions For Use:
1. To prepare face for your at home facial, start by cleansing and toning your skin.
2. Tear open packet. Gently unfold mask and place on face. Adjust over eyes, nose and mouth for a perfect fit. Rub any excess serum into neck and chest.
3. Relax for 10-20 minutes. Remove mask and discard. Gently pat moisture into skin or give a quick rinse and lightly pat dry.
4. Use once per week. Can be used daily.
Price:
INR 460 for a single sheet.
Ingredients:water,butyleneglycol,Niacinamide,Sorbitol,Alcohol,Betaine,Octyldodeceth25, Phenoxyethanol,Arginine, Dipotassium Glycyrrhizate,Sodium Acrylates/C10-30 Alkyl Acrylate Crosspolymer,Caprylhydroxamic Acid,Ethylhexylglycerin,Xanthum Gum,Sodium Polacrylate,Ascorbyl Glucoside,Citrus Aurantium Dulcis (orange)peel oil,Argania Spinosa Kernel oil,Houttuynia Cordata Extract,Solanum Lycopersicum(tomato)fruit extract,Portulacca Oleracea Extract,Magnifera Indica(Mango)fruit extract,Honey extract, Citrus Aurantium Dulcis (orange)fruit extract,Oryza Sativa (Rice)Bran Extract,Opuntia Ficus-Indica Extract,Aloe Barbadensis Leaf Juice.
My Experience:
The packaging of the mask is as quirky as the all nighter mask; only it comes in the colour pink (my favourite). The fitting and the texture is similar to the all nighter mask as well. The sheet is thicker than any usual sheet mask and soaked in a clear serum.  As usual, I threw the mask into the refrigerator an hour before applying it. There was enough serum left on the packet after taking the mask out that can be applied on the neck and the hands but I hate the messiness.
The mask did have a soothing and refreshing feeling, but not as much as the all nighter one. Or maybe I was too stressed to even enjoy the masks 30 minutes stay on my face. The mask claims to act as a primer which could have been proven only if I applied makeup after taking it off, which I clearly didn't. However, it did brighten up my skin and made it soft and supple.
Pros:
Does what it claims
Paraben Free
Attractive packaging
Cons:
Will I purchase it again?
If I get an option, I would pick the All Nighter Mask over this one, if not, I won't mind using it a few more times.