Finally a sheet mask that has descriptions that can be read by common people.
I received two sheet masks from Maskeraide yesterday and was eager to try them out since they were the only sheet masks in my knowledge that aren't exactly Korean, I mean they are made in Korea (yay!) but are formulated in Canada, hence, descriptions in English, and easily available. When I unpacked the envelope I was slightly disheartened to find out that the All Nighter mask has been torn a little on the edge and the serum leaked and made a mess inside.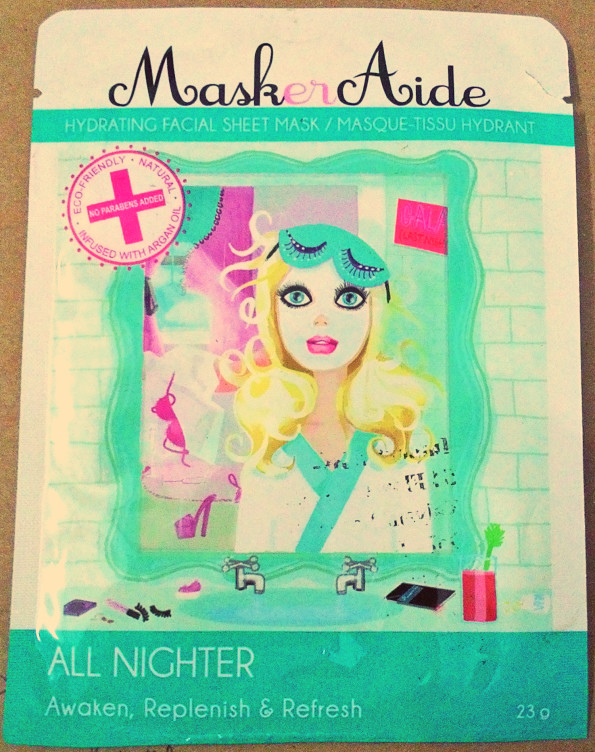 Product Description:
Whether you were up all night studying or out all night partying, we've got you covered to face the long day ahead
Apply our all nighter sheet mask to awaken, refresh and replenish your skin. The cooling effects of the mask will help de-puff and awaken your eyes, while natural Peppermint Oil awakens your senses. Aloe, Argan Oil, Heartleaf (a powerful detoxifier), Honey, Super Fruit and Cactus Extracts work together to erase the signs of the previous night and get you "boardroom" ready!
Directions For Use:
1. To prepare face for your at home facial, start by cleansing and toning your skin.
2. Tear open packet. Gently unfold mask and place on face. Adjust over eyes, nose and mouth for a perfect fit. Rub any excess serum into neck and chest.
3. Relax for 10-20 minutes. Remove mask and discard. Gently pat moisture into skin or give a quick rinse and lightly pat dry.
4. Use once per week. Can be used daily.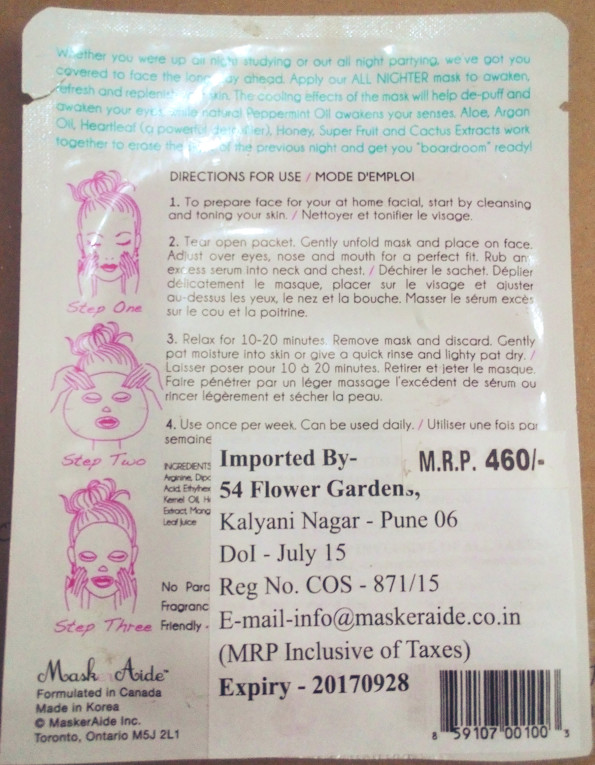 Packaging:
The packaging is super fun and quirky, and comes in a blue packet. There was something very luxurious about the mask, something different than any other sheet masks I have ever used. At first I couldn't point out what it was, later I figured that it had to be the packaging. The packet was smaller in size than any regular sheet mask, but fluffier, mainly because the sheet inside was thicker than any other mask.
Fitting:
The fitting was a little different from the Korean Sheet Masks that I have used, it was rounder I guess. The fitting was nearly perfect except for cheek area where it wrinkled up a little.
My Experience:
While my mind told me to save it for a morning after a sleepless night, my heart and the torn packet told me I need to use it ASAP.  I am getting way too much sleep these days as I am spending the summer at my hometown.  If you are following me on Facebook , you'll probably be aware of the stress my family is  going through. I've been spending sleepless nights, but I do manage to get enough sleep during the day, so technically there's no point of waiting till my skin gets super tired. I used the mask with my night time regimen, of course after keeping it for an hour into the refrigerator. I was afraid that I might be opening the packet to find a dried sheet mask but to my pleasant surprise, the mask was well soaked. There wasn't just any serum left into the packet to use on my neck, but I'm not bothered about that because I hate the messiness some over soaked sheet masks create. The sheet was of high quality as I've already mentioned and was soaked in a clear serum.  I really felt so relaxed after putting it on my face that all I wanted to do was lay back and enjoy the calming sensation.
I took it off after 35 minutes when it started to fall off. My skin had already absorbed all serum and I didn't even have to wait to apply my brightening serum and my night cream.  Usually my skin looks so drenched with serum after sheet masking that there's no chance of going out within an hour (thus always sheet mask at the evening lol), but this mask was different, my skin felt refreshed, de-puffed, hydrated, soft, satin smooth (lol I'm not exaggerating) and everything it claimed.  It's like the only mask I've ever used that can be used during the day time. The instant effect was noticeable, and I was like, one can't just stay in and waste this amazing feeling, one must go out, but it was already 9 pm. and yes, I was in my hometown where the only interesting place to go is my home. Just like I say, if you sheet mask the night before, your skin should show it the next brighten up the skin, well it did nothing as such, nor did it claim to do. This mask is something that I would stock up on when I go back to city and face life.
Pros:
Luxurious
Eco-friendly
Paraben free, chemical free
Does everything that it claims
Description can be actually read
Cons:
Will I purchase it?
Yes
Rating:
4.8/5