Hey guys, today I'm going to review the last squeeze mask from my Innisfree Haul. It's the Aloe mask. I guess everybody is well aware of the goodness of aloe vera and sure I had to pick one aloe product for no particular reason.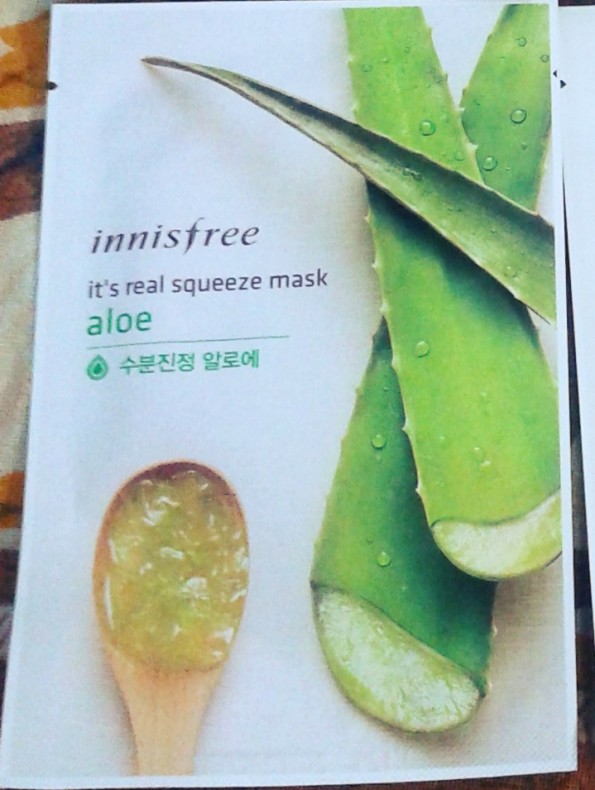 Product Description:
Hydrate your skin with the It's real squeeze mask – aloe!
1. It's real squeeze mask – aloe
The Aloe gives your stressed skin vitality by soothing and moisturizing it.
2. Jeju green complex
The Jeju green complex consists of green tea, tangerine, cactus, camellia leaves, and orchids to keep your skin healthy
3. Triple-layered sheet
This triple-layer sheet has a long-lasting moisturizing effect so that the essence can gradually be absorbed into the skin.
How to Use
1. After washing your face, gently apply toner on your face to even out your skin texture.
2. Then, apply the mask over your entire face, avoiding your eye and lip areas.
3. Remove the mask after 10-20 minutes and gently pat your face to allow the remaining formula to absorb into your skin.
Ingredients:
Water, Glycerin, Butylene Glycol, Ethanol, Betaine, Grapefruit Extract, Aloe Barbadensis Extract (200mg), PEG-60 Hydrogenated Castor Oil, Xanthan Gum, Carbomer, Ethylhexylglycerin, Potassium Hydroxide, Sodium Hyaluronate, Tangerine Peel Extract, Orchid Extract, The green Tea Extract, Camellia Leaf Extract, Prickly Pear Fruit Extract, Disodium EDTA, Phenoxyethanol, Fragrance
My Experience:
The packaging and fitting of the mask were similar to the rest of the masks from the "It's Real" range. However, the colour of the sheet and the serum were slightly different, the whole thing was transparent. If I'm remembering correctly even the green tea mask was a bit transparent whereas the rest of the masks were soaked in milky white serum. I felt the cooling and soothing effect of the mask as soon as it touched my skin. Oh! How I am craving the mask in this terribly hot weather!
I kept this mask on for 30 minutes and when I removed the mask my skin was deeply nourished and my cheeks were feeling like a baby's butt. My skin wasn't really irritated before I used the mask but I have a feeling that it had the power of recovering irritated skin. A day or two ago I was ranting about how sheet masks should do more than just nourish. This sheet mask however, took nourishing to a next level while soothing my skin and making it soft. If I had stocked up a bulk of this sheet mask I would probably throw them all in the freezer and apply them every other day.
Pros:
Nourishes
Soothes
Pocket-friendly
Paraben Free
Cons:
Nothing that I can point out.
Will I purchase it again?
Yes.
Rating:
4.7/5
Where to buy?
http://www.nykaa.com/innisfree-it-s-real-squeeze-mask-aloe.html?root=search&searchterm=innisfree%20&type=product&ptype=product