I'll take it that if you are reading this, I won't have to give an intro about the benefits of green tea. I'm a huge fan of green tea. And this sheet mask was the star product from my Innisfree haul.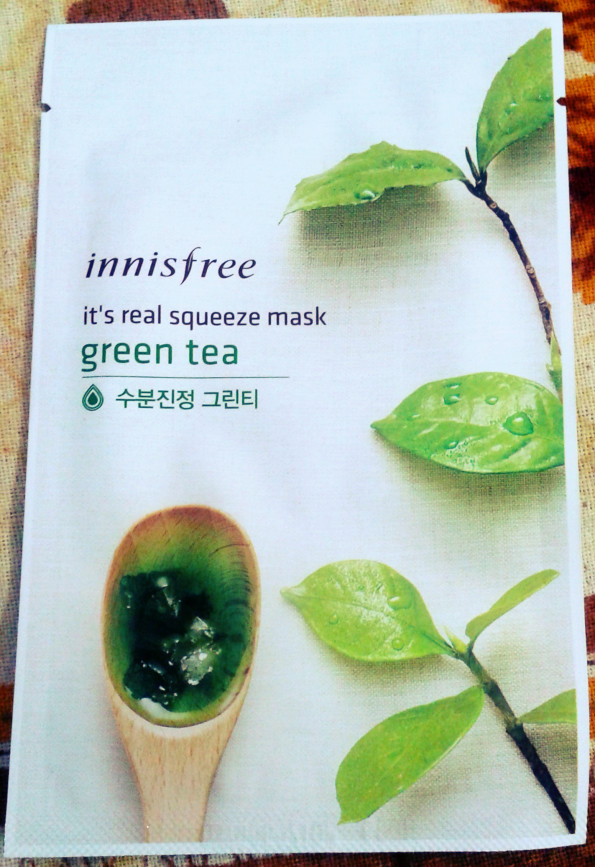 Purpose: The Innisfree It's Real Squeeze mask in Green Tea is a sheet mask designed to hydrate skin.
Do not use if: You are sensitive to alcohol, citrus extracts, fragrance, or anything else in the ingredients list.
When and how to use: In the evening, after cleansing and before your final moisturizing step, tear open the mask packet, remove the sheet mask, unfold and fit over face. The mask has several slits to assist in customizing fit. Leave on for 10-20 minutes (or longer if the mask sheet has not yet dried up), then remove. Pat or massage in excess product and finish with your emollient and/or occlusive moisturizing cream.
Ingredients list: Water, glycerin, butylene glycol, alcohol, citrus paradisi (grapefruit) fruit extract, betaine, camellia sinensis leaf extract, xanthan gum, PEG-60 hydrogenated castor oil, 1, 3 propanediol, ethylhexylglycerin, sodium hyaluronate, citrus unshiu peel extract, orchid extract, camellia japonica leaf extract, opuntia coccinellifera fruit extract, citrus aurantium bergamia (bergamot) fruit extract, citrus aurantium dulcis (orange) fruit extract, citrus tangerina (tangerine) extract, lactic acid, ascorbic acid, citric acid, disodium EDTA, phenoxyethanol, fragrance
Don't you just expect the star ingredient of a product to be on the top of the ingredient list? I was disappointed as well. Also I hate the fact that all the "It's Real" squeeze masks has added fragrance even after their claim of being an all-natural brand.
My Experience:
If you have been reading my previous posts, you've probably read about how I was struggling with dull, rough and flaky skin throughout my Delhi-Agra tour. I had three more weddings to attend the day after I reached home, and another one to host the next day at a different town. I literally had no time to go to the parlour (also I don't trust the parlours at my hometown) and I was afraid I had to stand next to the beautiful bride with a dry and flaky skin.
The morning after I reached home I went through an intensive skincare routine. I double cleansed my face, exfoliated, used a face pack, toned and then used this precious green tea mask. I waited for about 25 minutes and those 25 minutes I was in heaven. Trust me I didn't mind the cooling sensation during the chilling weather. After removing it I finished it off with a whipped cream. [ You can read about the detailed routine here http://beautifullyme.in/index.php/2016/01/24/getting-festiv-hectic-travel/] If you could see my face right after I took off the sheet mask you would probably say that I'm lying about my skin being dry and flaky. The instant recovery of my skin was unbelievable, like the tour never happened. My skin was soothed and nourished and I was like 'where did all those flaky skin go?' Down the sink I guess, after all I exfoliated patiently. Even though I used a lot of products with my routine that day, I am pretty sure that I should be thanking this Sheet Mask for saving the day. If I had more of this mask, I wouldn't be using them right away, I would be saving them for a stressful day or might even pack them while travelling again.
Pros:
Does what it claims
Soothes nourishes and recovers damaged skin
Pocket-friendly
Cons:
Even though the mask smelled more like regular green tea and not like a perfume, I still would prefer products that don't contain artificial fragrance.
Would I purchase it again?
Yes.
Rating:
4.9/5