If you guys watch Michelle Phan's videos or read her blog, you would probably know about her love for manuka honey. Because of her constant mentions of manuka honey, I knew I have got to try out any product containing manuka honey. Sure enough I came across manuka honey sheet masks at the Innisfree store and didn't think twice before picking one up.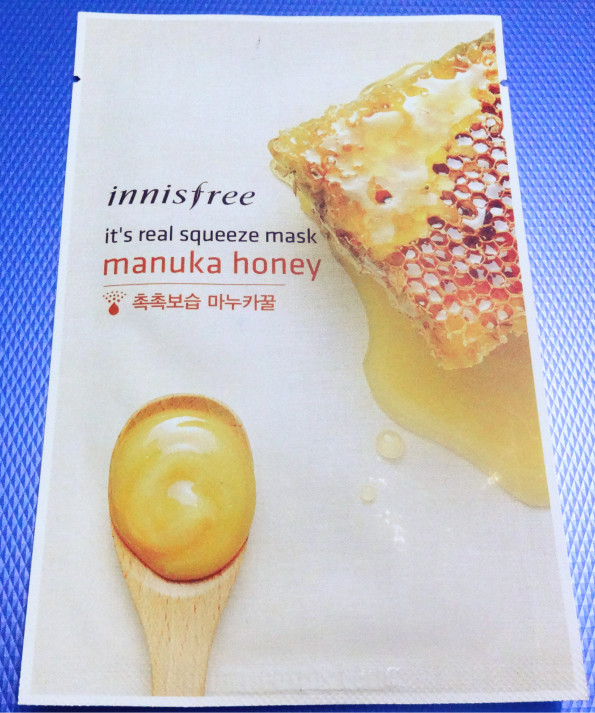 Manuka honey is produced in New Zealand and Australia from the nectar of Manuka Tree and it has got a huge list of benefits.
Purpose: Innisfree's It's Real Squeeze Mask in Manuka Honey delivers rich moisture to "dry, stiffened skin."
Do not use if: You are sensitive to alcohol, fragrance, honey, or anything else in the ingredients list. Use with caution if you have pollen or bee allergies.
Ingredients list: Water, glycerin, butylene glycol, alcohol, betaine, citrus paradisi (grapefruit) fruit extract, honey extract, PEG-60 hydrogenated castor oil, xanthan gum, carbomer, ethylhexylglycerin, potassium hydroxide, aloe barbadensis leaf juice, sodium hyaluronate, citrus unshiu peel extract, orchid extract, camellia sinensis leaf extract, camellia japonica leaf extract, opuntia coccinellifera fruit extract, disodium EDTA, phenoxyethanol, fragrance.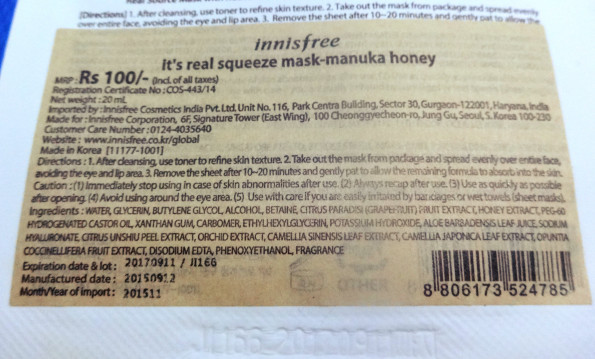 My Experience:
I've already reviewed 3 Sheet Masks from Innisfree "It's Real" squeeze mask range and when it comes to packaging, it's as classy as the former three and the fitting is as perfect as well. What I dislike about the "It's Real" masks is that they contain alcohol and of course fragrance, both of which are known irritants. Even though the mask is supposed to be a honey mask, it isn't even a top ingredient according to the ingredient list. The list however consists of many potential ingredients like the green tea and aloe leaf extracts.
The mask claims to just deeply moisturize the skin, exactly what honey is supposed to do. It might be a Holy Grail mask for people with dry skin, but being blessed with a combination skin (or cursed with a super-sensitive skin) I decided to use it before spring. My skin usually doesn't dry out, may be because of my combination skin and my elaborate skincare ritual which includes a canola honey serum. So I used it while I was travelling, the day I went to Agra from Delhi. It was the third week of January and my skin isn't really habituated with such cold weather. I reached Agra post midnight with a terribly dry and flaky skin and the worst part was that I had a wedding to attend the next day. That's when the Manuka Honey sheet mask came to my rescue. I really needed to exfoliate that day but I had neither the time nor the energy for that, so I simply cleansed, toned and applied the sheet mask. Because I failed to exfoliate, I was feeling like my skin wasn't able to absorb all the goodness from the mask. The serum was a bit drippy which wasn't feeling much pleasant because of the weather. I kept it on for about 20 minutes, patted the excess serum on my skin and finished it off with a night cream. My skin felt a little plumped and moisturised. The next day I woke up with a decently moisturized skin, it wasn't like back to my normal skin texture, but it was far better than what I had been struggling with the past few days. I have a feeling that it would have worked better had I exfoliated first. I would definitely try it out again, just to test how it works on a regular day.
Pros:
Does what it claims
Affordable
Paraben free
Looks promising
Didn't irritate my super-sensitive skin
Cons:
Will I purchase it again?
Yes
Rating:
4.5/5