Hello dreamers, hope I am not boring you guys with my serial reviews of Innisfree products.
Today I am back with Innisfree White Tone Up 3D Mask.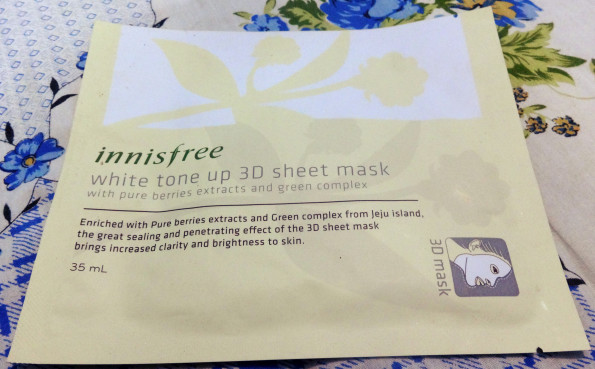 Product description
Formulated with fresh berry ingredients to refine skin texture and vitamin B3 to brighten up skin tone, this great sealing and penetrating effect of the whitening 3D sheet mask helps you to present a brighter and milky complexion.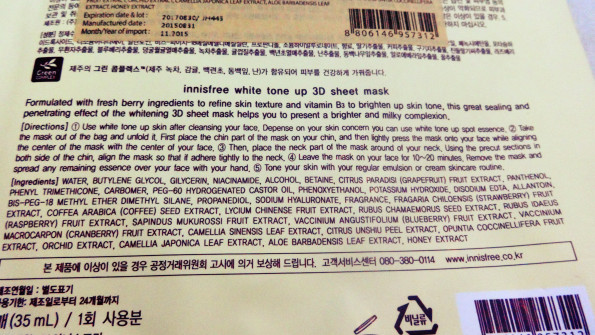 How to Use:
Use white tone up skin after cleansing your face.
Depense on your skin concern you can use white tone up spot essence.
Take the mask out of the bag and unfold it.
First place the chin part of the mask on you chin, and then lightly press the mask onto your face while aligning the center of the mask with the center of your face.
Then, place the neck part of the mask around of your neck.
Using the precut sections in both side of the chin, align the mask so that if adhere tightly to the neck.
Leave the mask on your face for 10-20 minutes.
Remove the mask and spread any remaining essence over your face with your hand.
My Experience:
Most of my purchases from the Innisfree store are meant for nourishing and moisturizing purpose. However, for the sake of my love for brightening products, I picked up this 3D mask and had great expectations from it. After all it claims to lighten the skin tone and only we Indians know what that means to us. A 3D Sheet Mask is simply a mask that had been sewn in such a way that that it covers your whole face and neck all together. Starting with the fitting- I've used 3D mask with far better fitting. It was too big for my face, the upper part went beyond my hair line making my hair all messy, and the eyeholes were so big that even my eyes were popping out, and so were my eye bags.  The nose portion was hanging almost near my lips and my chin was looking like I've got a French Beard. The neck portion wouldn't stay on the neck even while I lay flat on my bed and the whole mask was all wrinkled up on my face because of the huge structure. Who they thought was going to try their mask? Big foot? A selfie would have proven my point but I don't have the nerve to upload a picture of myself looking like a zombie. They are by far my worst sheet mask selfies ever. The quality of the sheet was good and it was soaked in almost half a bottle of essence. I usually leave the sheet mask on my face until they starts feeling dry, but this 3D mask wasn't showing any sign of drying out even after 35 minutes so I removed it. To my major disappointment, my skin tone was nowhere near brightened. My face was just layered with a watery essence. Usually if you sheet mask the night before, it shows on your skin at the morning. However, there were no sign of a brighter skin in the morning, it was well-nourished of course but there wasn't any improvement of my skin texture. One perk of using a sheet mask is that no matter it proves to its claim or not, the least it can do is nourish your skin. I was actually planning on purchasing this mask on a bulk, but after testing just one, I won't bother purchasing another.
Pros:
Paraben free
Didn't irritate my super sensitive skin
Cons:
Doesn't do what it claims
Worst fitting
It was messy and drippy
Will I purchase it again?
Never