I've wanted to try out sheet masks ever since I was introduced to the 10 step Korean Skincare regimen and I finally ordered a pack of 10 sheet masks from amazon.in.
One of my favourite Korean skincare brand Innisfree has opened a store in Delhi which makes me wanna fly down to Delhi and grab as much Innisfree products as I can, but having a full time job makes that really impossible for me. So, instead I ordered them online.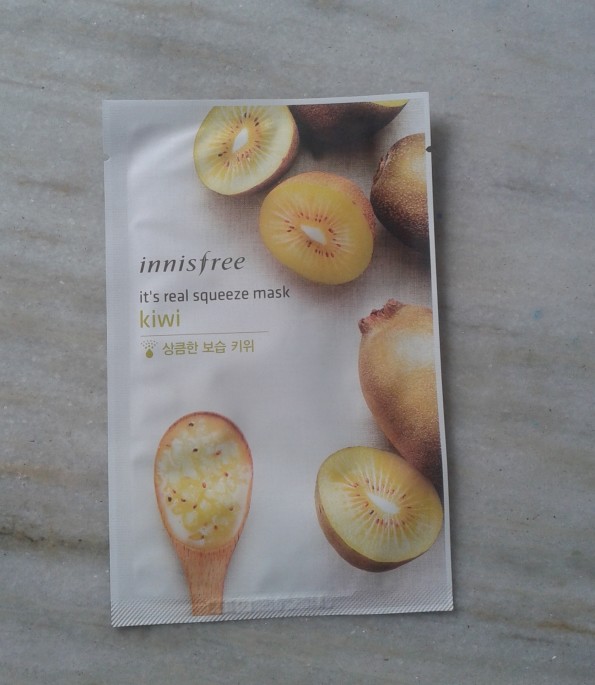 The Kiwi sheet mask claims to moisturize skin giving it a soft smooth, radiant and healthy glow.
Unlike many other Korean products this one contained instructions and details in both Korean and English.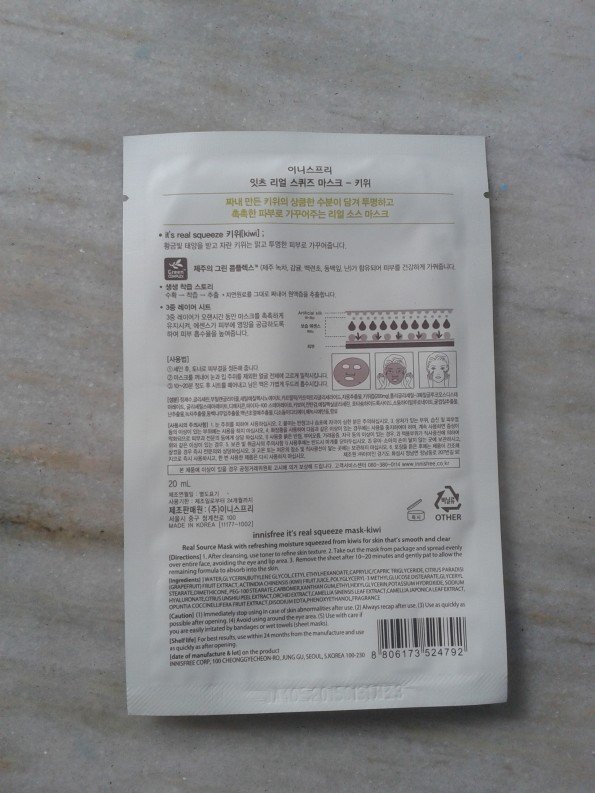 Ingredients list: Water, glycerin, butylene glycol, cetyl ethylhexanoate, caprylic/capric triglyceride, citrus paradisi (grapefruit) fruit extract, actinidia chinesis (kiwi) juice, polyglyceryl-3 methylglucose distearate, glceryl stearate, dimethicone, PEG-100 stearate, carbomer, xanthan gum, ethylhexylglycerin, adenosine, potassium hydroxide, sodium hyaluronate, citrus unshiu peel extract, orchid extract, camellia sinensis leaf extract, camellia japonica leaf extract, opuntia coccinellifera fruit extract, disodium EDTA, phenoxyethanol, fragrance
The masks are soaked in white colour serum and is very easy to apply.I used it after cleansing and toning my face and it fitted me properly.  The smell was too good.  I applied it after an exhausting day at work and to my amusement I fell asleep and took a catnap while laying back with the sheet mask on my face. I kept it on my face for around 20 minutes and when I removed it, I felt a layer of serum on my skin. I gently pat the serum to allow the remaining formula absorb my skin. I waited another 5-10 mins to let my skin completely absorb the serum and then finished it with a night cream.
My Experience:
My skin felt refreshed immediately after applying it and I woke up the next morning with a baby-butt soft face. My skin had a radiant glow and the dewy look remained for the next few days. I am so including this sheet mask in my night time skincare regimen and looking forward to trying out other sheet masks from Innisfree.
Would I Recommend Innisfree Kiwi It's Real Squeeze Mask?
Yes, I would so recommend any skincare junkie to try out this amazing product.
If you live in India, you can order yours from http://www.amazon.in/Innisfree-Its-Real-Squeeze-Mask/dp/B00P8CHYIG/ref=sr_1_2?ie=UTF8&qid=1442643014&sr=8-2&keywords=innisfree+mask.
Rating: 5/5