We bengalies really can't leave without rice. Even when eating out with friends or at a date we end up ordering either Fried Rice and Chilli Chicken or Biriyani and Mutton Chaap. We cannot go beyond that. Sometimes it is because we simply cannot do without some rice on our plate, and sometimes because we are not aware of the restaurants which serves something else beyond Chinese.
So… I am going to suggest you guys some places where you can get some good Italian/Thai/Mexican or something other than Chinese and Mughlai food at a very pocket friendly rate.
First up
Smart Kolkata
Location : Prince Anwar Shah Road, Tollygunj
Price for 2: Approx 600 rs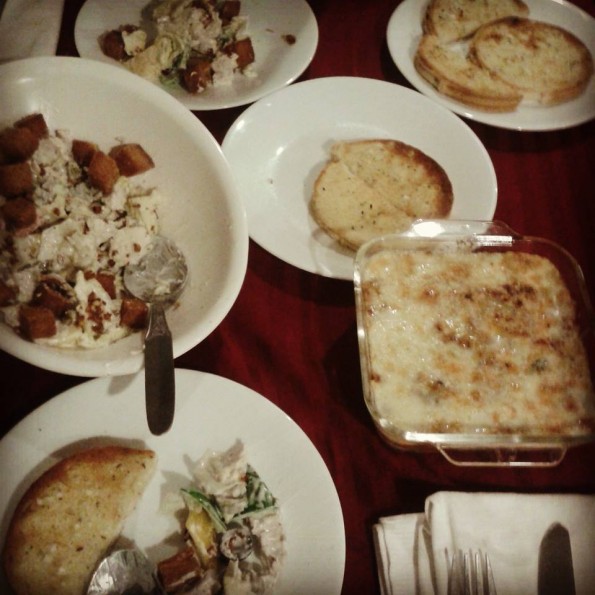 It is basically a continental restaurant but they serve some awesome Italian food. It you are a fan of Italian food or of cheese you must visit this place. As for me, I visit this place at least twice a month.
Food you MUST try out here: Chicken Lasagna and Spaghetti Bolognese
And did I forget to mention that they serve awesome garlic breads with almost everything?
Next up…
Family Chicken
Location: CF 123, Near Swimming Pool, Sector 1, Salt Lake, Kolkata
Price  for 2: Approx 600rs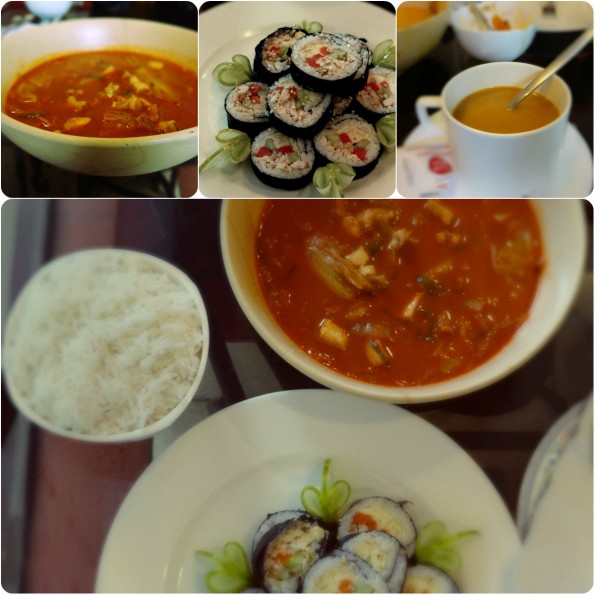 I was looking for a Korean eatery in town and this place came up. They serve both Korean and Chinese cuisine. We ordered a bowl of Kimchi Jigae which is basically Kimchi soup with steamed rice and Kimbap which is kind of a Korean sushi. I really liked the Kimchi Jigae though my boy friend liked the sushi better. Kimchi is like pickeled vegetables and I heard they are really good for the skin. 😀 We also ordered a cup of Korean coffee which was really um…. different, it was stronger than the regular coffee and am not sure if I'll be a fan of the normal coffee anymore…
Mrs.Magpie Bistro
Location: Unit 2, Block 1, 2nd Floor, Chambers Mall, Kasba, Kolkata
Price: For 2 people: 700 approx
If you are looking for a romantic evening why don't you head towards a romantic French Cafe. One of the most amazing French Bakery/Cafe I've visited in town is Mrs.magpie Bistro. Cute cupcakes? Lots off Cheese? Chicken Pot Pie? Just bring it on… Along with a cup of coffee, this place is perfect for an evening gossip or romance. When I'm saying that I have never dined at a place where the ambience is as good as this place, trust me, am not exaggerating. 🙂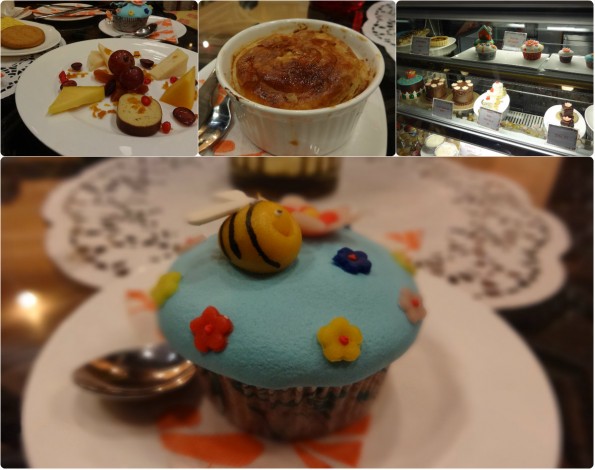 Do try out their CHicken Pot Pie 😀
Punjabi Rasoi
Location: 225, Rajdanga, Nabapally,Kasba, Kolkata
Price: For 2 People: 700rs approx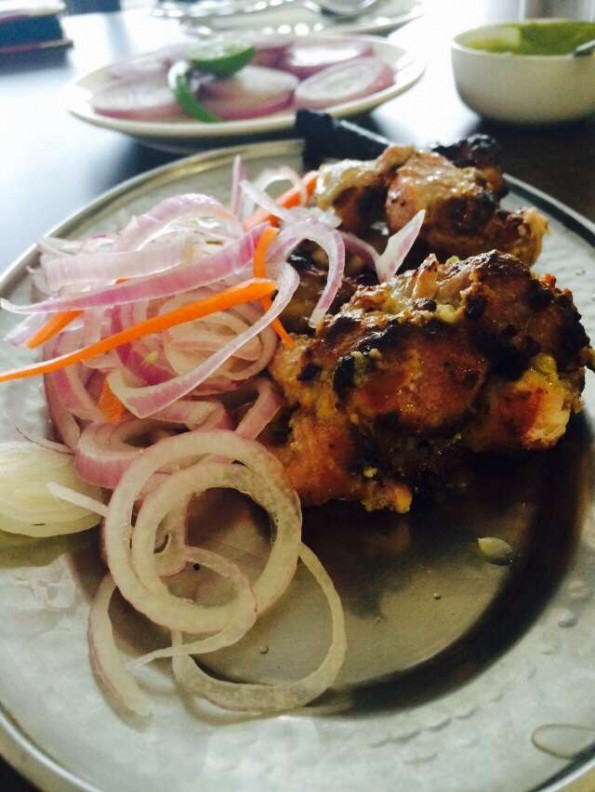 Awesome, delicious Punjabi food which will have you licking your fingers.
You should really try out their Mutton Adrak De Punje before you die and of course don't ignore their cheese garlic naan.
Mango People
Location: 817/4, Opposite State Bank of India, Kalikapur Road, Kalikapur, Kolkata
Price: 650 for 2 people approx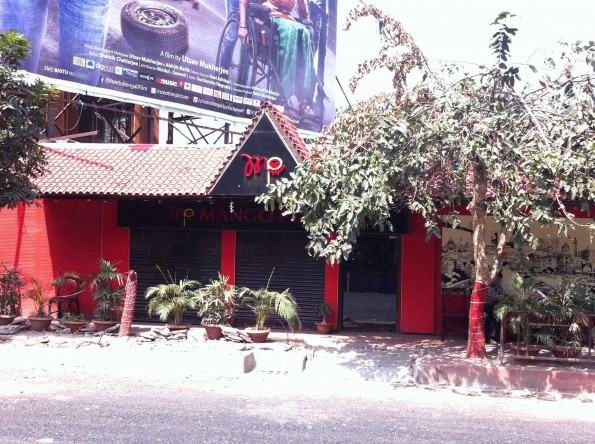 Apart from the ambience, the food is also good.
I've visited this place only once and I preferred their Thai cuisine over their Italian one
Since I visited this place only once I can't say much about their must try dish, but I really liked the Thai Red Curry and it tasted much much better than any Thai food that I tased in town.
Santa's Fantasea
Location : 9, Ballygunge Terrace, Near Anjali Jewellers, Golpark, Kolkata
Price: 700rs for 2 people Approx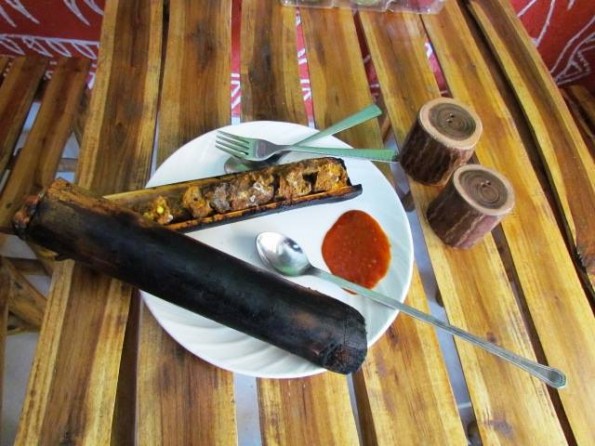 This place is famous for it's Baansh Pora, Bamboo stuffed with marinated mutton and cooked. Apart from the really delicious baansh pora you can also taste some awesome tribal food and sea food at a very pocket firendly rate. What attracted me the most was the complementary rice drink which came in a bamboo mug.  😀 If you want to give your flavour buds a treat, this place is a must for you to visit.
So this is it for now,, but i'll keep updating this post whenever my taste buds get satisfied… 😉
Bye
Xoxo